Shy Dog Was So Scared When He Arrived At Shelter That He Wouldn't Even Walk
"He has an amazing life now — and he's surpassed everything I could have ever expected."
When Allie Rizzo, an ASPCA board member and founder of Mother of Dogs, was touring a public shelter in Miami-Dade County, Florida, last year, she saw something quite strange: Shelter workers were pushing a dog around on a rolling cart.
She soon learned the dog's name was Arie — and although he was only 9 months old, he was so timid that he refused to walk anywhere. Any type of movement from doors, people or other dogs caused him to freeze.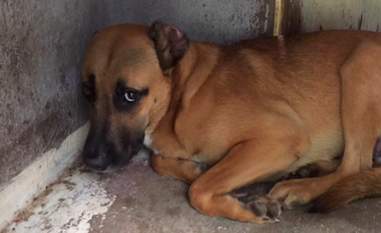 Allie Rizzo
"It was as if whoever had him previously locked him alone in a crate for 24 hours a day without any interaction with anything or anyone," Rizzo told The Dodo. "He had never met another dog, he'd never experienced anything a regular dog would have in their first nine months of life. When he saw a person, he instantly tried to make himself invisible."
Because Arie wouldn't walk, shelter workers had to wheel him on the cart outdoors every time he needed to use the bathroom. Living in the high-kill shelter, it was clear to Rizzo that the young dog wouldn't last more than a week there.
Arie being pulled on a rolling cart at the shelter

| Allie Rizzo
On her flight home later that week, Rizzo couldn't stop looking at the pictures she had taken of Arie.
"I called up a volunteer of ours and told her, 'We need to take him in,'" Rizzo said. "We had him taken to a boarding facility to get fully vetted."
A few days before Christmas, Arie arrived at Rizzo's home in Virginia where he would stay to begin acclimating to life outside the crate and shelter.
Rizzo made him a few special areas throughout the home to make him feel safe, and was by his side throughout the day to hopefully start building up his confidence. She had to carry him around almost everywhere — which was tough as he was almost fully grown.
But even in the more comfortable setting, Arie was too scared to function.
"We try to go for a walk and he would see a bush and try to hide under it," Rizzo said. "He was more shut down than we could have ever imagined."
Rizzo lives part-time in New York City, and she brought Arie there so a friend could help foster him. The friend arranged for trainers to come to the home each day to work with him, but even then, Arie was still terrified.
"If you put him on the couch and left for an hour or so, you'd come back and he'd still be in the same spot," Rizzo said. "He wouldn't even move a paw."
That's when Rizzo connected with Main Line Animal Rescue (MLAR) in Pennsylvania. Specializing in rehabilitating dogs with emotional trauma from situations like puppy mills or hoarding cases, MLAR took Arie in and created an individual training program for him centered around positive experiences and the chance to choose to be with people.
Main Line Animal Rescue
"The first step of this process was to find some dog friends for Arie who would help teach by example," Russ Stewart, development coordinator for MLAR, told The Dodo. "We found that Arie enjoyed the company of puppies and younger dogs, so we paired him with a few of the younger ones from our playgroups."
Once Arie was settled in, he started shy dog and home school classes, which help dogs gain confidence through specialized training in a "mock home" setting. Arie learned how to solve special puzzles, and alongside other dogs, got acclimated to sights and sounds that one would typically find in a home — like the noise an empty water bottle makes if someone drops it.
"Home school gives them a foundation to build off of by exposing them to things like microwaves, vacuums, TVs and furniture and connecting them to positive experiences," Stewart explained. "I personally have adopted puppy mill survivors who spent their lives in a wire cage or concrete cell and this program is a lifesaver."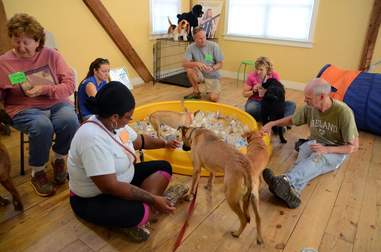 Arie learns to be comfortable around noisy water bottles.

| Main Line Animal Rescue
While trainers were initially unsure whether aloof Arie would ever interact with other dogs, he began welcoming his playmates with a sweet tail wag after three weeks — but he still didn't get too close.
But with continuous positive reinforcement, Arie gained a little more confidence each day — and while he was still shy, he was no longer afraid and eventually even showed that he wanted to play with other dogs.
Sherrie Conville, a volunteer trainer for MLAR, had brought her rescue dog, Polly, to the training sessions to work with him, and Arie began relying on her more and more.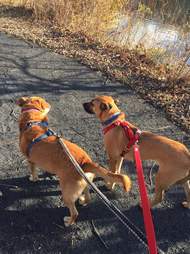 Main Line Animal Rescue
After spending most of the year together going on walks through hiking trails and playing in fields together, eventually, their connection grew so strong that Conville decided to adopt Arie in October.
"Arie is still shy, but has come miles from where he was when he arrived," Stewart said. "The day finally came when he was ready to go home."
At home, Arie is never too far away from Polly, who was also adopted from MLAR. They go on walks together, play together and, of course, relax together — just like during their months spent training at the rescue. While Arie is still cautious of certain things, Polly continuously shows him that she's there for him, and that it's a lot of fun being a dog after all.
Polly (left) and Arie

| Main Line Animal Rescue
As the holiday season approaches, Rizzo can't help but to look back on the progress Arie has made since she opened up her home to the then-broken dog just a few days before Christmas last year.
"It is incredible to see the progress he's made in just one year," Rizzo said. "I see videos and photos back and forth all the time. He has an amazing life now — and he's surpassed everything I could have ever expected."
To help support MLAR rehabilitate more dogs like Arie, you can
make a donation
.