It wasn't too long ago that this sweet pit bull named Wildflower was just another homeless dog in the world.
But when given the chance to thrive, she made history.
In late 2016, Wildflower was rescued from the streets of South Carolina, where she'd been living the sad, hopeless life of a stray. From there, she was taken in by Carol Skaziak, founder of the Throw Away Dogs Project, an organization that trains rescue pups for service in law enforcement.
Right away, Skaziak saw Wildflower's potential as a narcotics detection dog.
Over the six months that followed, Wildflower underwent training, revealing herself to be a skilled detector.
The formerly unwanted dog had found her purpose — and soon she landed a job.
Last week, Wildflower's trainers announced that she would be joining the Wetumka Police Department in Oklahoma — making her the first rescued pit bull to become a K9 officer in the state's history.
Wildflower has good reason to feel proud.
Sadly, due to unfair stereotyping, pit bulls in animal shelters are often among the last to find adopters, and all too many never do. But Wildflower's example is already proving that these dogs can do great things when given a chance.
Her new colleagues wouldn't have her any other way.
"A lot of folks just don't take to pit bulls well, or, they have preconceived notions about the breed," Wetumka Police Department Chief Joe Chitwood told FOX News 25. "[Officer Wildflower] is ours now. She's here to serve our community and be an ambassador to the pit bulls here in this state."
In fact, she's already making a difference.
Earlier this week, Officer Wildflower made her first drug bust — helping get dangerous illicit material off the streets.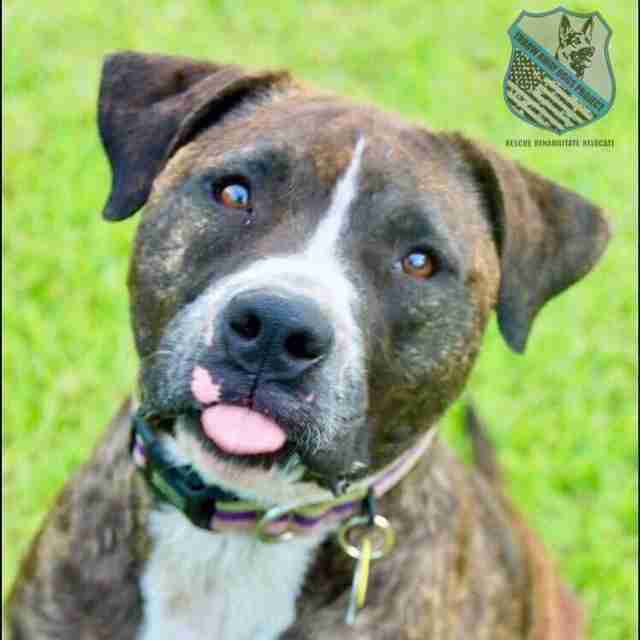 Nice work, Officer Wildflower — and best of luck with your new career!