Driver Spots Strangest Thing On Side Of Road
"Even with a jar on his head, he was very hard to catch."
Feral cats are a common sight around Hunterdon County, a rural farming community in New Jersey, especially when the weather gets warm.
But driving past a run-down farm, one motorist spotted something out of the ordinary. By the side of the road was a little black and white kitten with a clear plastic mayonnaise jar where his head should have been.
The search for a tasty snack had landed the cat in an unfortunate situation — and it was clear he needed help.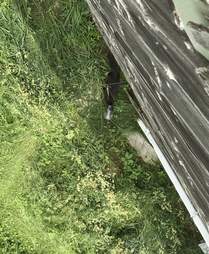 Tabby's Place
Pulling over, the driver got out for a better look, but despite being weighed down and practically blinded by the plastic jug, the little cat took off running with surprising speed. Unsure how long the cat had been stuck that way, the driver hurriedly dialed several local animal rescue organizations, including Tabby's Place.
"I got a phone call from someone who sounded a bit frantic and said she was driving by an old abandoned farm, saw some cats and one had a jar stuck on his head," Jonathan Rosenberg, founder of Tabby's Place, told The Dodo. "She didn't know what to do ... and didn't know where to turn."
Danielle Rice, the cat sanctuary's operations manager, and a few staff members dropped what they were doing and went to the barn to begin their search for the stuck little cat.
"Danielle found the owner [of the farm], and there were a bunch of cats living there," Rosenberg said. "The woman said she fed them, but was unaware that there was one with a jar on its head. She was very upset and asked us for help."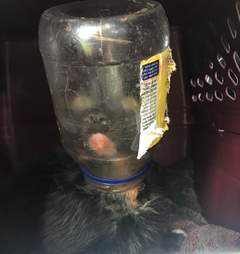 Tabby's Place
For an entire day, the staff attempted to trap the cat — a task more difficult than anticipated.
"Amazingly, even with a jar on his head, he was very hard to catch," Rosenberg said. "Finally, Danielle happened to see a cat butt sticking out between two boards of the barn. It looked like his butt, so she just grabbed him — and turned out it was him."
Rescuers put the cat in a carrier and immediately brought him to an emergency vet. "It's not easy to get a jar off, and we didn't know if he'd be dehydrated," Rosenberg added. "We figured he was feral and wouldn't appreciate being handled, which turned out to be true."
Tabby's Place
"Kids can get into things they can't get out of, and it's worse for a cat," Rosenberg explained. "The ears will fold back and then they don't necessarily go the other way. A cat has no ability to push its ears down to get it off."
When the vet staff asked for a name to put on the paperwork, the rescue workers settled on Hellman's in honor of the hungry kitten's adventure. "Per the emergency vet hospital survivors, Hellman's is a bit of a hell-man," Tabby's Place wrote in a blog post. "It works on so many levels."
Tabby's Place
Once the jar was removed and Hellman's was neutered, rescue workers returned him to the farm where he could rejoin his family.
"Despite being around us, he was not happy and did not like us," Rosenberg said. "It's clear how happy he is to be back there, and away from us."
As soon as the cage door opened, the cat bounded away into the tall grass — much lighter than before.