Shelter's Fattest Cat Gets The Family She's Always Deserved
"Her new mom drove over two hours to be first in line. She said she felt an instant connection."
Sometimes, having a bit of extra pudge pays off — just ask this rather corpulent kitty named Faye.
After a stint at the animal shelter, where her eye-catching size certainly made her hard to miss, she just landed a new forever home of her own to let it all hang out in.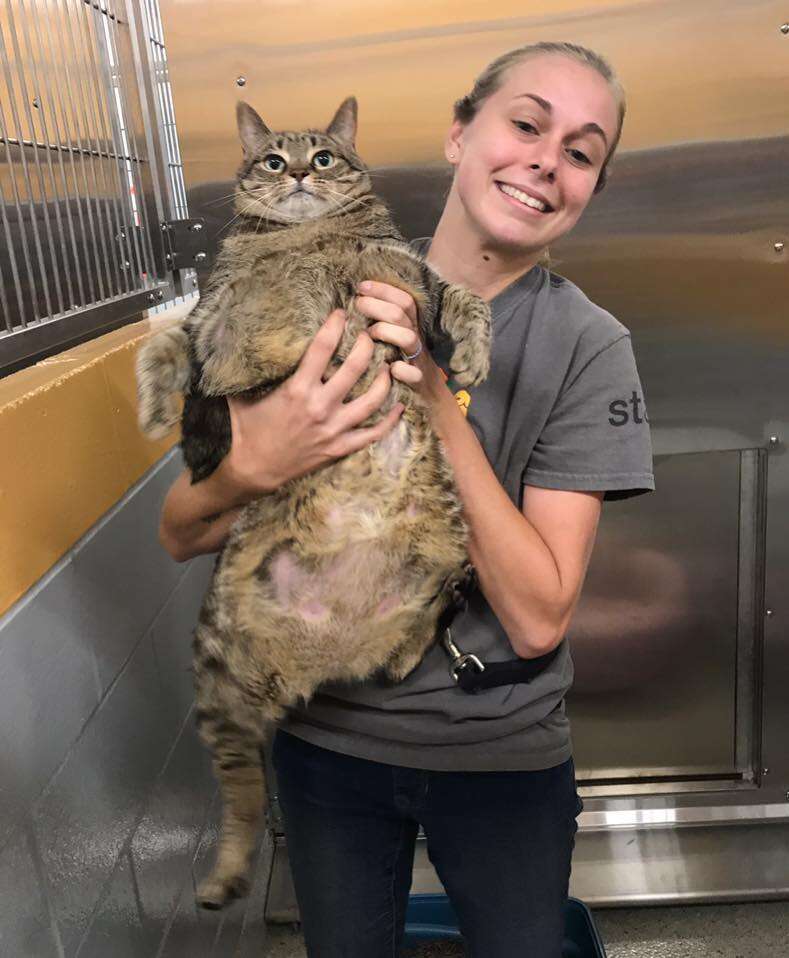 Faye was rescued by Florida's Jacksonville Humane Society after her original owner was no longer able to take care of her — but she clearly had no shortage of food at her last home. The affectionate kitty came in weighing a whopping 24 pounds, making her one of the chubbiest cats anyone there had ever run across.
"We have had a few other cats around 18 to 20 pounds in recent years but Faye tips the scale," a shelter spokesperson told The Dodo.
But not only is Faye quite plump, she's pretty jiggly too. Photos posted online show that even getting a grip on her can be quite a challenge (albeit a cute one).
"It's like holding the world's most adorable medicine ball!" the shelter confirmed.
While she's perhaps not the most cooperative model, photos of Faye were a hit on social media. In less than 24 hours, she racked up hundreds of likes and shares on the Jacksonville Humane Society's Facebook page. Adoption offers came pouring in after that, but one family took the initiative to ensure Faye was out of the shelter sooner rather than later.
"Her new mom drove over two hours to be first in line," the shelter reports. "She said she felt an instant connection — they were very excited."
The shelter has stressed the need to get Faye back on track to a healthier figure, so with a better diet and regular exercise, hopefully she'll start shedding the pounds in her new home.
We're sure Faye's new sister will see to it that she stays active — and most importantly, loved.