Fat Cat Is The Star Of His New Parents' Wedding Photos
His name is Vito and he was NOT thrilled.
The moment Kiah Berkeley saw the 35-pound cat at the Humane Rescue Alliance's shelter, she knew she wanted to adopt him.
"I personally have always liked fat cats, and he seemed like a pretty sweet and easygoing kind of guy," Berkeley told The Dodo.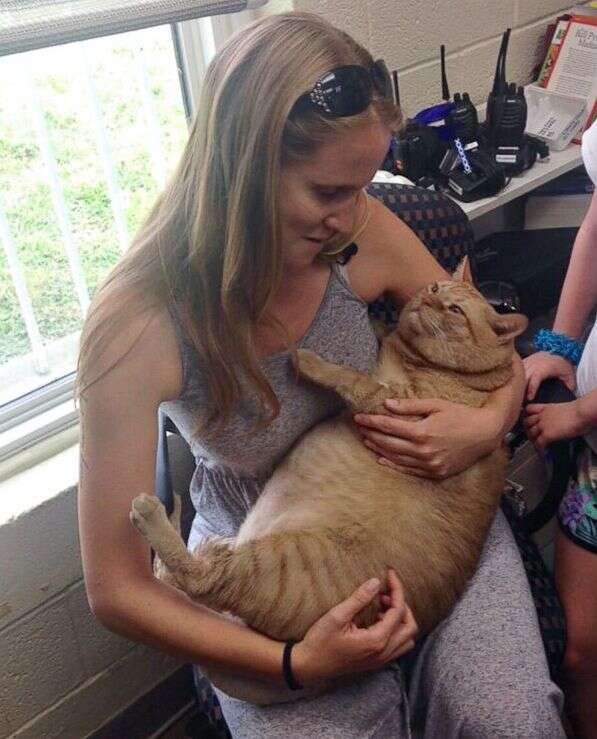 The cat, then known as Symba (Berkeley renamed him Vito), made headlines last month for his unusually rotund body and scale-tipping weight. His fame helped find him the perfect forever family with Berkeley, her new husband Peter Sorkin, and their other two rescue cats, Motzie and Two Patch.
Vito did take a little while to settle into his new home.
"When he first arrived, he was still grieving for the loss of his old owner and his old life, which we know nothing about," Berkeley said. "He'd kind of curl up, wedged between the bed and the wall with his back to us. He was smelly, and he just wasn't well."
But Vito eventually came out of his shell, and began enjoying his new life.
"He slowly started coming out of his guest room … and then he started coming into our room and coming onto our bed," Berkeley said. "Now he sleeps sandwiched between us every night."
The other cats, however, aren't too sure about Vito.
"He's really wanting to be friends with our other two cats, but it's been pretty slow-going," Berkeley said. "There was a lot of hissing when he first moved in — by the other cats, not by him."
Even if the cats don't like him, Berkeley and Sorkin adore Vito. So when the pair got married earlier this month, they wanted to involve him in some capacity.
They initially considered using him as the ring bearer, but they didn't think Vito would enjoy that very much. Then another idea presented itself.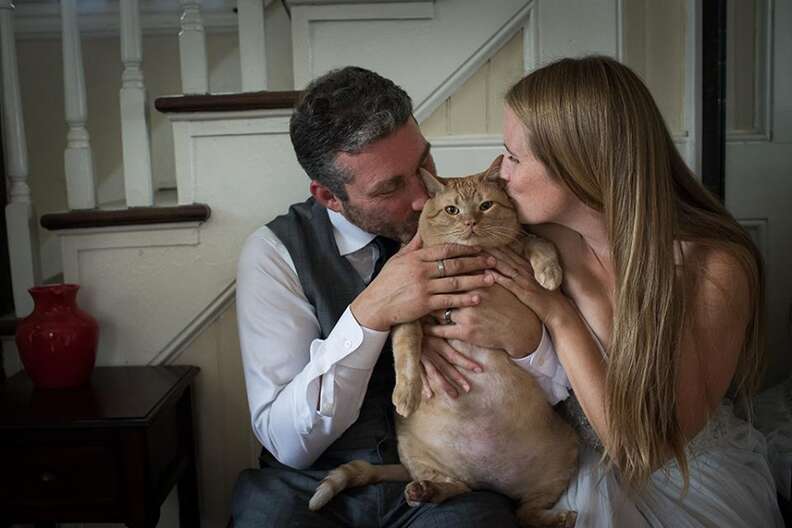 "After the wedding, our photographer, Kristi Odom, actually emailed me and said she'd love to do a complimentary session at our house with Vito," Berkeley said. "We actually did those photos a few days after our wedding. We just put our wedding clothes back on, and she and her photography partner Darren came over, and we had some beers, and took some pictures with the cat."
Vito wasn't a huge fan of the photo session, but he tolerated it. "He wasn't super thrilled," Berkeley said.
The photos of Berkeley, Sorkin and Vito lying on their backs on the bed were probably the easiest ones to take. "That's actually how he tends to sleep at night — right on his back," Berkeley said.
But when they put an Uncle Sam hat on Vito, Berkeley and Sorkin knew their fat cat was fed up.
"The Uncle Sam hat was his final straw," Berkeley said. "In the final picture, he's hissing. But he put up with it for a good two hours of photo shoots before he reached his limit."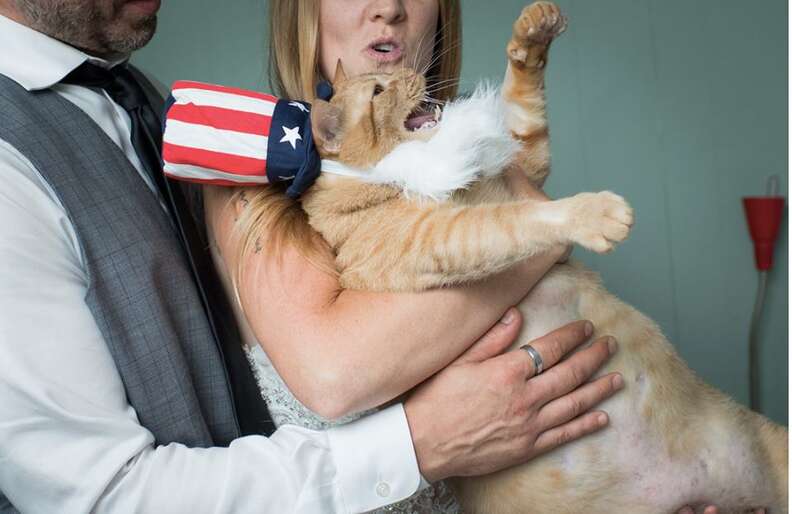 Berkeley and Sorkin love the photos with Vito — but they love their life with Vito even more.
As for Vito's weight, Berkeley and Sorkin still have no idea how he got so big.
"We are so curious, because he's not a big eater," Berkeley said. "I've actually struggled a lot with getting him to eat."
Berkeley believes that Vito has already lost a few pounds, but he'll probably always be on the chubby side. To her, that just means there's more of him to love.