Cat Pretends He's Too Fat To Fit Through Cat Door Just Because He's Lazy
"We've just realized he's too precious and doesn't like squeezing through unless it's necessary" 😂
For years, a woman named Ngawai and her family thought their cat, Mischief, was just too fat to fit through the cat door.
"He used to sit outside and look in, or scratch on the side of the cat door," Ngawai (who asked for her last name to remain private) told The Dodo. "He never acknowledged the cat door. He started scratching at the cat door specifically this year, and it would open a little, but he would never come through and he would stare at us."
But they recently figured out that Mischief had been keeping a secret.
"We started finding him inside even though the doors were locked, and eventually we saw him squeezing through himself," Ngawai said. "But he would scratch for a while until he would give in and do it himself as if he was exasperated."
Ngawai recently wrote a post about Mischief in the Facebook group Cool Cat Group. "We've just realized he's too precious and doesn't like squeezing through unless it's necessary," she said in the post, which got over 700 likes.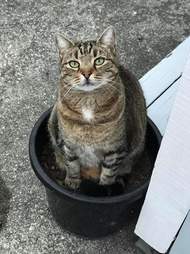 Ngawai M.
Ngawai's family, who lives in New Zealand, has had Mischief for about eight years, although he's closest with Ngawai's granddad.
"His best friend is our granddad," she said. "Whenever our granddad's away for more than a day, he starts acting weird."
The family isn't entirely certain how Mischief got so big, although Ngawai explained that Mischief doesn't have health problems as a result of his weight — and he's actually been on a diet for years.
Ngawai M.
"He is only given a strict amount each day," Ngawai said. "We're not sure why he remains so fat. We do cave in and give him snacks every now and then though, and he often comes under the table during dinner and guilt-trips the family into dropping food down to him."
While the family is still keeping a close eye on his health, Mischief's extra weight just gives Ngawai's family more of him to love — and they get a kick out of Mischief's different quirks.
Ngawai M.
"He's terrified of plastic bags," Ngawai said. "As soon as he hears the sound, he runs away. He only meows when he sees the blackbirds steal his biscuits, which is a daily occurrence. He runs sideways because his stomach sways so much."
But it's Mischief's cat door antics that amuse Ngawai and her family the most.
"We all found it hilarious," Ngawai said. "Everyone adores him, even though he's lazy and a bit snobby."
"He's very, very loved," she added. "I think everyone would agree that he is perfectly made for cuddles — and he just has a really strange personality."
Interested in adopting your own cat? Then meet Dodo Adoptbot, an interactive guide for new pet parents. Get started on
Facebook Messenger
or text HOME to 38349.