Dog Can't Stop Shaking With Excitement After Being Reunited With Her Family
"She has been, once again, the light of our lives."
Felicia Harrington wasn't looking for a dog, but from the moment she saw JoJo, she knew they were meant to be together.
In December 2017, Harrington was out shopping with a friend at NorthPark Center in Dallas, Texas, when she spotted an SPCA of Texas adoption event. With a baby on the way and a young son at home, she had no intention of adding a puppy to the mix but went over to look anyway.
As the oldest and least expensive dog at the mall that day, JoJo, then known as Jolander, stood out.
The 3-year-old speckled pointer mix had spent her life bouncing from shelter to shelter, but didn't let it get her down. In fact, the rescue dog had such a happy disposition that she had injured her tail from wagging it too much. Harrington learned that JoJo had recently given birth to a litter of puppies, all of whom had been adopted. Only JoJo remained, waiting patiently for a home.
"She looked up, and her eyes just melted my heart," Harrington said. "And I was like, 'I want her.'" Harrington couldn't believe how calm JoJo was walking through the packed mall, bustling with last-minute Christmas shoppers, and decided if she was still there the next day, it was meant to be.
"When I saw her there, I was like, 'Nope. She's mine. I'm not waiting.' So we paid the $50 [adoption fee] and brought her home," Harrington said. "She immediately snuggled up to my son, and my son was falling all kinds of in love with her."
Ever-so-gentle with Harrington's 5-year-old, Jay, it was almost as if JoJo was so grateful to finally have a family, she was scared to lose them. "She never made a noise, doesn't bark, kiss, jump or growl," Harrington said. "We would walk her off-leash to the dog park, and I would have to go coax her to play with other dogs because she'd just stand next to me."
But three months after Harrington brought her home, noise complaints from neighbors in the apartment complex started rolling in.
"There was a couple of people who were like, 'You have a dangerous animal. That pit bull is evil,'" Harrington said. "And they didn't have any care in the world for what I had to say, they just saw a pit bull head and that made her an evil animal."
A month and a half before Harrington's lease was up, she received an email from the management of her apartment complex. "They said, 'If you don't get rid of her, then we're going to have to evict you,'" she noted. "'And we're going to do that within 24 hours.'" Harrington was in line to get approved for a house, but wouldn't be able to move in until the beginning of the month.
Faced with either losing her dog or her home, she started calling everyone she knew, but nobody could take JoJo. With time and options running out, she turned to the SPCA of Texas. "I called them and said, 'I don't know what you can do, but I don't want to give her back or surrender her. I just need help and don't know what else I can do.'"
When Harrington dropped off JoJo at the shelter that night, she feared that she might have to say goodbye forever, but the SPCA of Texas's Pet Resource Center was able to place JoJo in foster care in a matter of hours. On a case-by-case basis the Pet Resource Center aims to help owners in danger of surrendering their pets — and Harrington needed all the help she could get.
"They said, 'Are you sure you're going to come back?' And I was like, '100 percent, I promise you the second I get this approval, I will move into the house with nothing just to have her.' And that's exactly what we did," Harrington said.
For two weeks, JoJo stayed with her foster family, wrestling with their two other dogs, snoozing on the couch and waiting. Her foster family dubbed her "Wiggly Butt" because of her persistently happy wag.
As soon as Harrington and her family had moved into their new home, they returned to the SPCA of Texas to pick up JoJo, but this time, the tears were joyful.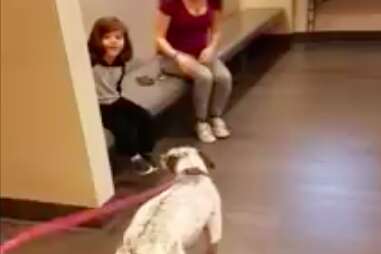 "Definitely a lot of tears were shed," Madeline Yeaman, communication specialist for the SPCA of Texas, told The Dodo. "She was a happy dog and liked all people, but there was a difference in the way she reacted to seeing her family to any other person. For everyone here it was a good feeling to keep a family together."
Since returning home, JoJo hasn't let her family out of her sight. "She has been sleeping in our bed between us every day, has to be next to one of us, is not letting us go," Harrington said. "She has been, once again, the light of our lives."
With the hard times behind them, the Harrington family feels whole again, and are ready to welcome the newest member, a baby girl, in July.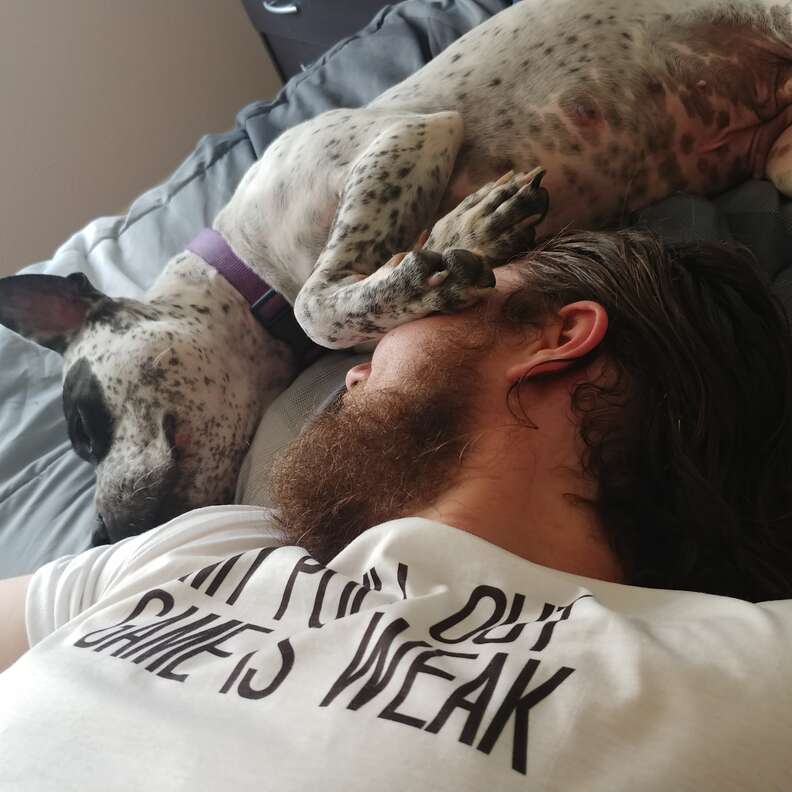 "I am so grateful for everything the [SPCA of Texas] has done making sure [JoJo] could come home because surrendering her was probably the most painful thing I've done in a very long time," Harrington added. "The possibility of her not getting to meet my daughter — that was even more crushing for me — and I don't know many people who want their dog to meet their newborn baby. But she's my mama dog, and she's the only one who understands me."