To kick off their spring cleaning, Mike Shirley-Donnelly and his wife Delicaye decided to start with the backyard.
The hearty oleander bushes, common in their city of San José, California, had become overgrown, and the couple's first priority was getting them under control before the summer bloom. But rainy March weather forced them to put their landscaping project on hold, leaving a mound of trimmings outside.
Little did they realize that the bush clippings would draw attention from other, furrier neighborhood residents.
"We went outside on Easter Sunday 2016 to do an egg hunt with our kids," Shirley-Donnelly told The Dodo, "and while looking for eggs — surprise, kittens!"
The family unfortunately knew that if they left the days-old kittens in the thicket, they wouldn't be protected from the other wildlife that frequented their backyard. "Less than two months before we'd found coyote droppings in our yard, and it was a regular haven for opossums and raccoons," Shirley-Donnelly said. "We knew that if we left them outside they'd either be eaten or contribute to the feral cat overpopulation."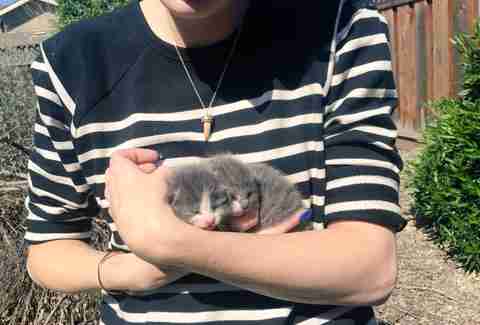 Unsure of where the kittens were coming from or if their mom would return, they lined a cardboard box with a towel and gently placed the five tiny gray and black kittens inside.
Delicaye's allergies had prevented them from adopting pets in the past, but the family wanted to do everything they could for the helpless cats, so they called a friend who worked as a vet tech to see if there was someone who could care for them.
"She told us that newborn kittens don't give off the dander that causes most cat allergies until after they've weaned and started washing themselves," Shirley-Donnelly explained. "So we had a window."
With no previous feral kitten experience, the family contacted Town Cats, a local rescue organization that runs a trap-neuter-return program, to learn how to meet the kittens' needs. With kitten season underway — it typically begins in early spring and runs through late fall — space for feral kittens had become limited in the surrounding shelters and rescues.
That Easter Sunday, the Shirley-Donnelly family's life changed forever.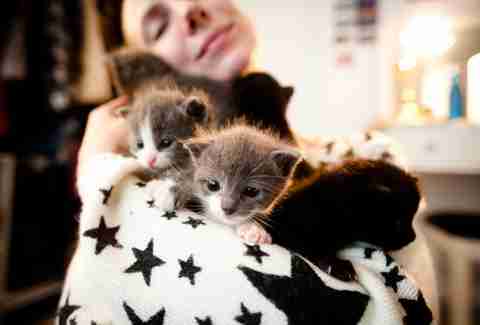 The kittens needed round-the-clock care, from nursing every few hours to assisting with bowel movements, and the family gamely stepped up. "We went from knowing nothing about cat health to having an amazingly understanding vet (and many friends in the veterinary community) to help us with all of the ins and outs of how to keep them all happy and healthy," Shirley-Donnelly said.
But the kittens kept coming.
A few weeks after the first litter was found, a sixth kitten showed up in their backyard, and then a seventh, whom they named Jon Snow and Bison, respectively. With the sudden influx of tiny visitors, they began lovingly referring to their backyard as the "kitten portal."
"Jokes about our backyard being like 'Stranger Things,' the upside-down but full of cats, were all over the place in our friend circle," Shirley-Donnelly added.
With help from a neighbor, the family finally pieced together where the mysterious kittens were coming from. Two unfixed female cats, one gray and one black, had been abandoned a street over from their house earlier that year. Along with kitten care, the family started setting up safe traps for the feral cat moms and dads. And while they had some success, every now and again, kittens would once again appear in their yard.
"The running theory is that since every one of our neighbors had dogs, our house was a better location for them," Shirley-Donnelly explained. "We were about one block away from a hill range occupied by a county park full of coyotes, raccoons and bobcats. The bushes in our yard provided good shelter."
Now, two years later, the Shirley-Donnellys have raised 24 feral kittens and helped them all find loving homes — including those who still live with them.
"Every cat that ended up being born in our yard was the result of TWO unfixed female kittens being abandoned by their owners," Shirley-Donnelly wrote on Twitter. "Two cats + feral toms = 24 kittens in one year, and that is with us ACTIVELY trying to trap/neuter/release. If we hadn't? CATPOCALYPSE."
The couple recently moved out of San José, leaving the "kitten portal" behind. As a musician and a photographer, Mike and Delicaye often work from home and have turned their new house into the Desert Art Colony, where they care for a colony 21 cats. It's a cat paradise, with in-wall litter boxes and plenty of cat-climbing accessories and furniture.
"The house is just full of love," Shirley-Donnelly said. "Most of the cats are insanely loving and purr on physical contact; we have one that purrs when he sees other cats being pet, it's amazing. They're all family, there are hardly any scuffles, and thanks to the aforementioned working from home, everyone gets attention and litter boxes never go unchecked."