Kid Loves New Kitten So Much He Decides To Build Her A Real House
"The kitten loved the house and takes all of her naps in it."
Nine-year-old Peyton Harris has been begging his parents to let him adopt a kitten for years — and about a month ago, they finally agreed. The family of five visited a few different shelters and an adoption event, but as soon as Peyton met little Luna Lovegood, he knew she was the kitten he had been waiting for. 
"He had his heart set on this particular kitten," Lauren Harris, Peyton's mom, told The Dodo. "She had an adoption application already filled out for her, so we had to wait to see if they would adopt her or pass on her."
As it turns out, Peyton and Luna were meant to be together, because the other family decided not to adopt her, and Luna officially became the kitten Peyton had been waiting so long for.
Lauren Harris
Luna settled into her new home almost immediately and fell in love with every single member of her family, even the dog. The 4-month-old kitten is very friendly and loves cuddling with her new family, especially her big brother Peyton.
"She is an incredibly affectionate kitten, which is the reason my son was so drawn to her," Harris said. "My son is incredibly introverted, so he wanted a kitten that would cuddle and sleep in his bed with him."
After a month of having Luna, Peyton decided he wanted to do something special for her. He started saving up his money to buy her a cat tree — and then he had an even better idea. He decided he wanted to build Luna her very own two-story house.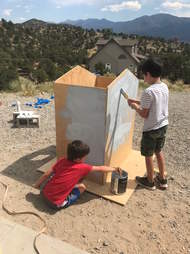 Lauren Harris
Peyton's family is staying with his grandparents for the summer while his dad helps build them a new house, so there was already extra wood and other miscellaneous materials lying around that weren't being used. Peyton decided to use all of this to build Luna's house, and the whole family came together to work on the project.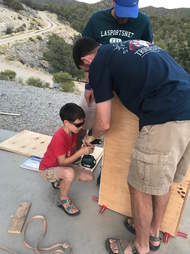 Lauren Harris
"My son had complete creative control of the plans and did a large amount of the building," Harris said. "My cousin, Kristen, had helped my parents build some built-in bunk beds, so she did most of the structural planning and cutting of the wood. Peyton did a lot of the hammering and used the drill to put it together. He also did all of the painting!"
The house took around four days to build …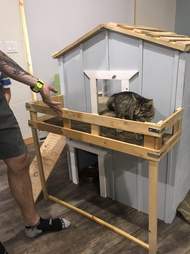 Lauren Harris
… and the finished product is pretty spectacular.
Lauren Harris
The house has two floors, a front porch, a ramp leading up to the second floor and a hinged roof so the family can access the second floor. The upper floor is completely carpeted, and so is the ramp. The house is a gorgeous piece of teamwork, and everyone is so happy with how it turned out — especially Luna.
"The kitten loved the house and takes all of her naps in it," Harris said. "We started feeding her on the porch, too, so that my dog doesn't have access to her food."
Lauren Harris
Luna loves having a place all her own that she can go to escape for a while, and she also loves sitting on her front porch and observing the goings-on of her family.
Peyton waited so long for a kitten, and now that he has one, he can't help but spoil her in all the best ways, and Luna definitely loves him for it.
Thinking about adopting? Then meet Dodo Adoptbot, an interactive guide for new pet parents. Get
started on Facebook Messenger
or text HOME to 38349.