People Get To Work And Find Cat Photos All Over The Lobby
No one knows who put them there or why 😹
Two weeks ago, Amy Robertson arrived at work at OneSource Virtual in Dallas, Texas, and was greeted by four random framed cat photos arranged on a windowsill in the lobby. She was delighted but confused — all the photos were of the same cat, and she had no idea whose cat it was or why someone had decided to decorate the lobby with him. She headed to her desk, hoping to find out more, but all of her coworkers seemed just as confused as she was.
"I asked a lot of people around the company and nobody will admit to knowing who is the responsible party," Robertson told The Dodo. "Lots of people were asking about it both in person and when I would join customer meetings!"
No one was willing to come forward and take responsibility for the adorable prank — and the next day, five more photos showed up, still of the same cat.
The chatter around the company continued as everyone was now more amused than ever. Everyone left work that day excited to see what new photos would be added tomorrow, but when they showed up for work the next day, all nine photos had mysteriously vanished.
Everyone seemed a little bummed that the prank was apparently over, especially Robertson — so she decided to take matters into her own hands.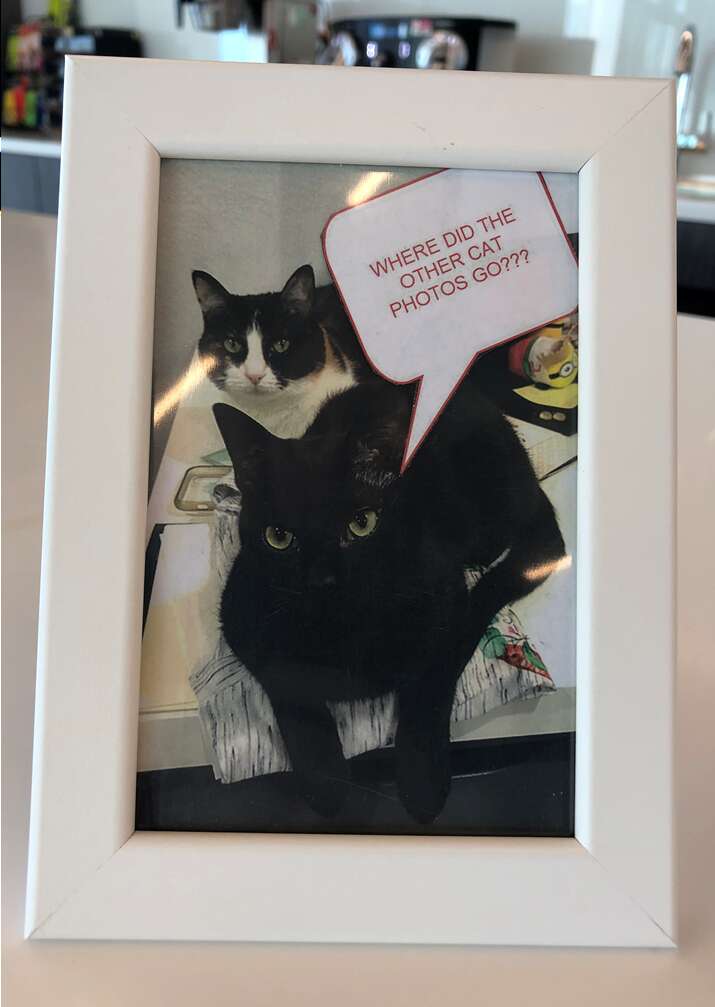 "I thought it would be funny to secretly add a new photo to the collection and see what would happen," Robertson said. "Once the nine photos disappeared, then I decided to add a text bubble on my photo that said, 'Where did the other cat photos go?' My coworker Brenda also added a photo of her two cats. A few hours later when I went to leave work for the day, I noticed someone had returned the original nine photos and added them with our two new photos!"
Everyone was overjoyed when the original cat photos returned, and to make sure they stayed and the fun continued, other people started adding their own photos — and now the grand total is up to 26 photos.
"I think it is super funny and a harmless prank, and it is a perfect example of one of our company values, which is 'We have fun,'" Robertson said. "At one point, there was also a photo of a baby and two photos of dogs!"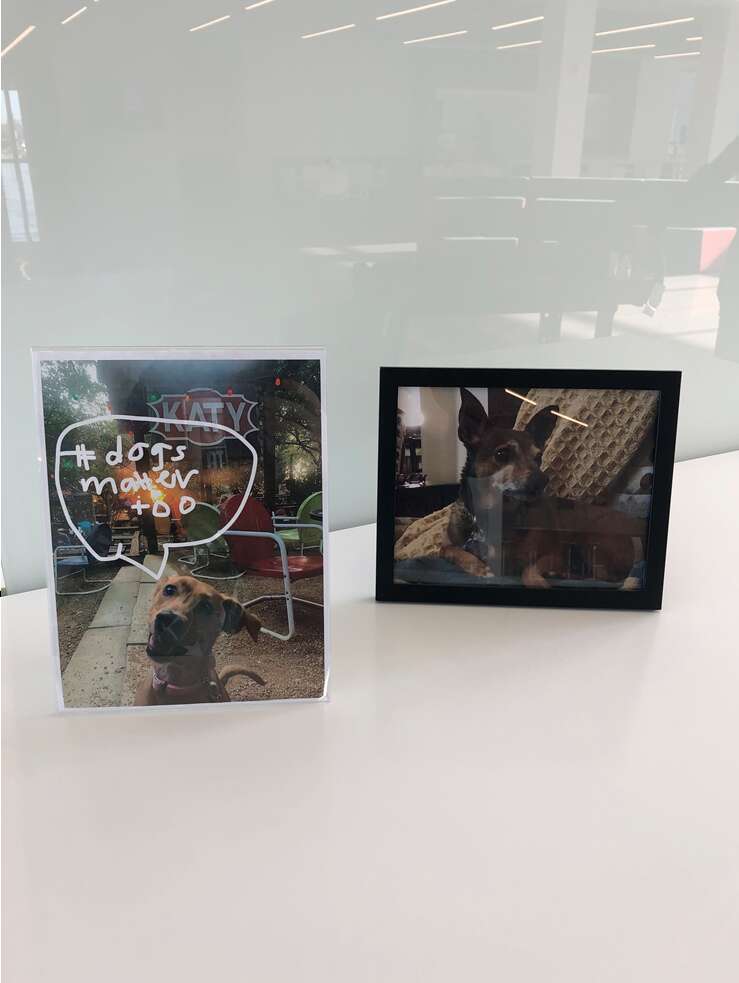 As the collection grew, Robertson and her coworker Brenda realized there was a way to take this a step further and try to do a good deed on top of all the fun, so they decided to use the photos as an opportunity to raise money for local pets in need.
"She suggested we raise money/gather donations for Meals on Wheels, who give pet food when they deliver to senior citizens with animals, as well as our local animal shelter," Robertson said. "Another one of our company values is 'Seek the best for others' so I think this is a great way for us to live this value and help our local community! We started gathering donations today and we already have $125, so I'm really excited to see how much we can get together. It is really awesome how something that started out so random and small has snowballed into something so funny and turned into a random act of kindness!"
What started out as four random cat photos has now turned into a company-wide project, and everyone is loving it — though they still have no idea how it started or who's behind it.
"At this point I doubt we will find out who the mastermind is, but hopefully one day we will," Robertson said. "It is certainly driving my curiosity insane!"