Shelter Dog With No Time Left Reaches Out Her Paw To Ask For Help
"She's only a year old, and if they put her down, it would have been such a waste of life."
Jon Patel and his wife Kayla weren't entirely convinced they wanted a dog. But in early May, Jon went to a local shelter in Jackson, Tennessee, to have a look around.
"There was a bunch of pit bulls and cats there, and the dogs were barking and jumping up on the cages," Jon Patel told The Dodo.
But one young pit bull wasn't barking or jumping at all, and she immediately caught Jon's attention.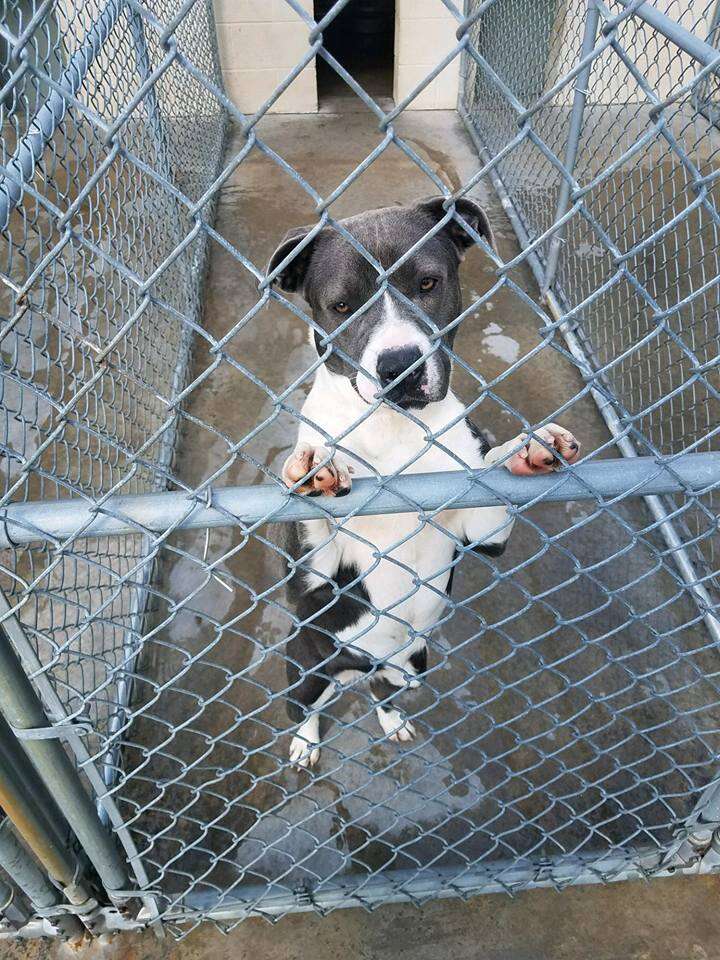 "She was just sitting there very calmly while the other dogs were barking their heads off," Jon said. "So I went over to her cage, and she stuck her little paw out, and when I reached my hand down, she stuck her little paw out through the cage, and I grabbed it. After that, I called Kayla and said, 'We've got to get this dog.'"
The Patels learned that the pit bull's former owner had surrendered her, claiming that she was no longer "cute."
"Once she grew out of being a puppy, they just abandoned her there," Jon said. "A lot of people get them [pit bulls] when they're puppies because they think they're cute, and when they grow up, they just abandon them, and that's what happened to her."
"To this day, I don't understand why anyone would give her up because she's so sweet and loving," Kayla Patel told The Dodo. "She's never met a person or a tennis ball that she doesn't love immediately."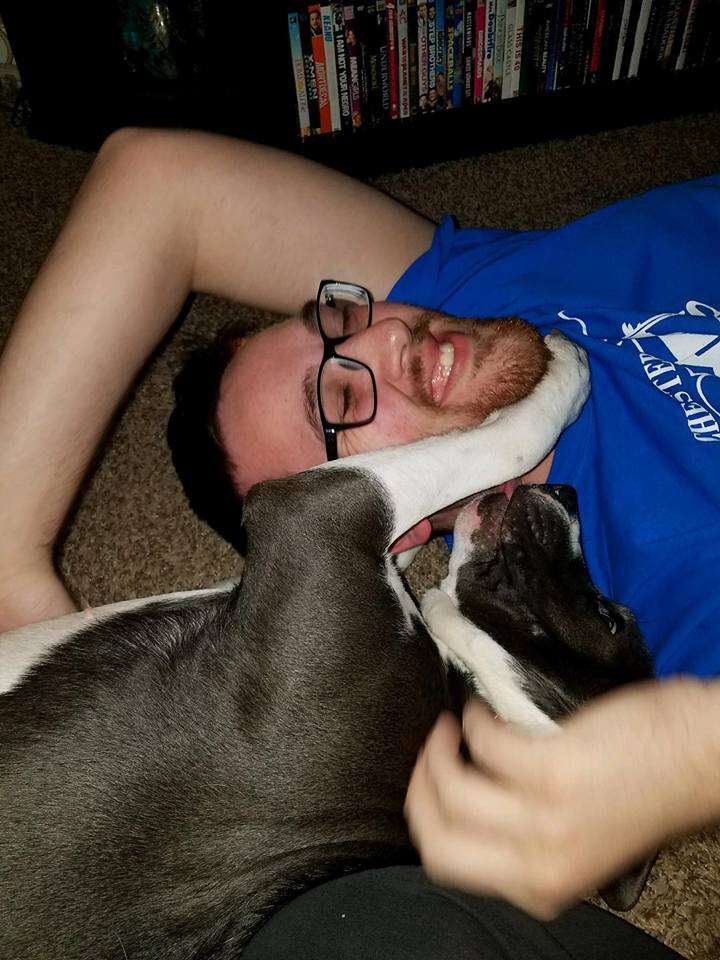 The dog, whom the Patels named Ellie, was set to be put down the same day Jon visited the shelter — but Jon convinced the shelter to hold her until the following Monday, which was the earliest day he could pick her up.
"They said that if we didn't come Monday, they would have to put her down," Jon said. "She's only a year old, and if they put her down, it would have been such a waste of life."
The Patels kept their word. On Monday, Jon picked up Ellie from the shelter and brought her home to their apartment — and Ellie couldn't believe her luck.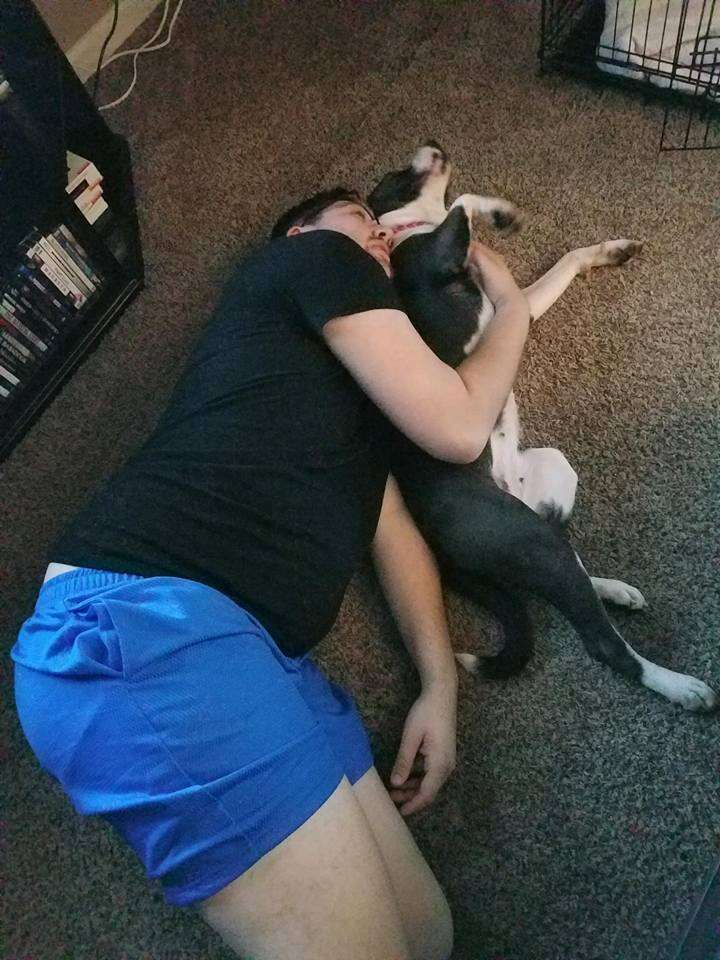 "As soon as I brought her into the door, she was just running all over the apartment, jumping on the bed, jumping on the couch," Jon said.
After getting over her initial excitement, Ellie began to relax into her new life with the Patels.
"We gave her a bath that night. She just laid down in the tub with the water on," Jon said. "It was really funny."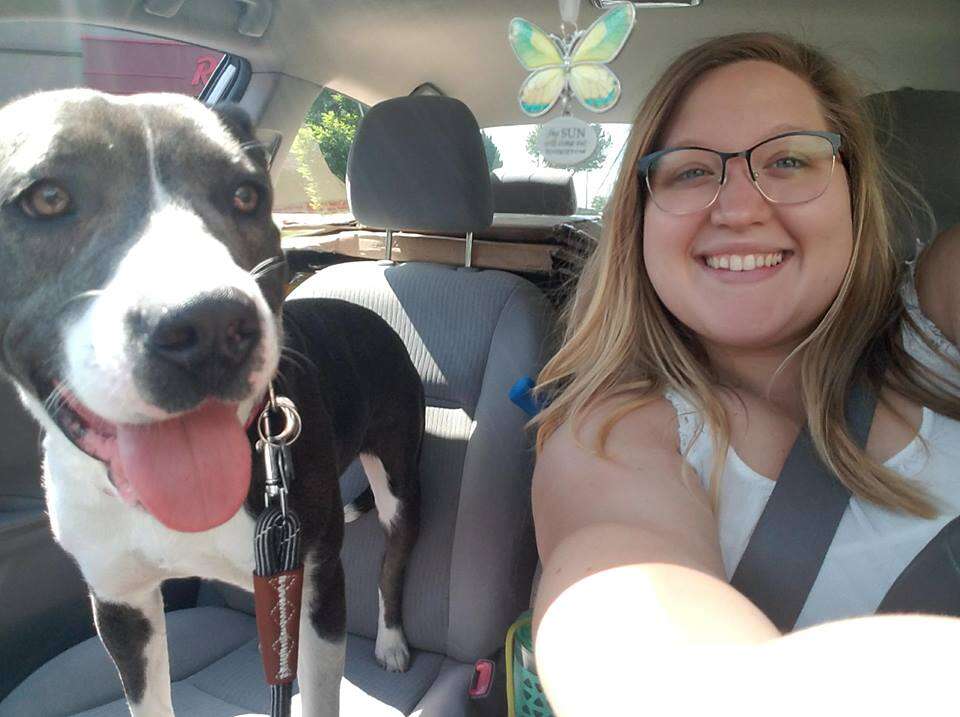 Now Ellie's favorite activities include sleeping, playing with tennis balls and following her new parents everywhere they go.
"She won't let you out of her sight — ever," Kayla said. "Even if you creep out of the room … she's coming after you because she wants to keep her eye on you. I think she just loves us and she wants to be near us all the time."
Ellie also recently discovered that she loves bubbles.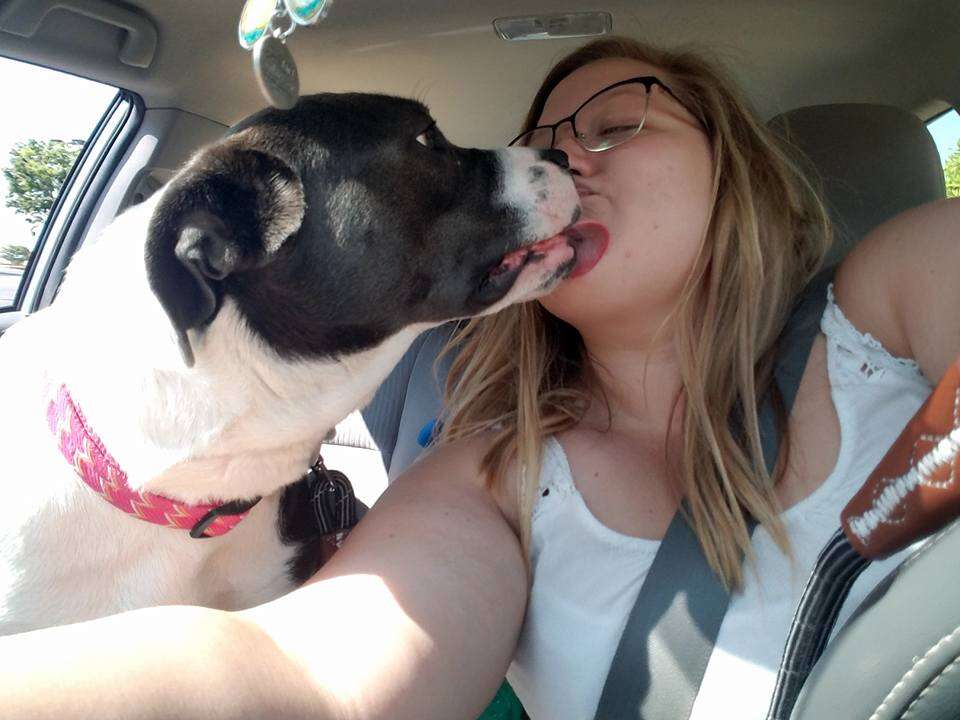 "That's her new thing," Kayla said. "We brought some bubbles home one day, just to see how she would act, and she loves it. She's always in the mood to play."
The only challenges they've had with Ellie is dealing with people's negative reactions to her.
"People have crossed the street to avoid walking near her because she's a pit bull," Kayla said. "We also get a lot of sideways glances, and people kind of muttering about her. But she literally just chases butterflies all day. She's not going to hurt anybody."
Eager to show Ellie's true personality to the world, the Patels shared her adoption story in Pittie Nation, a closed Facebook group for pit bull lovers that's tied to The Dodo's Facebook Watch show, also called Pittie Nation. The post has gotten nearly 2,000 likes and hundreds of comments.
While the Patels hadn't planned on adopting a dog when Jon first visited the shelter, they can't imagine life without Ellie — and neither of them has ever looked back.
"I was a little apprehensive at first about bringing a dog home, but now that she's here … the family wouldn't be complete without her," Kayla said.
"I just love her personality, and I love being around her, playing with her and roughhousing with her," John said. "She's so loving and sweet and happy all of the time."
If you'd like to share your own pit bull adoption story, join the Facebook group
Pittie Nation
.
Want to adopt a dog of your own? Then meet Dodo Adoptbot, an interactive guide for new pet parents. Get started on
Facebook Messenger
or text HOME to 38349.