Woman Finds Box By Side Of Road And Is Shocked By What's Inside
"Usually nothing good on the property is in a cardboard box."
Meghan Lynch, a volunteer with Associated Humane Tinton Falls in New Jersey, was arriving for her shift at the animal shelter last month when she saw a cardboard box lying at the edge of the property.
The small, closed box was sitting at the end of the road, lying in direct sun. With temperatures spiking at 105 degrees that day in the middle of an August heat wave, Lynch feared what might be inside the cardboard container — but opened it anyway.
"Of course our instincts are always to open them because usually nothing good on the property is in a cardboard box," Kim Tambora, marketing office coordinator for Associated Humane Tinton Falls, told The Dodo.
Associated Humane Tinton Falls
Inside lay what looked like a pile of dirty, smelly fur and Lynch feared the worst. Then, she realized the little animal was breathing.
"The dog was gasping for air, covered in her own feces, urine and mats," Tambora said. "Obviously she hadn't been groomed in years — it takes a long time to get like that."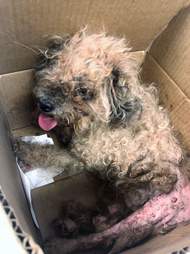 Associated Humane Tinton Falls
Beneath the dog was a note that read: "Hello — found this poor thing at a cleaning job! No idea what to do — thought maybe you would know."
But shelter staff and volunteers knew instantly that the note was a cover for an owner too embarrassed to bring the dog into the shelter. "If you went into a house to do a cleaning and you saw that, you'd call the police," Tambora said. "But you wouldn't come here with somebody else's dog from their house."
Associated Humane Tinton Falls
The apricot poodle mix, later named Halle, was rushed inside and immediately put in a cool area of the shelter. When Halle's temperature started to normalize, the vet began to work on freeing the little dog from years' worth of mats.
The staff was surprised by Halle's reaction — or lack thereof — to being shaved.
"She didn't even need to be sedated, that's how sweet she is and how much she was suffering," Tambora said. "She just kind of sat there."
The dog, thought to be about 10 years old, was found to have chronic cataracts rendering her completely blind — but she doesn't let it hold her back. Put food or a soft blanket down and she knows just what to do.
"We were nervous about her finding her way around in here, but she does great," Associated Humane Tinton Falls wrote on PetFinder. "She even got herself on the couch bed! We were nervous and standing by, but she senses the edges all on her own."
Associated Humane Tinton Falls
But even though Halle is mobile, age has still taken a toll.
"She finds everything, she doesn't really need help, she figures it out," Tambora said. "But she's definitely a little old lady. Her back legs are on the stiff side, so she doesn't walk great."
Associated Humane Tinton Falls
Ultimately, Tambora explained, Halle is a low-maintenance senior — all she needs to be happy is a bed and a nice quiet home where she can spend the rest of her days. And after so many years of suffering, Halle can't believe she's finally safe.
"It breaks your heart that she's probably better off dumped in a box on the side of the road than where she was before," Tambora said. "But we're glad to have her and we'll take care of her until her forever family comes for her."
Hopefully, that will be sooner rather than later.