Woman Decides To Give Dying Shelter Dog His Very First Home
"When the time comes, I want to be able to hold him as he goes to sleep. I don't want him to be alone."
Charlie was found as a stray and taken in by a shelter nearly two years ago. He was around 3 years old at the time and incredibly anxious — and it seemed very possible that he'd never had a home before in his whole life.
After arriving at the shelter, staffers discovered that Charlie wasn't a huge fan of other dogs, and would often try to lunge at them while out on walks. After a while, he started to bark at anyone who even looked into his kennel, so terrified of anyone coming near him.
Mary Jones
Unfortunately, because of Charlie's anxiety, potential adopters always passed him by, turned off by his nervous nature. All of the staff and volunteers at the shelter knew that in reality, Charlie was just a big sweetheart, and loved and spoiled him as much as they could.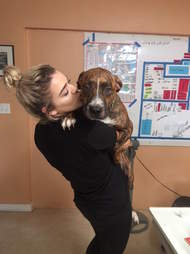 Mary Jones
"When I first met him he was scared to death," Mary Jones, Charlie's foster mom, told The Dodo. "He shook and cowered into the corner of his kennel. Over time, he became more accustomed to the shelter routine. I used to take him out on Saturdays, just to hang out and get a break from the shelter."
Mary Jones
After over a year had passed and sweet Charlie still didn't have a home, the shelter decided to transfer him to its second location, a quieter country setting, hoping this would help ease Charlie's anxiety. While the change of scenery helped a little, Charlie still had no one interested in adopting him, and so Jones decided to become his foster mom.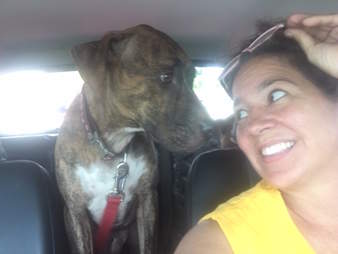 Mary Jones
Jones has three dogs of her own, and while Charlie is fine with the two smaller ones, he is not at all a fan of the bigger dog, and so she decided to foster him at her workplace. He quickly became the office manager, and loved running around the office, lounging on the couches and basking in the company of his new coworkers.
"They were family, they had no choice," Jones said. "Seriously, they adored him."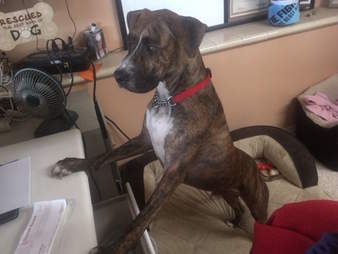 Mary Jones
The office became Charlie's new temporary home, and everything seemed to be going wonderfully — until one day, Jones noticed some lumps on Charlie's neck.
"The vet gave him some antibiotics, hoping they were just swollen due to an infection of some sort," Jones said. "When he finished the antibiotics, the lumps were still there. I then took him to an animal specialist where they took some samples. Their lab a few days later confirmed that he had lymphoma cancer."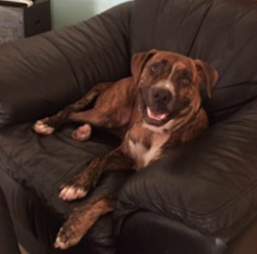 Mary Jones
Usually when a dog is diagnosed with lymphoma, he only has one to three months left to live. Jones was devastated when she found out the news, and quickly made a decision. She was going to officially adopt Charlie, whatever it took, to give him his very first home before he passed away.
"I want to let him live out his life as my beloved pet," Jones said. "When the time comes, I want to be able to hold him as he goes to sleep. I don't want him to be alone."
Mary Jones
Since Charlie doesn't get along with Jones' dog Austin, Jones made arrangements for Austin to stay with some family members so that Charlie can live in her home full-time. She wants him to experience the life he's always deserved, and give him the best last few months on Earth a dog could ever ask for.
Charlie is now comfortably settled into Jones' home, and loving every minute of being part of his very first family. He follows Jones from room to room, and loves going for rides in her truck and snuggling with her in bed at night. He's been the perfect dog so far, and it's hard for Jones to imagine that this is his first time ever having a home.
Mary Jones
After Charlie was diagnosed, Jones made the decision not to pursue intensive treatment. Instead, Charlie is getting lots of TLC, enjoying the time he has left with his new best friend.
"My heart ached for him the very first time I saw him," Jones said. "Now, he has become my soulmate!"