Kids Throw A 'Bye-Bye' Party For Their Dying Foster Dog
"I feel by acknowledging her in this way, it gives her life the meaning it should have been given. She mattered."
Peanut was adopted from Save-A-Pet in 2015, and when her adopter passed away, the dog ended up in the care of her daughter. Unfortunately, the daughter couldn't give Peanut the time or love she deserved, and the little dog ended up back at Save-A-Pet in very, very rough shape.
When Peanut arrived back at the rescue, her teeth were in incredibly poor condition, making eating very difficult, and she had a possibly cancerous mass growing on the side of her face. But the most pressing issue was that Peanut was suffering from kidney failure and likely had only a few weeks left to live.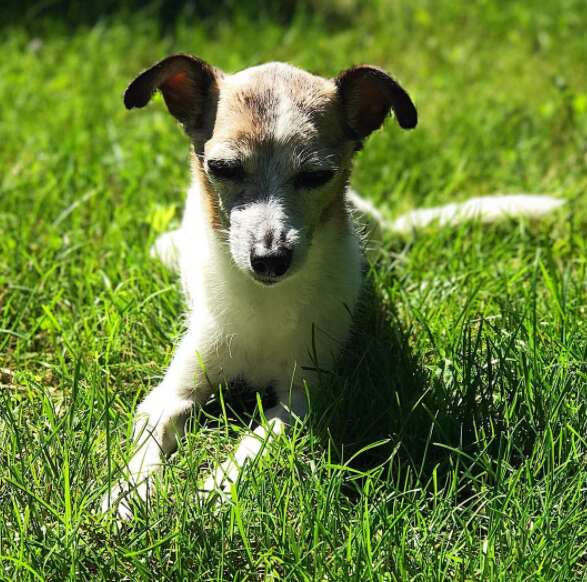 Heartbroken that their beloved Peanut's life was ending this way, the rescue began trying to find a permanent foster home for Peanut, somewhere she could live out the rest of her days in happiness and peace. Staffers posted about Peanut on their Facebook page and pleaded for someone to take her in — and that's how Jennifer Burke and her family found out about Peanut.
"I never intended to fospice an animal, as I never thought it was something I would be able to handle emotionally," Burke told The Dodo. "But Peanut popped up and needed a home, and we had a home and lots of love to provide. I couldn't bear the thought of Peanut dying alone in a cage in a loud, hectic shelter. So, after consulting with my husband and having a family meeting with my kids, we decided to fospice."
A fospice (think foster + hospice) provides a terminally ill pet with a safe, comfortable home where he can live out his final days.
Burke and her husband have three young kids who, up until Peanut, had never had to confront loss or death in a real way. They decided fostering Peanut and caring for her until her last day would be a wonderful way to not only help a deserving dog, but also to teach their kids about the cycle of life and saying goodbye.
When Peanut arrived in her foster family's home, no one was quite sure how much time she had left. The family knew they should try not to get attached to their new dog — but little Peanut and her amazing spirit made that difficult.

"Peanut became a rather large presence in our lives," Burke said. "Even though she was only 8.5 pounds. She wasn't loud or demanding. She didn't exude lots of energy or take up lots of space. But she became very meaningful … and wriggled her way into our hearts, even though we tried so hard not to become attached. We truly fell in love with her and she became family."
Burke and her family already had three other pets when Peanut arrived — two 14-year-old cats and a 5-year-old dog — and they immediately welcomed Peanut into their little group. They were incredibly patient and kind with her, and seemed to understand that Peanut was very sick. Peanut's new human siblings welcomed her immediately as well, and loved cuddling on the couch with her while watching TV and taking her for slow, lazy walks, which Peanut loved.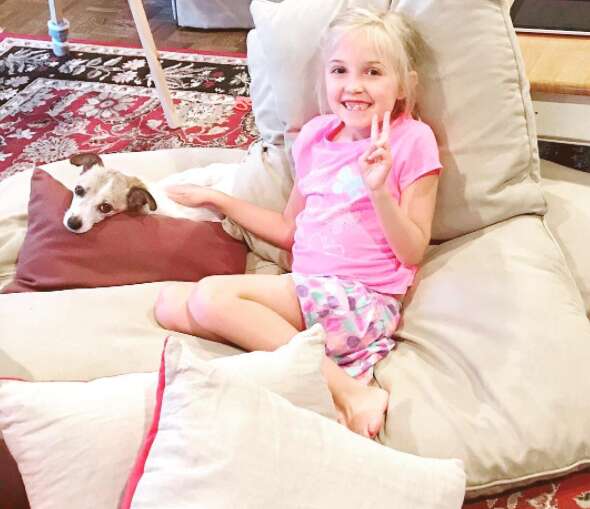 Due to her kidney failure and various other medical issues, Peanut often refused to eat — but that didn't stop her new mom from trying to find foods that she liked.
"Peanut's kidneys were in such decline that she had virtually no appetite," Burke said. "It was difficult to find foods that she would eat. Hot dogs, chicken nuggets, hamburgers and sliced deli meat were the only items she would eat. We tried every kind of food possible. From different dog foods, dog treats, cat foods. I would open my fridge and pantry and take out everything and offer it to her to see if she would eat."
Each day that Peanut spent with her foster family made them love her even more, and each day it was clear that she was nearing closer and closer to the end. Burke and her husband were so focused on the impending loss of Peanut and how they would help their kids deal with it — but the kids decided to take a different approach.
They decided to throw Peanut a "bye-bye" party.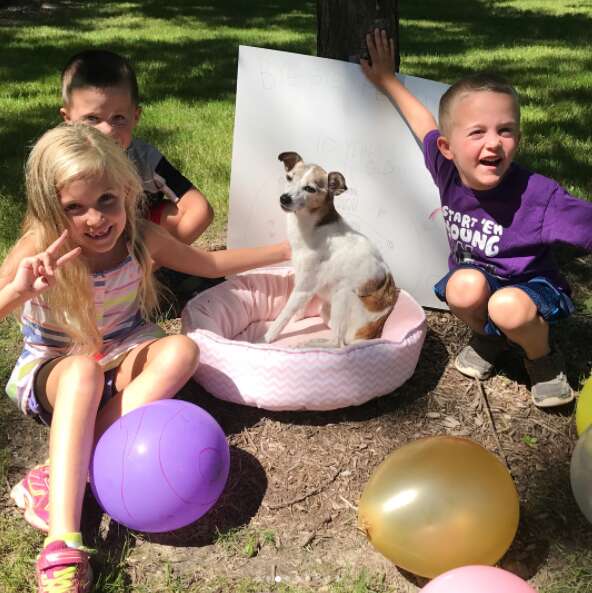 "My 7-year-old daughter, Noa, thought of the party," Burke said. "I had become so consumed with Peanut's decline and her impending death. It was truly wonderful for my daughter to share a different perspective. It was simply brilliant."
Noa wrote a note to her parents that said, "Dear Mom and Dad, I am going to throw a bye-bye Peanut party. Please help so I can throw it in time. Your first, last and only girl kid, Noa." Burke planned to throw the party a few days after Noa wrote her the note — but that morning, Peanut started having seizures. Burke knew then that it was Peanut's final day on Earth, and quickly began preparing to throw Peanut's "bye-bye party" that day.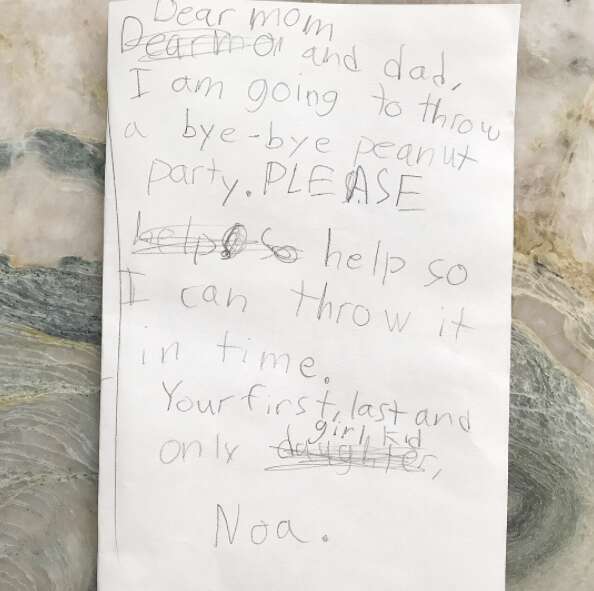 Noa made a poster for Peanut, and decorated balloons with phrases like "We love you Peanut" and drawings of her face. Burke got a party sign and a cake, and the whole family went outside and shared memories of their time with Peanut. She loved being outside with her family, and in those moments seemed so relaxed and content. It ended up being the perfect way to say goodbye.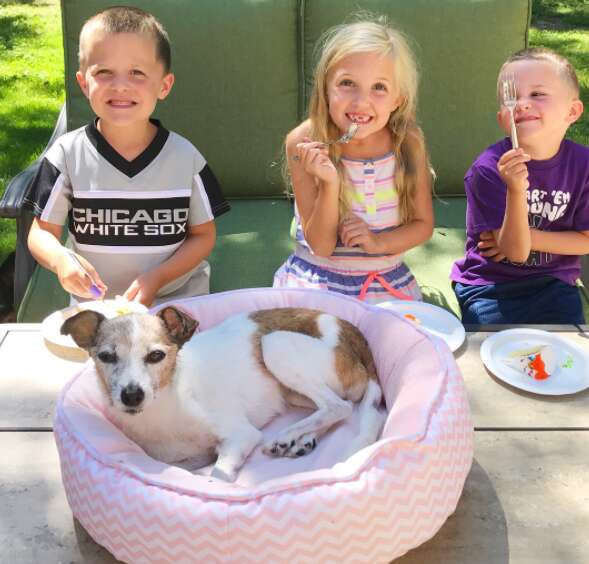 Peanut passed away that evening, and even though everyone was prepared for her death, it was still so hard to accept that their newest, most resilient little family member was actually gone.
Burke's kids had lots of questions about death: how she died, how their parents knew she had actually died, and if Peanut's body just disappeared as soon as she died. They answered each question as best they could, and even though they were devastated that Peanut was gone, they were so grateful to her for giving them the opportunity to teach their kids all about love and loss.
"Our experience with Peanut challenged each of us in so many ways," Burke said. "But the love we felt, the memories made, and the lessons learned from fospicing Peanut made every tear shed and the true heartbreak we experienced completely worth it. And I hope it inspires others to foster or fospice."
Throughout the journey, Burke shared Peanut's story on Instagram, hoping to inspire others to go out and help other dogs who need a loving home to retire in. Peanut had a rough life, but her last five weeks were filled with nothing but love.
"I want to give Peanut the attention, love and concern that she deserved … but didn't get from her former family," Burke said. "I feel by acknowledging her in this way, it gives her life the meaning it should have been given. She mattered."