Here's The Best Thing To Do With Your Leftover Jack-O'-Lanterns
These animals will love the special treat 😍🎃
The jack-o'-lanterns on your porch have had their moment to shine — so now's the best time to give some animals a special Halloween treat.
Instead of letting your pumpkins rot or tossing them in the trash like last year, you can look up a farm sanctuary or wildlife rescue in your area that may be interested in taking them off your hands.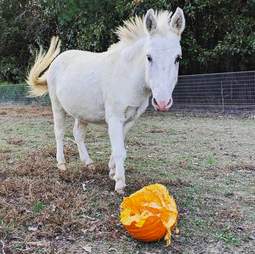 Axl Rose the donkey investigating a pumpkin

| Flare Oaks Rescue
That's just what a few families and pumpkin farmers have done this week for Southern New York Pig Rescue, and now the herd of adoptable pigs is having a blast tearing through a trailer full of juicy orange snacks.
"They all go wild over them," Amy Mayer, president of the rescue, told The Dodo. "We cut them in slices like watermelon usually to make them go further."
It's the same case for the rescued residents at Woodstock Farm Sanctuary, which is home to nearly 400 animals including cows, pigs, chickens, rabbits and goats.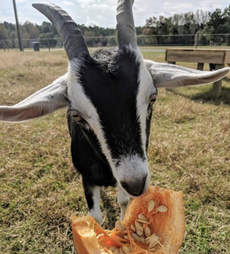 Larry the goat munching on a donated pumpkin

| Flare Oaks Rescue
The animals aren't exactly picky when it comes to treats — but there are a few things to be sure of before handing off your pumpkins to a rescue or refuge to make sure they stay safe.
Rescued chickens checking out a pumpkin

| Woodstock Farm Sanctuary
"If folks want to donate their pumpkins, they can be carved but can't have candle residue in them or show any signs of rotting," Lizz DeFeo, Woodstock Farm Sanctuary's marketing manager, told The Dodo. "Fully intact pumpkins or carved is totally OK though!"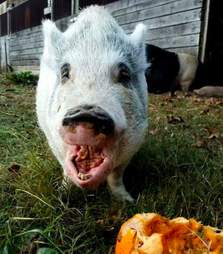 Maggie the pig smiling over her donated pumpkin

| Little Buckets Farm Sanctuary
If there's a wildlife sanctuary in your area, like Big Cat Rescue in Tampa, Florida, or Black Beauty Ranch in Murchison, Texas, rescued tigers or even bears might end up with your leftovers.
Aside from donating pumpkins to rescue groups, people in more rural areas may also opt to leave one or two carved pumpkins in the woods or their backyards as a snack for any passing squirrels, chipmunks or deer.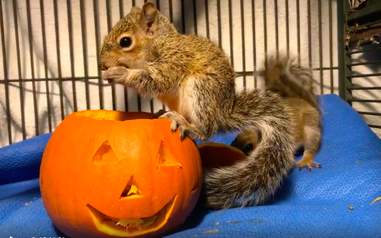 A rescued squirrel enjoying a leftover jack-o'-lantern at Owl's Nest Sanctuary for Wildlife in Odessa, Florida

| Heather Davies/Owl's Nest Sanctuary for Wildlife
No matter which furry or hooved friends you choose to send your pumpkins to this year, there's no doubt the snack will make someone's day a whole lot sweeter.
To help more people recycle their pumpkins this fall, you can share this article with a friend.