Dogs Trapped In Drain For Days Kept Crying Until Someone Finally Heard Them
Now they're looking for a forever home — together ❤️️
Last week a man working in an orange and avocado grove in Fallbrook, California, heard a noise he couldn't quite place. It sounded like the distressed whimpering of a dog, but when he looked around there were no dogs in sight, so he went back to tending the trees.
For days the plaintive whining haunted him, until Saturday, when he followed the noises and found that they were emanating from the very ground on which he stood. Realizing that the trapped animal was in imminent danger, he started to dig and dig until he unearthed a drainage pipe, and made an incision in the metal. There, inside the dank pipe, were two glowing eyes begging for help.
Animal services arrived on the scene and widened the hole, pulling out not one, but two Labrador retrievers — a 2-year-old female and, behind her, a larger 5-year-old male. "Both dogs were very dehydrated and hungry, with the male dog too weak to even stand," Daniel DeSousa, director of the San Diego County Department of Animal Services, tells The Dodo. Though the dogs were very thin, frail and covered in fleas, they were remarkably uninjured.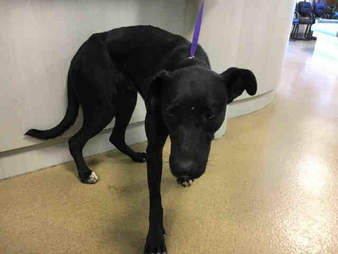 San Diego County Animal Services
"We estimate the dogs were in the drain for at least three days," Laurie Joniaux, deputy director of the San Diego County Department of Animal Services, said in a release. "It's amazing they're actually doing so well."
San Diego County Animal Services
As for how the dogs found themselves in such a peculiar predicament, well, that's still a mystery. "The only one who knows how the dogs got stuck are the dogs, and they are not talking," DeSousa says. "We suspect that the first dog chased something into the pipe and proceeded to get stuck. Its whimpers and cries then attracted the second dog who crawled in, only to get stuck as well."
Once freed from their metal trap, both animals were taken to San Diego County's animal care facility, where they were treated for external and internal parasites and are now gaining weight and recovering nicely. "Our staff says that they are very happy dogs — their wagging tails are proof of that," DeSousa adds.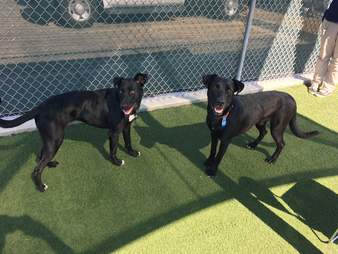 San Diego County Animal Services
The dogs, neither of whom were licensed or microchipped, have yet to be given names, though the duo are being casually referred to as "the pipe pups."
San Diego County Animal Services
The two labs, who are quite possibly related, are "very bonded," notes DeSousa, and will need a forever home where they can be together. After being stuck in a pipe for three harrowing days, these pups are so happy to be free. Hopefully soon they will find an owner who can keep them out of tight spots for good.