49 Scared Dogs Just Got Dumped At A Shelter That Has No Room For Them
It's a race against time to save them.
Dozens of dogs just arrived at a busy city shelter in San Antonio, Texas, after a hoarding case was discovered by the authorities.
Right now the dogs only have numbers as names — and people involved in animal rescue networks across the country are rushing to make sure all 49 lives are saved.
But as with so many hoarding case busts, it's a race against time.
With so many unwanted dogs and cats in shelters across the country, there is hardly ever enough room in busy city shelters such as San Antonio's.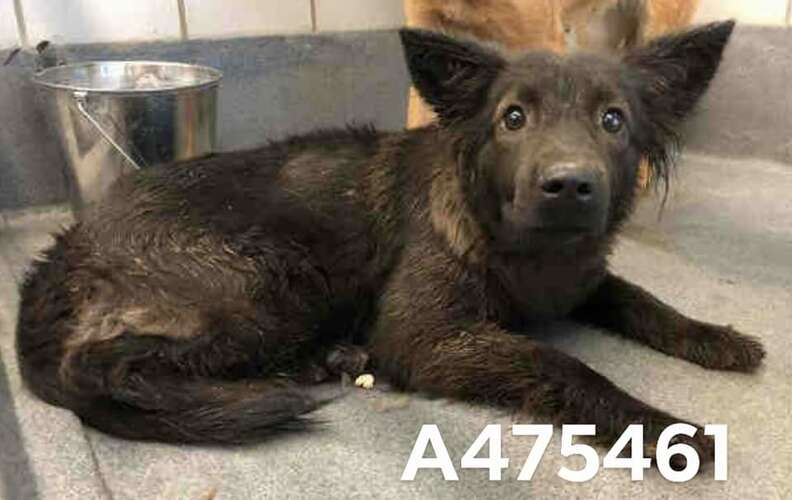 Cindy Droogmans, founder of A-Team Elite Rescue Dogs, who routinely transports needy shelter dogs from Texas to New York to help them find homes, was particularly worried that these dogs could be put down if they don't find rescues quickly.
"I need to [work] fast, like with all the other rescues," Droogmans told The Dodo.
According to local news, the owner of the 49 dogs cooperated in surrendering them to the city's Animal Care Services. Neighbors watched as dog after dog after dog was taken out of a single house. Many had terribly matted fur and were soaked in their own waste.
"I figured something was really wrong," neighbor Mike Tyree said, recalling how he saw several trucks parked in front of the house earlier this week.
The dogs were taken to see a veterinarian. And now their fate hangs in the balance.
That's why so many people are sharing Facebook posts about the dogs who need to be rescued from the shelter. Photos show the German shepherd and Chow mixes curled up in corners, looking up with concerned eyes at the lens of the camera or huddling together for comfort.
"Cases like this one are tragic for many reasons but most of all because if could have been 100 percent avoidable had the owner been responsible," a representative for the shelter told The Dodo. "Animal Care Services works very hard to maintain our 90 percent [or more] live release rate. In fact, the shelter currently has a 93 percent placement rate and ordering euthanasia is the hardest decision we make."
The surrendered dogs include those who are several years old, as well as young puppies.
An investigation into the hoarding case is ongoing.
Tyree, as well as many of the neighbors, have hopes that a better future lies ahead for the dogs: "That they get a better home, not being abused, and be happy."
To inquire about fostering, adoption or bringing these dogs to a rescue group, you can contact San Antonio Animal Care Services at (210) 207-4PET. You can also
donate to A-Team Elite Rescue Dogs
to help with its rescue efforts.
This article has been updated to include a comment from the shelter.