Grandma Makes Her Family Beautiful Doll Beds — And They End Up Being Used By Dogs Instead
They snuggled up in them during the hurricane.
Several years ago, Dasha Lebedev's grandmother gave her and her sister beautiful, handmade doll beds for Christmas. She told them that she'd made the beds so that one day their children would have beautiful beds for their dolls — but they ended up being used a bit differently than she imagined.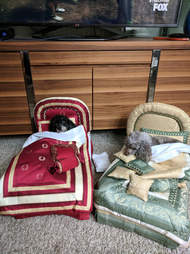 Dasha Lebedev
Lebedev and her family are from Russia, and her grandmother has always handmade their clothes for them, even since moving to the U.S. After she gave them the special doll beds, Lebedev and her sister put them away in the basement for safekeeping. When Hurricane Irma hit, their basement began flooding, and the sisters brought up anything of value to make sure that nothing got ruined. 
"Luckily these beds came with custom fitted protection — thanks, Grandma — and they were unharmed," Lebedev told The Dodo. "We brought them upstairs and instantly had the idea to show them to the pups. They're the perfect size for this kind of fun."
Even though the beds were technically meant for their future children to use, the sisters decided to show them to their furbabies instead …
Dasha Lebedev
… and of course, the dogs instantly loved them.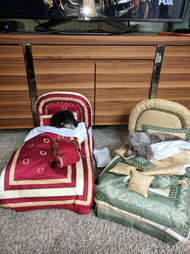 Dasha Lebedev
"Motya loved it and instantly felt comfortable under the covers," Lebedev said. "Muha didn't mind it, but did get jealous that Motya got her own bed too so she switched sides a few times."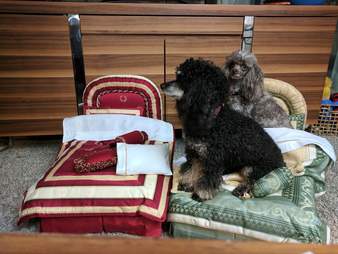 Dasha Lebedev
The beds turned out to be the perfect cozy place for the pups to snuggle up and wait out the rest of the storm. The sisters eventually put the beds away, but are definitely planning on taking them out for the dogs to enjoy again — and may even use them to take adorable Christmas card photos.
Dasha Lebedev
Of course, not everyone was as amused by the pups using the special doll beds. When Grandma found out what her handmade beds were being used for, she had a very strong reaction.
First, she said, "It's for my future great-granddaughters; don't ruin them." Then she went on to offer to charge $50 a day for other dogs to use them.