Shelter Dogs Won't Sleep Unless They're In The Same Bed
Their names are Hansel and Gretel, and they just got a home TOGETHER.
In the shelter, Hansel and Gretel couldn't bear to be apart. They had two beds in the kennel they shared, but they'd only lay together on one of them.
Rick Tunison, kennel manager for the Mahoning County Dog Warden's Office & Adoption Center, in Youngstown, Ohio, had collected the two as strays in late March. The dogs had been running loose for a long time, and were hard to catch.
Finally, Hansel — the tan dog — willingly entered Tunison's van once he spotted an open can of food waiting for him inside. Gretel didn't fall for the can of food trick. But she was unwilling to let her brother go off without her.
"She jumped in the van and lay right next to him," Tunison tells The Dodo.
At first, shelter workers tried keeping the young dogs in separate kennels.
"They kept busting through doors," says Tunison. "They wanted to be together."
Folks at the shelter then housed Hansel and Gretel in one kennel. They walked them at the same time.
They decided that even if it would be harder to find a good home for a pair of dogs, that's what had to be done.
"There was no way I wanted to see them separated," says Tunison.
But finding a home for even one blocky-headed dog can be difficult. Two, who have to be adopted together — that's a serious challenge.
The challenge grew slightly more manageable in late April, when shelter worker Devon Carr snapped a photo of the cuddlebugs sharing a bed. The photo was posted online, and set off across the internet.
Rachel Harris had been thinking about adopting a couple of dogs, but wasn't quite yet ready to do it. She had moved from the Chicago area to Dallas, and thought she needed a little time to settle into her new situation.
But that photo — as well as another, of the dogs wearing festive neckwear — spoke to her, moved her. "I had to have them," Harris tells The Dodo.
Harris contacted the shelter, and was told another family had come calling about Hansel and Gretel. That adoption fell through — but Harris still had to persuade a shelter in Ohio that she was the perfect home for dogs that shelter workers had grown quite attached to.
Harris had friends who work in animal rescue call the shelter to vouch for her, and Tunison grew convinced that she would be able to take good care of this special pair.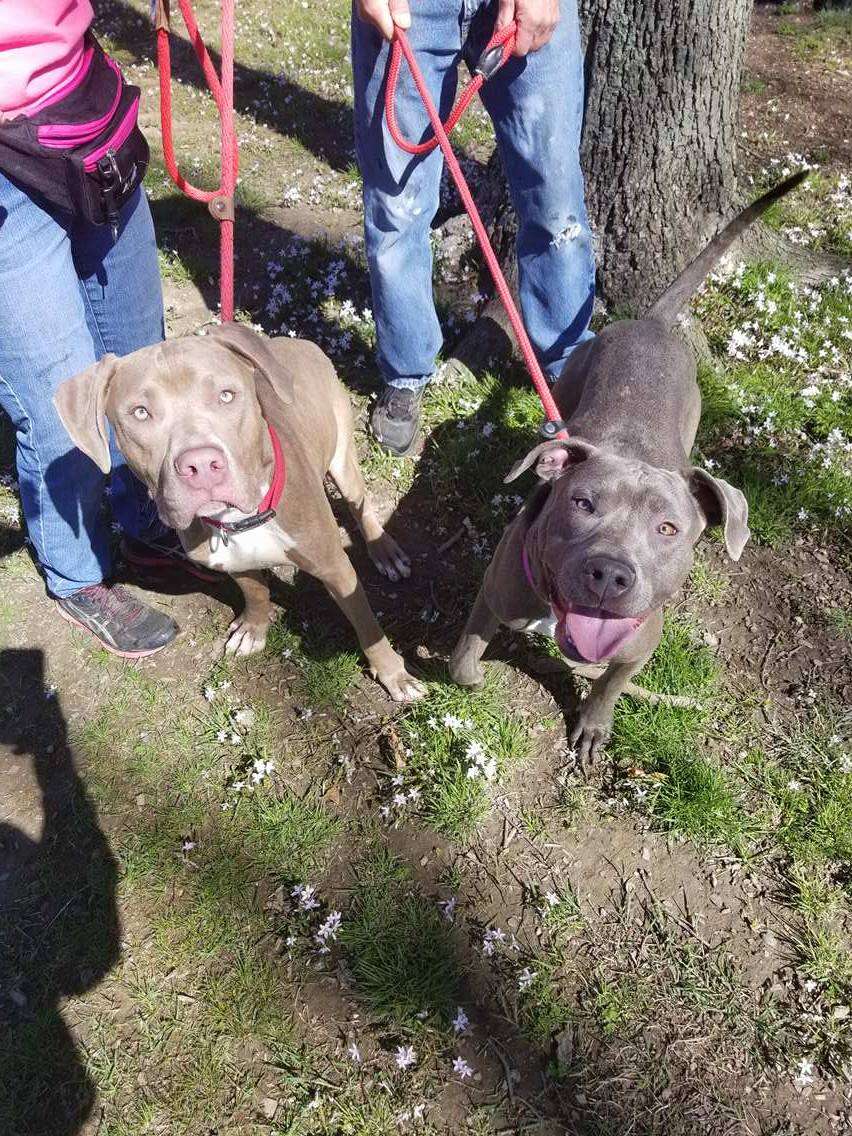 Harris's rescue friends handled the logistics of getting the dogs to Texas. Hansel and Gretel arrived at their new home just about two weeks ago, and quickly got comfortable.
They are sweet and curious and smart, and "kiss everyone who comes in," Harris says.
Harris, who changed their names to Hank and Gigi, says the two have gone from being glued at the hip to each other, to being utterly attached to her.
"They could be sound asleep, I get up and they wake up and follow me wherever I'm going," she says. "They are on me all the time."
Harris says she didn't go out intending to adopt famous dogs. (Though she has set up an Instagram account for the people who want updates.)
She just feels fortunate she happened to see Hansel and Gretel, now Hank and Gigi, online. That the shelter was willing to adopt to her. That they are so happy at home.
"I'm the lucky one," Harris says.
Devon Carr, who took the photo that got this pair their home, has been monitoring Harris's pictures to see how the dogs are doing. She likes what she sees.
Interestingly, the images that please Carr the most are those showing Hank and Gigi a little bit apart — like one that Harris shared of them napping on separate beds. Carr believes that at the shelter, Hansel and Gretel stuck so close in part because they are so bonded. It was also in part because they were nervous, even though they were adored.
So seeing them nap near each other, but not touching — to Carr, it means that they are beginning to relax.
"They look pretty happy now," Carr says. "It all worked out."
You can see the Mahoning County Dog Pound & Adoption Center's other adoptable pets
here
.
One dog the shelter would especially like to draw your attention to is Venture, who is thought to be about 2 years old. Venture is good with other dogs, and does well with cats. He can be shy with new people, which is probably why he hasn't been adopted yet — those who know Venture say he is a wonderful dog with a great personality. Here is his
adoption listing
.