Hero Dogs Run To Neighbor's For Help When Their Mom Collapses
They somehow knew EXACTLY what to do to save her life 👏
Florida resident Maureen Hatcher had a scary medical emergency in early December — and her two loyal dogs are now being praised for saving her life.
Hatcher was at home one day when she collapsed to the ground while taking a shower. Her two Labradors, Bella and Sadie, immediately noticed something wasn't right — Hatcher was lying on the floor, barely able to move at all.
"I remember Sadie coming in," Hatcher told FirstCoastNews. "I said, 'Mommy needs help,' and then they were gone." The dogs immediately knew what needed to be done, and ran out of the house to get help.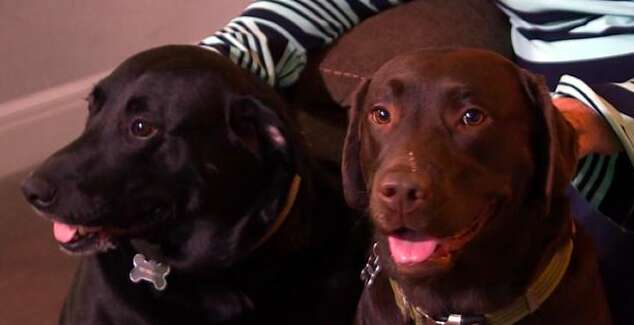 A doorbell cam on the front step shows the two brave dogs sprinting and barking as they hurried toward a neighbor's home, desperate to get someone's attention.
Moments later, a woman who lives in the neighborhood can be seen entering Hatcher's home. She called 911 and paramedics arrived shortly after, and thanks to Bella and Sadie, Hatcher got the help she needed right away.
It turns out Hatcher had suffered a stroke, and thanks to her quick-thinking dogs she's now home and recovering.
While the dogs are not registered service animals, the smart dogs somehow just knew what to do when their mom collapsed — and Hatcher is so thankful they were able to come to her rescue. Without them, she fears, she wouldn't have been so lucky.
"I shouldn't be in the shape that I'm in," Hatcher said. "I am blessed. Very blessed."