Loyal Dogs Warned Their Family The House Was About To Collapse
Everyone got out just in time 💖
Michelle Moore always knew her two dogs, Jake and Dutchess, were special — but she never imagined they'd end up saving her life.
Two weeks ago, Moore and her boyfriend, Christopher Creech, who live in Danville, Virginia, jolted awake at 1:30 a.m. Jake, their 11-year-old rescued Shih Tzu, had leapt onto their bed and was furiously barking.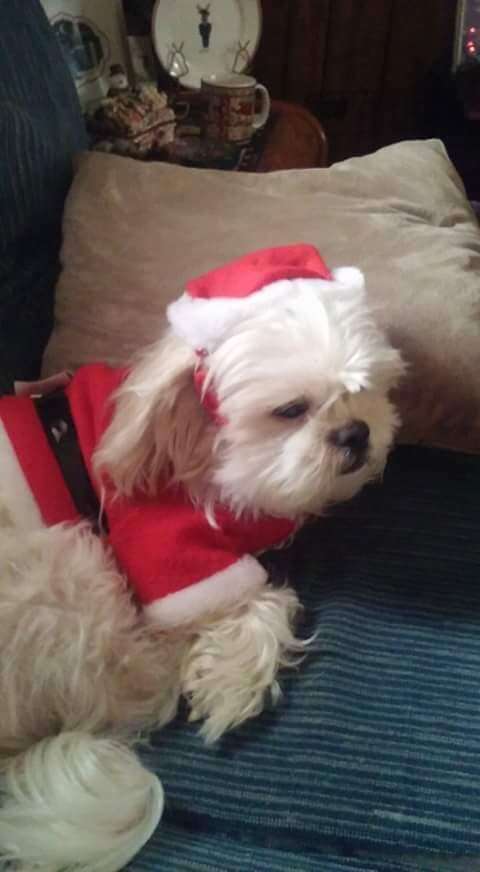 "He was barking and barking and barking, and reaching up and grabbing my boyfriend's beard and pulling on it," Moore told The Dodo. "He'd never done anything like that."
Dutchess, a 1-year-old Staffordshire terrier, starting barking, too, forcing Moore and Creech to sit up in bed. And that's when they heard terrifying sounds from the other side of the house.
"We heard boards breaking, like someone was trying to break into the door with an ax or something," Moore said.
Creech leapt up to investigate, while Moore stayed in bed.
"I sat there, just panicked," Moore said. "I realized the air conditioner went off and all the power went out. And then I could hear the water rushing like a waterfall — just rushing river water."
Suddenly, Creech shouted to Moore from the kitchen.
"He kept saying, 'We've got to get out, we've got to get out — the house is falling,'" Moore said. "That took a second to register, but I jumped up and took off out of the bedroom, but realized that I didn't have my glasses on. So I grabbed my glasses and my little dog Jake and ran out into the hallway."
Moore didn't get very far — she actually ran into the hallway wall, which had fallen down and was blocking her path.
"I couldn't see that," Moore said. "Apparently, I stepped over a big hole when I ran over there. Otherwise, I would have fallen through to the basement, which was full of water and coming in and crashing all the beams and everything in the house."
During the commotion, Jake leapt out of Moore's arms and ran back into the bedroom. Dutchess, on the other hand, had already gotten outside, and was frantically barking in the front yard. Creech told Moore they had to get out, too, but Moore wasn't going to leave without Jake.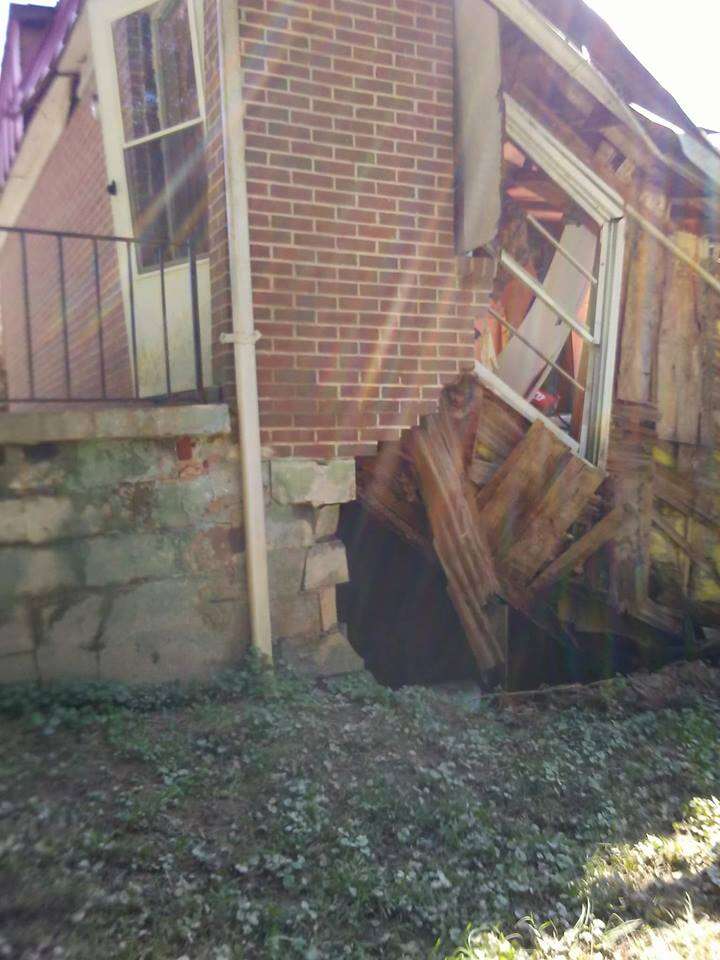 "I yelled to my boyfriend, 'I can't find Jake,'" Moore said. "He managed somehow to get back into the bedroom, and he'd gone underneath the bed — he was hiding and scared. Forget the pleading to try and get him to come out from under the bed — he had to just get him."
Somehow, the four of them managed to get out safely — and just in time. Their house was crumbling to the ground as floodwaters gushed through their property. They later learned that the local river had gotten clogged up with debris in the wake of Hurricane Florence, and it had created dangerous flash flooding in the neighborhood.
"We just watched the water rise — it rose 30 feet," Moore said. "We were trapped. The road was washed out. I was on the phone with 911, and they sent the fire department out to get us."
The fire department couldn't rescue them by boat, so two officers hiked through the woods and helped Moore, Creech, Jake and Dutchess get to safety. Yet Moore is struggling to deal with the amount of loss they suffered.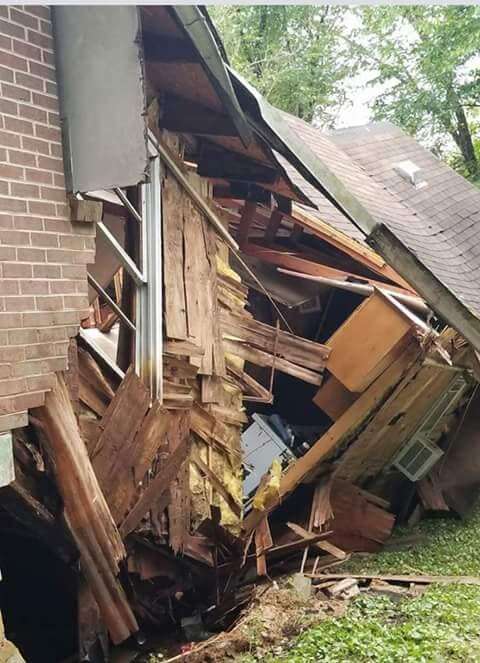 "It's just been a nightmare," Moore said. "Everything that I have ever touched or owned is gone … my son's baby pictures, a lot of things from my dad who died when I was 6. So that's been really heartbreaking."
There's a lot Moore is thankful for, as well. A local man got in touch with them and offered his empty rental house free of charge for two months. "It's given us time to get back onto our feet," Moore said. "It's been really wonderful."
But to Moore, the biggest blessing is having Jake and Dutchess — not only did the dogs save their lives, but they've been a wonderful support system to Moore. Dutchess, in particular, runs to her side whenever she begins to cry.
"These two are my shadows, and they're not normally like that," Moore said. "They're extra clingy, and they've been getting lots of dog treats."
Interested in adopting your own dog? Then meet Dodo Adoptbot, an interactive guide for new pet parents. Get started on
Facebook Messenger
or text HOME to 38349.