People Find Strange Room Packed With Dozens Of Dogs In Bags
"It has been an overwhelming experience to watch these dogs transition from traumatized, meek animals fearing for their life to bright and confident animals."
Four months ago, 36 dogs were headed to the worst possible fate.
The dogs had been tied up in burlap sacks, and their muzzles were bound with rope, which made it hard for them to breathe. Then they were thrown into the back of a hot, boarded-up truck, and driven to a dog slaughterhouse in India.
Sadly, some of the dogs were diagnosed with distemper and rabies, and 12 ended up dying. But the 24 who survived have gone from strength to strength. Not only have they recovered physically, but they're learning to trust people again.
"The dog meat trade dogs [were] rescued from very stressful conditions where they had very little opportunity for interactions with other dogs and people," Arkaprava Bhar, regional manager at HSI India, told The Dodo. "It was not an easy process for those dogs to overcome from that condition, but slowly, with the help of our kind dog handlers, they came out from fear and [have been] becoming friendly and healthy."
For the past four months, the dogs have lived at a shelter in Aizawl, Mizoram, while HSI fought for legal custody of the dogs. Two weeks ago, that custody was finally granted, and all 24 dogs are now up for adoption.
Bhar explained that all the dogs enjoy the company of people now, but each individual would suit a different kind of family.
"Some are high-energy dogs and would be a great addition to an active family," Bhar said. "Some are shy and require patience and love. Some senior dogs just need love. However, their behavior may be influenced by their past experiences and lack of socialization, and may not be suitable for [homes with] other animals."
A dog named Sweety seems to equally enjoy walks and belly rubs. When a walk is coming to an end, Sweety will plop onto the ground, roll over and ask for a belly rub, probably in an attempt to prolong the walk.
Michael is an older dog with a calm demeanor who loves the company of others. He also has a thing for chew sticks.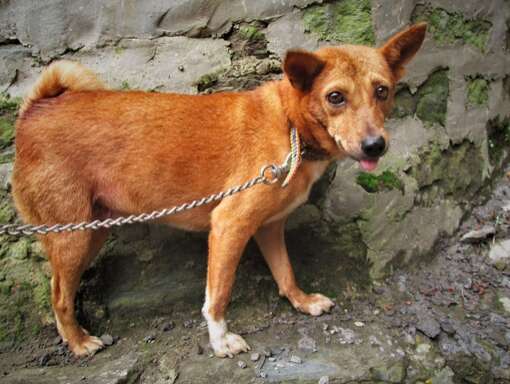 The team hopes to find homes for the dogs in India since moving them to other countries could be stressful. But at the same time, they're open to international adoptions.
"If we can get really good homes outside India, we can surely organize [an] adoption procedure [in] any part of the globe," Bhar said.
"It has been an overwhelming experience to watch these dogs transition from traumatized, meek animals fearing for their life to bright and confident animals who are excited about their daily walks and food," Bhar said in a statement. "This is a landmark judgment by the court in Aizawl, a first of its kind to give victims of the dog meat trade the sanctuary and relief they need. We now look forward to seeing these lovely dogs bring joy to a new family soon once adopted."