Strangers Work Together To Save 21 Dogs From Hurricane Floods
"I don't know how it all worked out, but it certainly did."
Betty Walter needed to be rescued, but she wasn't going to leave without her dogs.
Walter, a 44-year-old independent dog rescuer, had watched floodwaters from Hurricane Harvey rise around her one-story home in southeast Houston. But instead of thinking of herself, she worried about the 20 dogs in her care — four were her own dogs, seven were foster dogs from shelters and the rest Walter was looking after for neighbors and homeless residents during the storm.
As the water inundated her home, Walter hoisted 17 of the dogs up into her attic, where they'd be safe from drowning. The remaining 3, however, were too heavy to lift.
"They were too big — I couldn't get them into the attic," Walter told The Dodo. "So I made steps and put them up as high as I could off the ground."
But this was just a temporary solution — Walter knew she had to get herself and the dogs out of there as quickly as possible.
"I reached out to all the people I knew in the rescue world for dogs and in our community, and people were trying to send me help, but the water was too high," Walter said. "They kept calling 911, the Coast Guard, the Red Cross. I had people stop by from the fire department, but they wouldn't take the dogs — they had to take people out first."
While Walter understood why the fire department couldn't take the dogs, she was fraught with anxiety. By this point, she'd been waiting for about 14 hours for help to arrive. "I just didn't want to be forgotten in the attic with these dogs," she said.
Walter waded out into the water outside and stood up on top of her truck, searching for help. Finally, it came.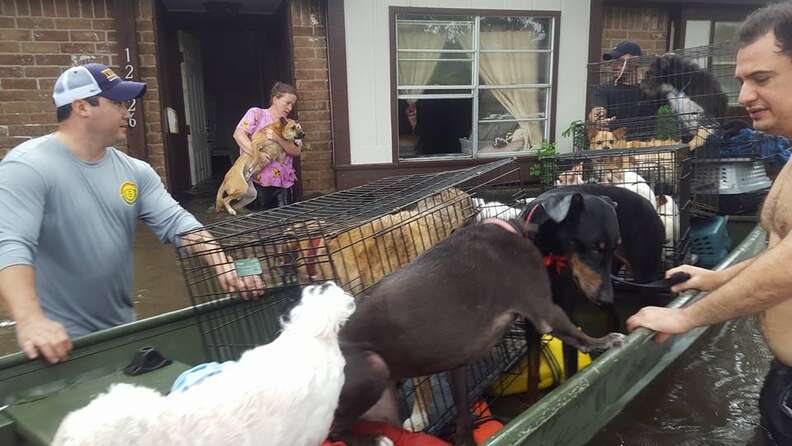 A man named Buck Beasley had arrived in a flat-bottomed boat to rescue a sick woman with a medical device that couldn't get wet from a nearby house. But when Beasley got there, the woman had already gotten evacuated.
So Beasley and a couple other men looked around the area to see if anyone else needed help.
"They went across the street and started looking, and they ran into a man named Junior and his beautiful deaf Doberman," Amy Beasley, Buck Beasley's wife and a volunteer for Bay Area Pet Adoptions, a no-kill shelter, told The Dodo. "And while my husband was loading them up, the other two guys went to the next house, and there was Betty with her dogs."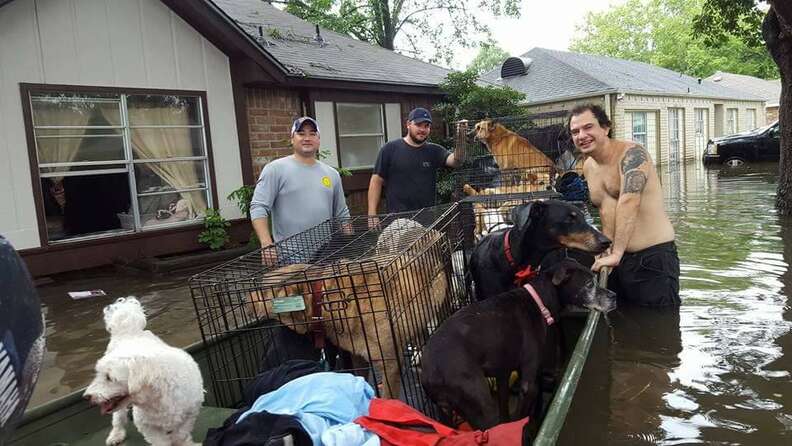 One of the men asked Walter if she needed help, and she said, "Yes." But she explained to him that she wasn't leaving without her dogs.
"He said, 'OK, bring the dogs,'" Walter said. "And I said, 'I got quite a few dogs.'"
Beasley and the others helped Walter move the 20 dogs out of her house and onto the boat. Walter put as many of the dogs into crates as she could, but others she had to carry out — and it wasn't easy.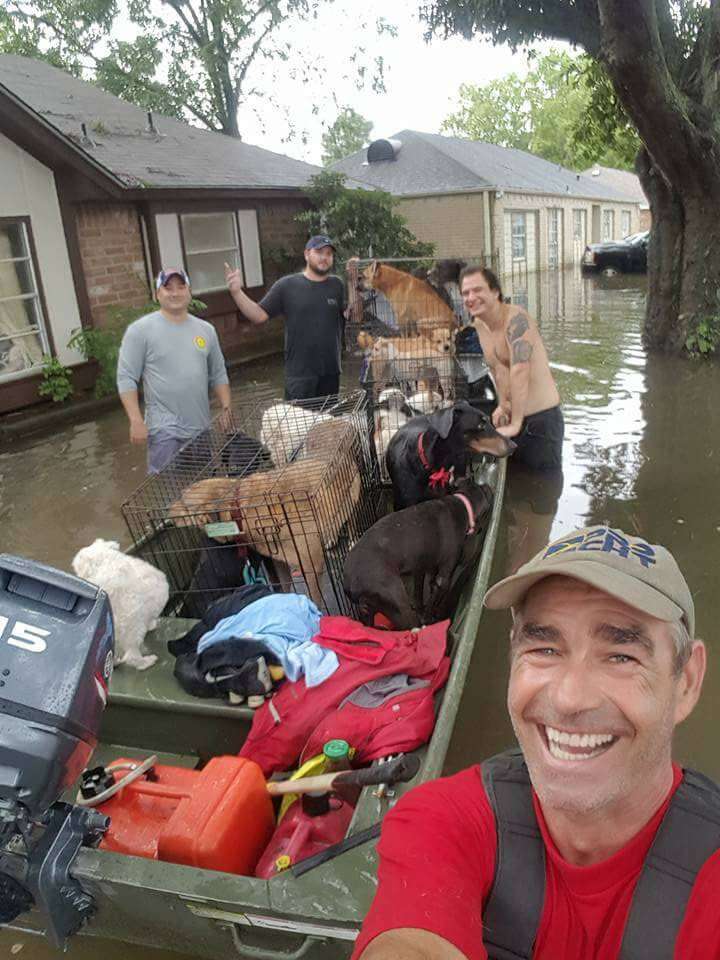 "Some of them landed in the water, and they were terrified and they were biting," Walter said. "And trying to get a 120-pound Great Pyrenees into a boat — that was pretty hard."
With 21 dogs on the boat, there wasn't any room for people, so Walter, Beasley and the rest of the men stayed in the water.
"We were pushing the boat and keeping the boat from capsizing, and hanging onto the side and trying to get the dogs to safety," Walter said. "There were some parts where I couldn't touch the ground anymore. Some of these guys were 6 feet tall, so I thought they were touching, but they said, 'No, we weren't touching.'"
The Beasleys were already planning to house shelter dogs in their large barn from Bay Area Pet Adoptions. But that hadn't panned out, so they had room to keep Walter's dogs.
"I don't know how it all worked out, but it certainly did," Amy Beasley said.
The dogs stayed at the Beasleys' home, which was about 20 miles away from Walter's, for several days, until Walter found foster homes or boarding facilities for them. But Walter's work is far from over. Now she has to clean up her house, which was severely damaged from the flooding.
"We just got everything out, and we're about to start pulling out the sheet rock," Walter said.
But one thought keeps Walter going — being reunited with her four dogs once her home is salvaged.
The dogs in Walter's care were some of the lucky ones — hundreds of other animals are in desperate need of dry shelter and care.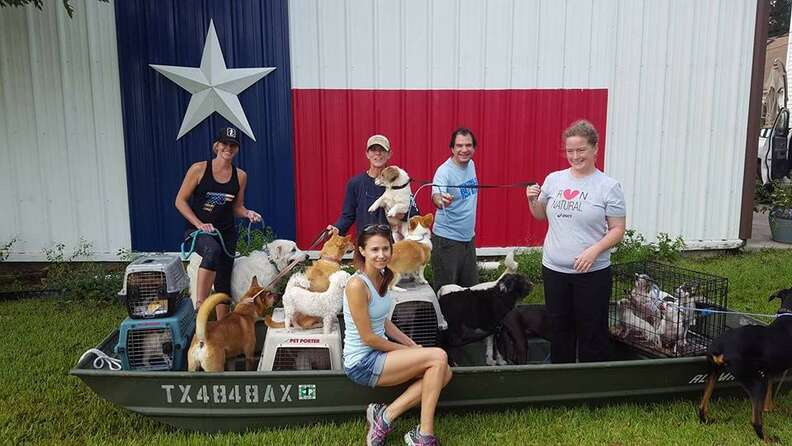 "The real work has yet to come with these dogs," Amy Beasley said. "So many dogs are still being brought in, and so many people who agree to foster dogs are flooded out. So everyone's resources are stretched really, really thin."