Woman Comes Up With The Best Costume For Her 7 Dogs
"It was too perfect to pass up!"
Sasha Hobson loves dressing up with her family for Halloween. But coming up with the perfect group costume for everyone can be a challenge — especially since her family includes seven dogs.
"Every year we dress up the dogs for Halloween and do a photo shoot," Hobson told The Dodo. "The dogs are now so used to it that when we say the words 'photo shoot' the dogs all jump to attention because they know they are about to get some treats!"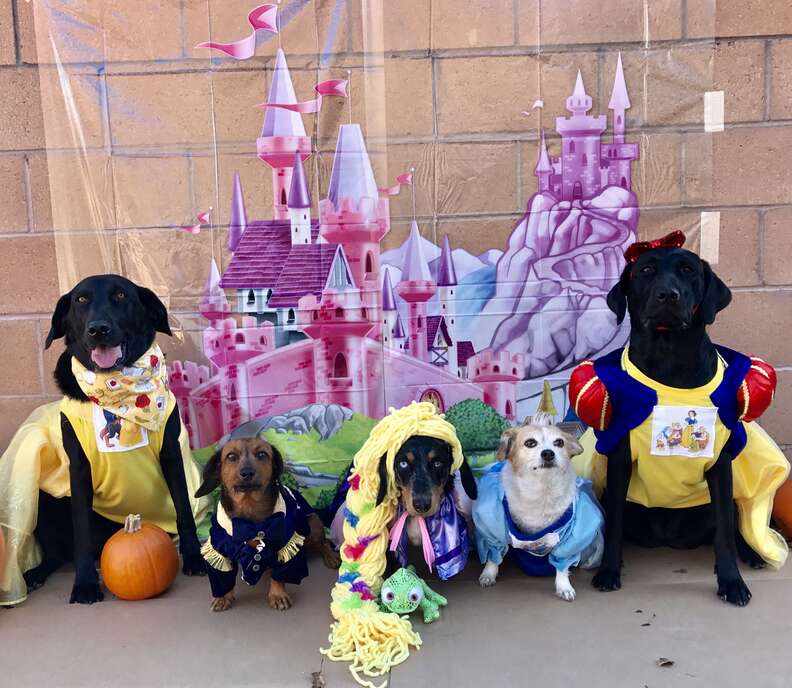 Hobson's dogs range from a small Chihuahua mix to a black Labrador, and in age from 6 to 12 years old. With such a diverse group, finding a costume that reflects all her dogs' unique personalities didn't seem possible until, suddenly, inspiration struck.
"This Halloween is the first year with all seven of them, so we wanted to find a way to incorporate them all," she said. "We originally were going to make them characters from 'Teenage Mutant Ninja Turtles' ... but then I suggested 'Snow White and the Seven Dwarfs.' It was too perfect to pass up!"
Hobson found different items of clothing that resembled Snow White's dress and bought rolls of fabric for her dog's handmade costumes. Hobson and her mother-in-law then came up with designs and set to work. Hobson's dogs were on their best behavior during the whole process.
"The hard part was just sewing everything and making sure it fit everyone," Hobson said. "The dogs at this point are used to costume fittings so if treats are visible ... they have no problem sitting still and letting us size everything just right."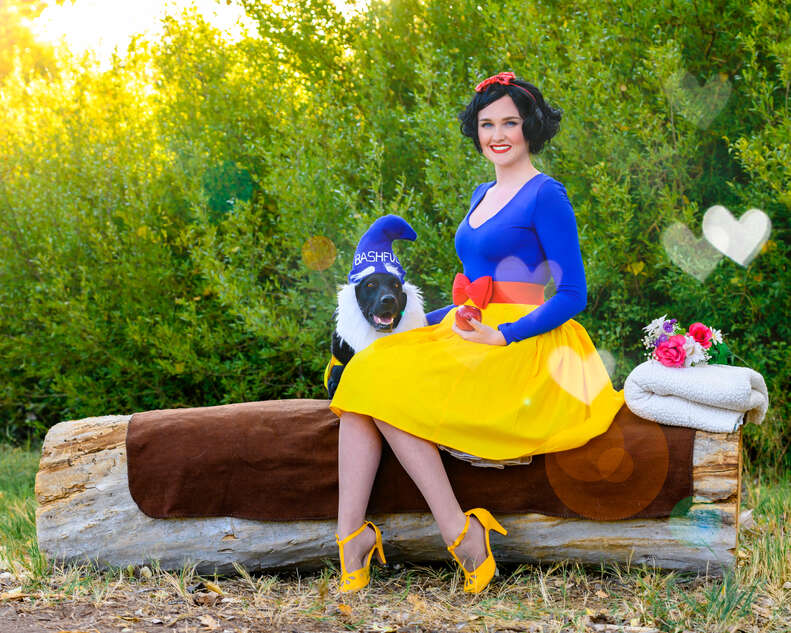 Hobson matched each dog to their character perfectly. Goddess Isis, whom Hobson describes as "a bull in a china shop," was Dopey. Haileigh Bug, who Hobson says is the "laziest dog I have ever had," was Sleepy, and Zoey, whose "favorite things to do are bark and wrestle with the other dogs," was Grumpy.
Hobson is looking forward to celebrating the best Halloween yet with all seven of her pups.
"People think we are crazy for having seven dogs and who knows? Maybe they are right," Hobson said. "But we love our time with them and wouldn't trade it for anything."
"These dogs have it made and are without a doubt the spoiled kids on the block," she added.
Hobson's only problem: figuring out how to top this costume next year.