Woman Asked Her Mom To Make 'Simple' Outfit For Dog's First Trip
"I couldn't believe it ... My dog was going to be more stylish and extra than I could ever level up to."
When Natalie Altman started planning to take her 10-month-old dog Olive on her very first plane ride, she wanted to make sure they were completely prepared. Olive is a skinny little thing and tends to run cold, so in order to keep her continuously warm on their flight from Fort Lauderdale to Austin, Altman decided to ask her mom if she could make Olive a pair of pajamas.
Altman figured her mom would make some simple, classic pajamas — and was shocked when she saw what her mom had actually come up with.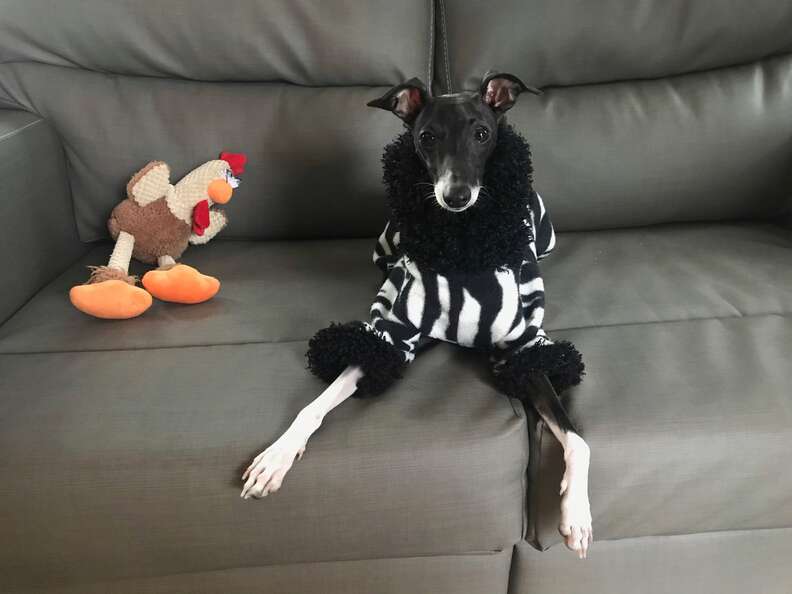 "A few days before my flight, I asked if she could make some but we didn't discuss further about design or anything so I didn't think she was going to," Altman said. "The day before my flight she asked me to come over so Olive could try it on. In my head, I wanted a knit-like material (which she has TONS of) that I've seen on Etsy which were cute. Nope! Not with my 'extra' mother."
Instead of classic knit pajamas, Altman's mom whipped out a furry, fabulous zebra-print onesie — the flashiest, most fashion-forward dog pajamas anyone has ever seen.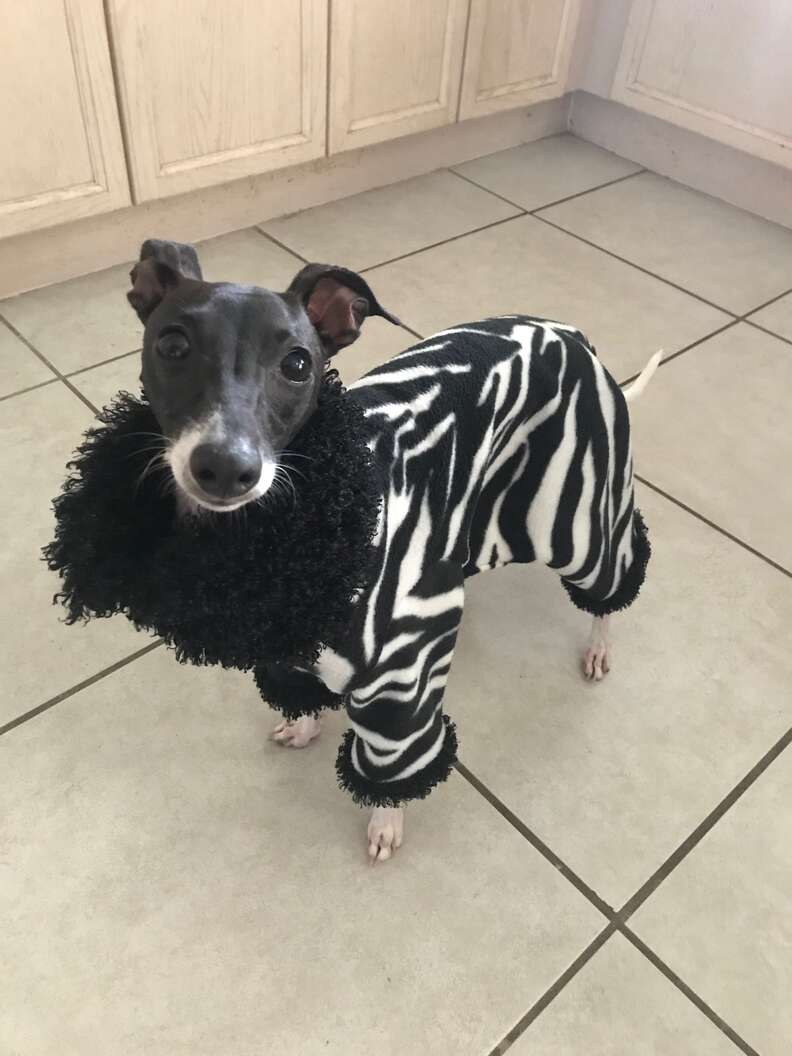 "I couldn't believe it," Altman said. "I was semi-embarrassed because I was going to be wearing yoga pants and a T-shirt through the airport. My dog was going to be more stylish and extra than I could ever level up to."
At first, Altman wasn't going to have Olive wear them on the flight — but as soon as she tried them on, the little dog fell in love with her new pajamas and refused to take them off. She was so happy being snuggly, warm and fabulous, and so on the day of their flight, Altman's very stylish dog paraded through the airport — zebra-print onesie and all.
Olive already gets a lot of attention because she's so cute, but with the pajamas, her cuteness reached a whole new level, and people couldn't stop coming up to her in the airport, much to Olive's delight.
Of course, the whole point of the pajamas was to help Olive feel more comfortable on her first flight, and they definitely worked. She slept the entire time, and most people didn't even realize there was a dog on the flight at all until they saw her strut down the aisle and off the plane, fabulous as ever.
Altman and Olive were on their way to visit a friend, and when she saw them walking toward her in the airport — with Olive working her pajamas like she was on a runway — she couldn't have been happier.
"My best friend, Skye, who I was going to see, loves bougie things and this just fed her bougie soul," Altman said. "It took so much for me not to send her a photo that night but I did surprise her the next day in person and she couldn't stop laughing."
Even though the pajamas weren't quite what Altman had in mind initially, it turned out her mom knew exactly what Olive needed. Now, Olive is obsessed with her zebra-print pajamas, and wears them every chance she gets.
"She now brings me her jammies when she wants to wear them — then positions herself like a model, waiting to be dressed," Altman said.