FedEx Driver Lets His Pups Join The Team After Their Day Care Closes
They're the hardest little workers 💪💓😎
Chorizo and Cocoa used to go to doggy day care at least three times a week, until it had to close due to the coronavirus pandemic. Now they're home all the time, but their parents are still working, so the family had to get a little creative to keep them entertained.
Daniel Nava delivers for FedEx, and even though he normally does his deliveries alone, he decided it might be kind of fun to have some helpers — so while doggy day care remains closed, he's started bringing Chorizo and Cocoa with him on his route.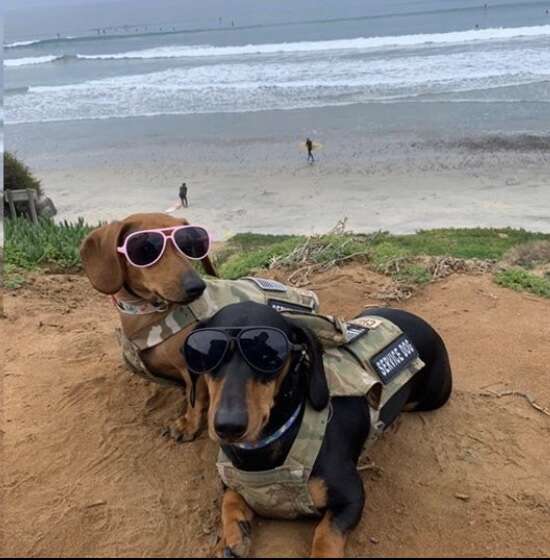 "The decision to bring them with me on deliveries was not easy but my supervisor is very understanding," Nava told The Dodo. "Also I had brought them with me before with no safety issues — I have them on a harness that is anchored down to my seat while we drive."
Nava was a bit nervous at first about bringing the pups along with him …
… but his worries disappeared as soon as he saw how much fun they were having.
Cocoa and Chorizo take their role as FedEx delivery dogs very seriously, and have been very well-behaved for their dad during work. Nava thought it might be a good idea to have them look a little more professional, now that they're official FedEx delivery dogs — so he made them their own little work uniforms.
"I ended up making their outfits out of some old work shirts, and I got them some doggy sunglasses on Amazon," Nava said.
Chorizo and Cocoa are definitely the cutest delivery workers FedEx has ever had, and people have loved watching them from afar as they march around in their adorable uniforms, helping their dad do his job.
"They seem to enjoy their time on the route — sometimes we stop by at the local neighborhood parks and I let them run around for a little bit," Nava said. "We also deliver to the Del Mar Highlands Town Center [a local shopping center] ... and the workers there love seeing them."
As long as doggy day care stays closed, Chorizo and Cocoa will continue to join their dad on his route, being the very best little helpers anyone could ask for.
You can follow Chorizo and Cocoa on their
Instagram
.