Dozens Of Dogs Trapped In Tiny Crates Were So Relieved When Rescuers Arrived
They just got their very first baths — and can't wait to find the perfect forever homes ❤️️
It was the worst case of animal hoarding and neglect that Debbie Hill, vice president of operations at the Humane Society of Missouri (HSMO), had ever seen. One-hundred-and-one dogs and cats confined to a tiny dilapidated house with no running water — trapped in cages stacked upon cages. Some crates overflowing with so much waste the animals could barely stand.
On December 21, the HSMO Animal Cruelty Task Force (ACT) jumped into action, rescuing 84 dogs and 17 cats from a property in Bates County, Missouri. "These animals were forced to live in truly squalid conditions, the worst I have encountered in more than 40 years of rescuing animals from abuse and neglect," Hill said in a statement. The sheriff's office had obtained a warrant to inspect the property, and after discovering the nightmarish conditions and scale of abuse contacted HSMO.
Some of the dogs and cats were forced to roam the property with no running water or protection from the elements, according to the HSMO. With freezing weather well on its way, this winter could have been the end for many of the already suffering animals.
When rescuers arrived at the scene they were confronted with a heartbreaking sight, but despite their horrific situation, some of the dogs greeted their saviors with wagging tails.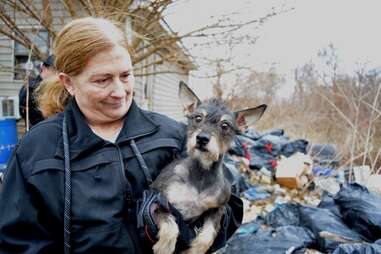 "Many of the animals were scared. Some were happy — tails wagging and friendly," Anne McLaughlin, web and interactive communications coordinator for the HSMO, told The Dodo. "While many of the animals may not have understood that we were there to help them, getting them out of that unbelievable environment and into a clean kennel for transport most definitely has a positive effect on them."
Dogs of all breeds and sizes were taken from the property, ranging from older adults to nursing puppies. Vets were ready and waiting when the animals arrived. "Several dogs are emaciated. Many dogs are covered in filthy, matted fur, while others are suffering from hair loss, skin infections and dental disease," McLaughlin said. Some puppies were so filthy that their white fur was stained brown or yellow.
Luckily, all the puppies received much-needed baths from volunteers.
Though the animals are now clean and on the mend, their biggest challenge is yet to come. Recovering from a life spent in cramped, sickening conditions will take time and patience. "Many medical conditions can be readily treated by our veterinarians," McLaughlin explained. "Our shelter behaviorist is already developing plans to help these animals learn to trust humans again."
Permanent custody of the animals will be determined in court on January 2, but hopes are high among the animals' rescuers. Six years ago, over 50 dogs were pulled from the same property, according to the HSMO, and the organization is determined not to let history repeat itself.
"Given the opportunity, people with this hoarding habit will do it again without intervention. In this case, our ACT investigators along with HSMO veterinarians will make reports and recommend prosecution to the fullest extent of the law," McLaughlin said. "We are incredibly thankful for the quick actions of the Bates County Sheriff's Office to recognize this problem and seek help for the animals."
Once their fate has been decided the over 100 dogs and cats will finally be ready to start looking for a loving forever home. While there is no set date for the animals' release, after medical treatment, behavioral rehab and spay-neuter surgeries, the dogs and cats will be available for adoption in the new year.
Until then, HSMO is requesting donations of shredded paper and newspaper to keep the puppies' kennels clean and dry, towels, blankets, sheets and other bedding to keep the animals warm and dog and cat toys, to help engage their minds and help with their behavioral therapy.
Donations can be sent to the Humane Society of Missouri's Macklind Ave. Adoption Center, 1201 Macklind Ave., St. Louis, Missouri 63110, or through
HSMO's website
.