Dog Won't Go To Sleep Unless His Mom Tucks Him In Every Night
"It is a solid part of our evening routine" 🐶💤
Fusion the border collie knows over 150 commands — but his cutest trick is something he learned all on his own.

Fusion has worked with his mom, Steffi Trott, a dog trainer, for the past seven years, and is always happy to assist her in class. "We spend all day, every day together," Trott told The Dodo, "either at work or relaxing, or playing frisbee or doing dog agility or learning tricks."
At night, Fusion prefers to sleep in his own bed, but not before getting tucked in by a member of his family.

"Originally, my 10-year-old son insisted on tucking Fusion in," Trott said. "I think Fusion took a liking to it. Now it is a solid part of our evening routine."

Fusion has two dog siblings who spend the night in their mom's bed, but Fusion has grown accustomed to being all snuggled up in his very own fuzzy blanket.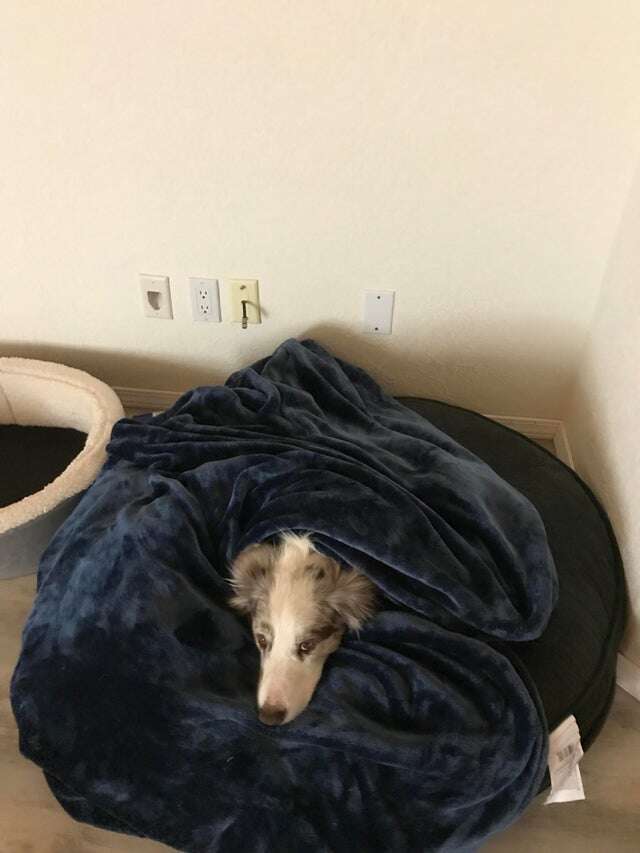 When Fusion is ready to go to sleep, he lets his mom know exactly what he wants: "The other two [dogs] hop on the bed, but Fusion will stand next to his dog bed," Trott said. "He will just stand there and wait for me and look at me until I come over to tuck him in."
Fusion's nighttime routine is very important to him, and if it's disturbed, Fusion will refuse to sleep until his mom fixes things.
"The other night one of the other dogs actually went and laid down on his bed," Trott said. "He stood next to my bed looking at me until I got up and got him another dog bed from downstairs."
You can watch Fusions sweet bedtime routine here:
Lucky for Fusion, his mom is always there to make sure he's tucked in tight so he can get a good night's sleep.