Woman Finds Scared Dog In Road With The Saddest Message On Her Tag
"As soon as we saw it, we knew nobody was out there looking for her."
One cold January night two years ago, Payden Trujillo was driving down a snow-covered highway in Utah when a dark figure ran right in front of her car.
Payden braked just in time and managed to dodge the object — and when she got out of the car to investigate, she realized it was a young dog. The dog was skinny, cold and clearly terrified.
Payden grabbed a snack out of her car and, luckily, was able to lure the dog into her car. She brought the dog to her dad's house, hoping the owners could be found, and finally got a good look at the dog's tags.
But instead of finding a name or phone number, a message was printed across the front and back of the tags: "My name is Lilly, if you found me please keep me. My family can't and I need love."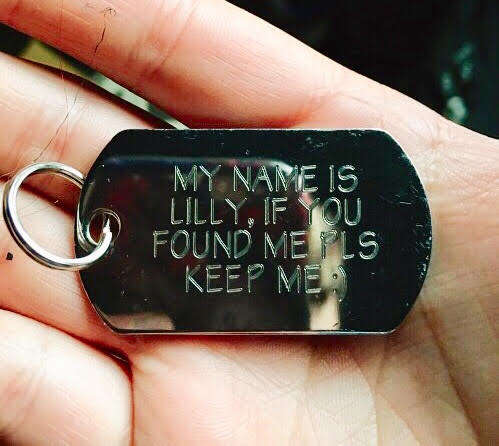 "As soon as we saw it, we knew nobody was out there looking for her," Mercedes Trujillo, Payden's sister, told The Dodo. "There are quite a few no-kill shelters around that the owners could have dropped her off to, but instead they just left her. We couldn't believe someone would throw out a dog like that."
As soon as she realized what had happened, Mercedes knew she needed to take Lilly in. Although the dog was fearful, it was clear all she needed was a bit of love — and healthy food — to get her on the right track.
"She was really skinny and had frostbite on her paws, so she had to have been out there for some while," Mercedes said. "I wasn't sure if she was even potty-trained because whenever she would eat or drink it went right through her."
After a few weeks with Mercedes, Lilly was starting to feeling better — but she was so afraid of being abandoned again that she destroyed things around the house when she was left alone.
"I was staying with family friends who finally said they couldn't have her stay there anymore," Mercedes said. "Her separation anxiety was really bad at first, so we just kind of kept friend-hopping for a place to stay because nobody really wanted her in their house."
Mercedes moved around for a year until she decided to move onto her university's campus, which gave her special permission to have Lilly live there, too. Lilly settled in nicely and, with a little time, wasn't so afraid of being alone anymore.
She was, however, very afraid of men — so Mercedes asked her professor for permission to bring Lilly to class a few days a week to be around them more.
"I'm thinking her former owner may have been a man, because, before, we couldn't even pass by a guy without her lunging at him," Mercedes said. "Since I'm a mechanical engineer, I was surrounded by guys in my classes, so she sat with them and got to know them on her own terms."
Now, on the second anniversary of the night when Lilly came into Mercedes' life, she's like an entirely different dog. Comfortable, outgoing and curious, Lilly loves going on outdoor adventures — and makes the best hiking partner.
From climbing mountains to playing on the beach, there are plenty of places for Lilly to explore with her mom since they recently moved out to California.
And two weeks ago, Lilly got a new little sister: 1-year-old Ayla, a greyhound mix adopted from The Barking Lot Rescue.
"Lilly really likes having a little sister," Mercedes said. "They have a ton of fun playing together."
Luckily, Lilly isn't fearful of much anymore — and is sure to pass her confidence onto her little sis as they go on more adventures together.
"Lilly is a complete 180 from the scared puppy she was two years ago," Mercedes said. "Now, all the people who didn't want her in their houses are amazed at who she's grown into. She's such a good dog. But I honestly don't feel like it took very much to get there — just a little time."