Dog Who Was Afraid To Be Touched Can't Stop Snuggling With His Rescuer Now
"Aka has found his reason to live."
For a dog named Aka, life was all about survival. He wandered the streets in Lahan Sai, Cambodia, searching for food and water and safe places to sleep. When Aka got sick and lost most of his fur, surviving got even harder.
In August, Michael Chour, founder of The Sound of Animals, a group that rescues dogs in Thailand and Cambodia, was driving home when he spotted Aka on the road.
"Aka walked out into the middle of a very busy road late at night, not caring about cars that rushed past him," Chour told The Dodo. "He had one of the worst cases of mange I've seen for a long time. I think that he was very sick for more than one year."
Chour stopped his car and called to Aka. At first, the dog tried running away, but when Chour laid out a bowl of food, Aka came back.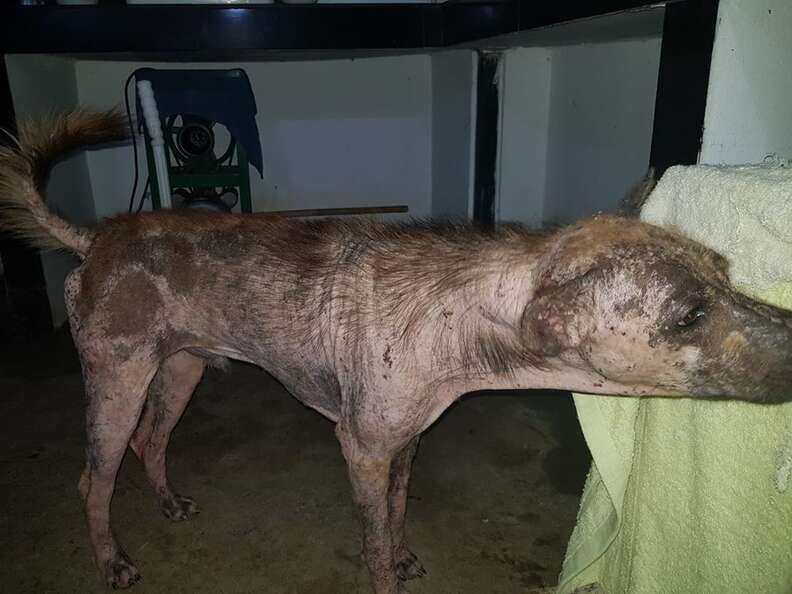 Then Chour reached out a hand and started petting Aka, who didn't seem to know how to react. It's possible that no one had ever touched Aka like this before, Chour explained.
"People here hate stray dogs, and they often just throw stones at them," he said. "And I don't think he had any owner his entire life."
Aka still appeared very afraid, but Chour managed to coax him into his car so he could drive Aka to his organization's shelter, Blue Dream.
"It was probably fatigue that just made him accept," Chour said. "But I think that he understood that I wanted to help."
Chour placed some soft blankets in the back seat of his car, and Aka snuggled into them.
"I put my hand on his head the whole time we drove back to shelter," Chour said. "Eventually, he got into my arms for a cuddle."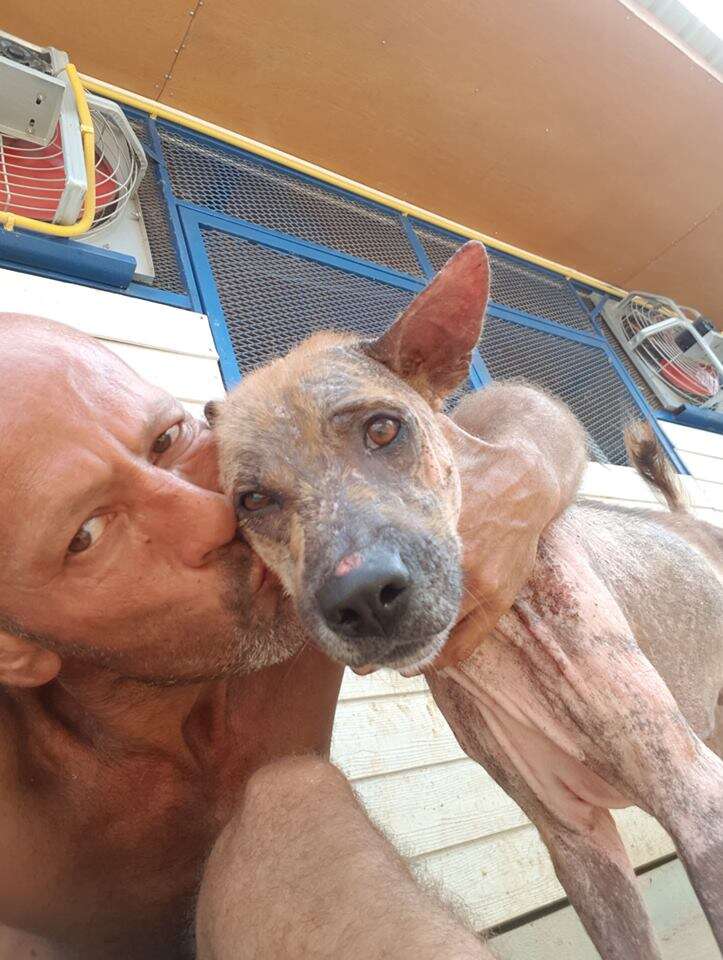 Once they'd arrived at Blue Dream, Chour and the other volunteers gave Aka a thorough medical check. In addition to mange, Aka had blood parasites and a bacterial infection, so the team started treating Aka with antibiotics and IV fluids.
Aka spent the next several weeks gaining his health and strength back — and after one month, he already seemed like a completely new dog.
"He's been in my care for over a month, and he already has his fur back," Chour said. "Not completely, but nearly."
Aka has also grown to adore Chour, and he now actively seeks out love and attention.
"Aka has found his reason to live," Chour said. "He trusts again and always asks for attention. I love to see him jump after me. He doesn't even need a leash to go on a walk because he never goes more than a meter away from me."
Aka will stay at Blue Dream until Chour finds a family who'd like to adopt him, although Chour is also considering keeping Aka at the shelter because he can't stand being apart from Chour.
"Every day, I bring him with me in the car to make him happy, and he loves to jump on my shoulders while I drive," Chour said. "He kisses and kisses me all the time."
Aka is safe now, but Chour points out that there are countless other dogs in his same situation — not just in southeast Asia, but all over the world.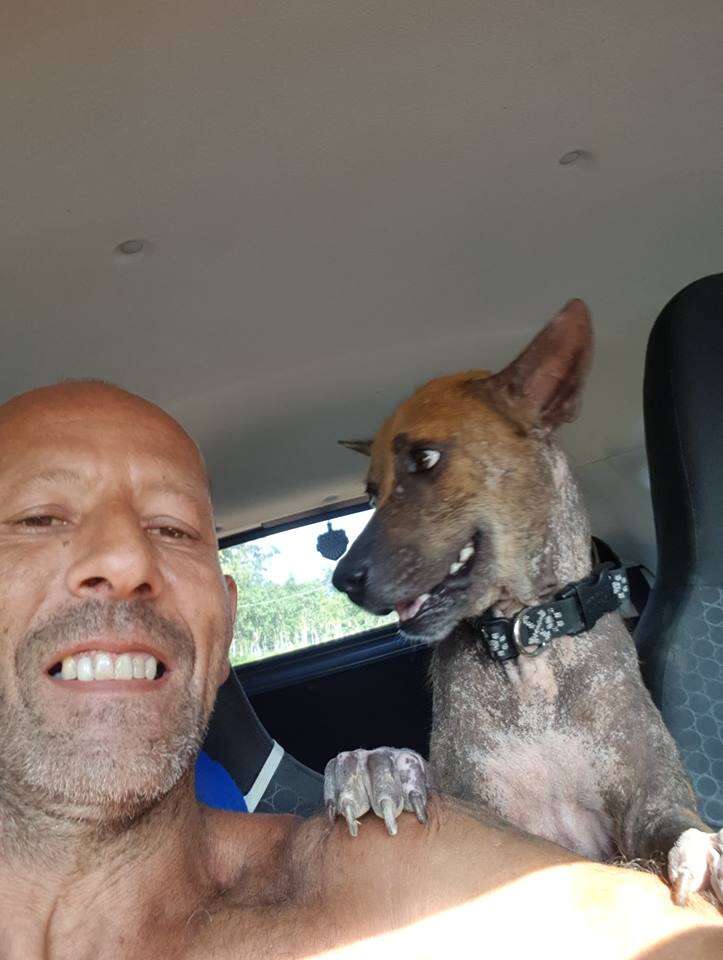 "I would love people to look around them, and if they see another Aka, just take him in their home and love him, as all of these dogs have so much to give," Chour said.