Dog Has Perfect Selfie Of Himself On His Ear
"That's just earie."
By Floyd's third birthday, Emily Beaston was pretty sure she knew her 180-pound pup inside and out.
But Floyd had one more surprise in store for his mom.
Last summer, Beaston's boyfriend snapped a photo of Floyd on an outing to the park, and shared the shot on his Facebook page. The photo started to get a lot of attention from his friends — but not for any reasons that the couple anticipated.
The placement of Floyd's markings and the position of the ear looked strangely like a reflection of the dog's own face.
"We only first noticed Floyd's 'ear face' after my boyfriend Corey used the uncropped version of that picture … as his profile picture on Facebook," Beaston told The Dodo. "One of his friends commented on the ear and then other people noticed it too."
Friends quickly became obsessed with the accidental optical illusion.
"Once people noticed it on Facebook, a few (including Corey) were genuinely surprised and couldn't 'unsee' the dog face on Floyd's ear," Beaston said. "Between people who couldn't see the ear face at all to others who seemed genuinely freaked out by it, the responses were all quite entertaining!"
Beaston posted the photo on Reddit, where it had even more people seeing double. "That's just earie," one Redditor wrote on the post. "Dog has a dopplegangear," commented another.
One person tried to help out those missing the selfie on Floyd's ear:
For those still having trouble finding the face:
So why did it take so long for Beaston to notice her dog's special markings? Conditions have to be perfect for the pup's mirror image to appear on the left side of his face.
"His ear has to be at just the right angle and position to clearly see the fold that makes up the 'eye,'" Beaston said. "For that reason, it's not easy to see in person because of movement. That one photo just really captured it perfectly."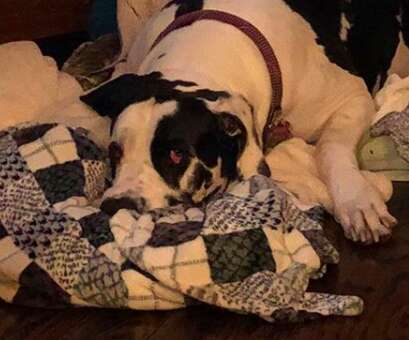 While Floyd is now a bit of a celebrity on the internet, the gentle giant is content to snuggle his blankets or spend quality time with his mom. "Floyd is an absolute sweetheart," Beaston said. "He is my faithful companion, and loves our frequent trips in the car together."
Beaston may never be able to unsee Floyd's selfie ear — but it's just more of his goofy face to love.