Rescue Dog With Unique Face Has The Most Original Personality To Match
"He's very playful and very affectionate. He's a typical goofy pittie puppy. Because his face is kind of cute and silly looking, the personality and face together just make him extra adorable."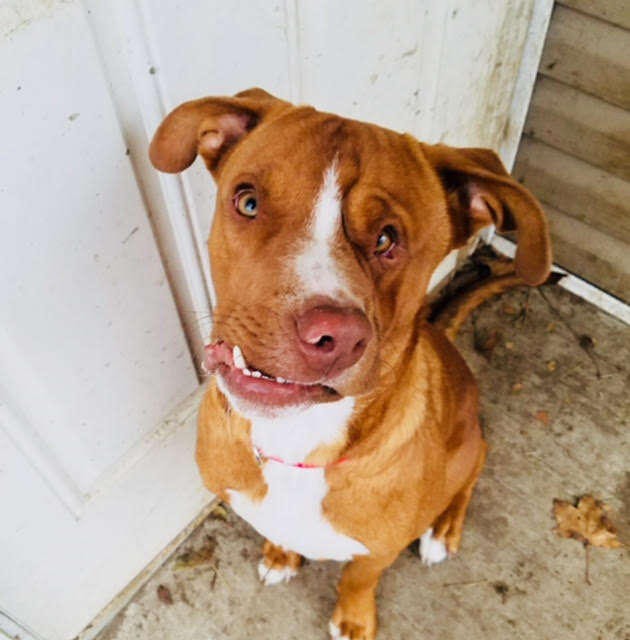 Woody wasn't born with his distinctive face — it was actually the result of injury.
"We found out that when he was 5 weeks old, he was attacked by another dog and [his owners] never got vet care for him," Bellew said. "So his face is crooked because of this attack. But he seems fine otherwise. He's happy. He doesn't seem to have any medical issues from the attack."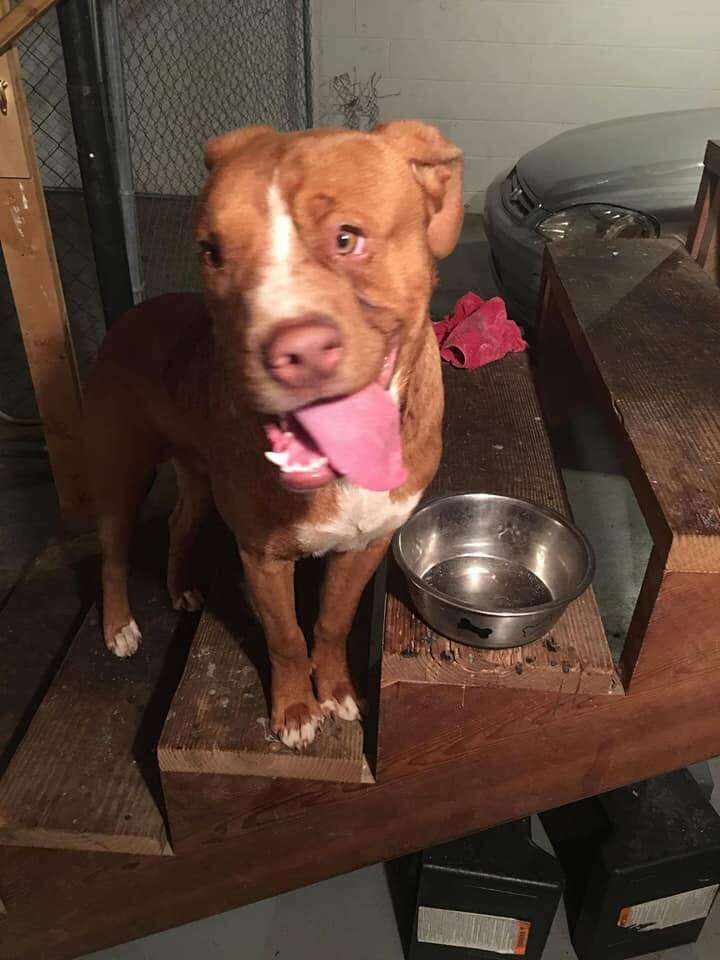 Neglecting to take Woody to the vet wasn't the worst thing his owners did — a few months later, they abandoned him when they moved out of their house in Tennessee.
"He was just left chained up," Bellew said. "I guess people in the neighborhood were feeding him."
Six weeks went by before someone got in touch with Bellew to ask if she'd rescue him. Upon hearing Woody's sad story, Bellew couldn't say "yes" fast enough. But what really moved Bellew was seeing how resilient Woody was — despite everything he'd been through, he was the happiest dog.
"I first met him when he came off of transport last weekend in New York City, and he's absolutely hilarious," Bellew said. "His personality matches his kind of goofy face. He's a little bit of a spaz. He's a big puppy."
"We think he's about 8 months old, but he acts like he's about 8 weeks old," she added. "He's very playful and very affectionate. He's a typical goofy pittie puppy. Because his face is kind of cute and silly looking, the personality and face together just make him extra adorable."
That said, Woody certainly isn't perfect — he chases cats and doesn't know "manners," according to Bellew.
"He jumps, and he doesn't really know basic commands like 'sit' and 'stay,'" she said. "I don't think he was ever a loved house pet. I think that he was sort of a dog who was left to his own devices, even when the people still lived there."
But with training, Bellew is certain that Woody will mellow out.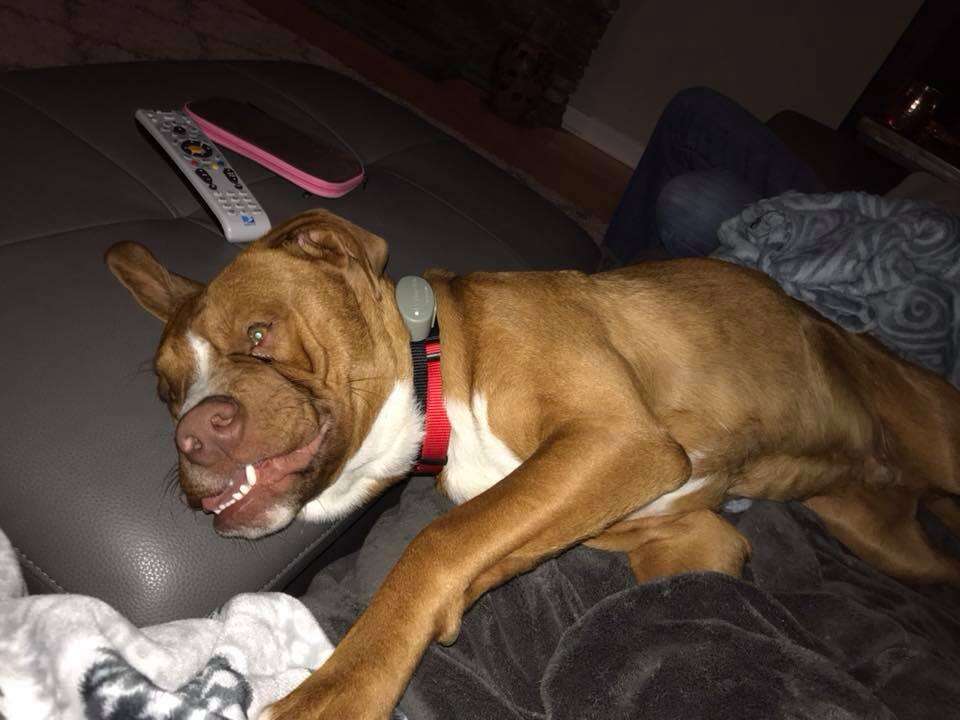 "With just five days in foster care, he's calmed down so much, and he's doing really well because he's getting everything that he needs," Bellew said. "He's a sweet boy, and he's very happy to be able to run around and be in a house and everything else."
Woody is also doing a great job looking after his new foster mom, Jamie Bond.
"The first day we had Woody I was sick with a fever," Bond told The Dodo. "He knew something wasn't right and never left my side. He snuggled with me on the couch all afternoon. Now he's my shadow, always following wherever I go, making sure I'm safe and sound. Woody loves to curl up on the bed and put his head on my chest."
"Woody is a total love bug," Bond added. "He is a total sweetheart and we are so lucky to have him as part of our foster family. While his face might look funny, he doesn't think he's any different than the other pups in the house."
If you're interested in adopting Woody, you can
contact SNARR Northeast
. Woody would thrive in a home without cats or other male dogs, although he gets along with female dogs well. You can also follow Woody's progress on SNARR's
Facebook page
.
Looking for another pet? Then meet Dodo Adoptbot, an interactive guide for new pet parents. Get started on
Facebook Messenger
or text HOME to 38349.