Little Puppy With Cleft Palate Is All Grown Up Now — But He's Still Waiting For A Home
It's been two years and no one has stopped to ask about him.
When Fig Newton was born, he was an insanely tiny, very special little puppy. At 4 weeks old, he weighed only a pound. The breeder he was born to decided he didn't want him due to his cleft palate, a birth defect where the mouth does not form properly.
Poor Fig Newton was unwanted from the very beginning, but luckily, a rescue stepped up to take him and try to give him the life he deserved.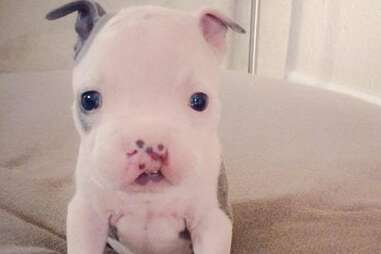 Fig Newton was rescued by Fred's Friends, a rescue in California that specializes in special needs puppies and kittens. From the moment he was rescued, Fig Newton was an incredibly difficult puppy to handle. He was very sick when he first arrived, and as time went on, his behavioral issues and anxieties began to come out in full force. The rescue's staffers knew they had their work cut out for them with this puppy, but luckily, they had no intentions of giving up.
Now, more than two years after he was rescued, Fig Newton is almost 3 years old and has made incredible strides. He is a much more confident, playful dog than he was when he first arrived at the rescue, and he's more than ready to find his forever home — but unfortunately, Fig Newton has had absolutely no interest from prospective adopters during his time with the rescue.
Despite his differences, Fig Newtown is an incredibly sweet dog, and would make a wonderful addition to any loving family. Everyone who knows Fig Newton is baffled as to why he hasn't found a home yet, and is rooting for him now more than ever.
"He is a sweet, active boy who loves snuggling with his person," Rachele Keech, executive director and founder of Fred's Friends, told The Dodo. "He's the most loyal boy around. He LOVES toys! Anything related to him chasing a toy is his favorite thing to do. He also loves playing with stable/role model type dogs in play group."
While Fig Newton was previously with a foster family, he's been with the rescue so long now that he's been moved to a boarding facility. Unfortunately, the facility he's been staying at no longer has space for him, and so the rescue has to move him to a much more expensive facility. It's not a fun situation for the rescue or for Fig Newton, and everyone is desperately hoping that Fig Newton will find the family he belongs with very, very soon.
"As a nonprofit, this is expensive for us and it's horrible for him that he doesn't have a forever home," Keech said. "Sadly, no one has come forward to foster or adopt him. He isn't a cute little puppy anymore and there are just so many other cute pups needing homes that might not have the few stipulations that he does."
The ideal home for Fig Newton would be one where he is the only dog in the family, unless the other dog is an older, well behaved, role model type dog that Fig Newton can look up to and learn from. He cannot live in a home with cats or other small animals, as he tends to accidentally mistake them for toys. He would love a family with kids over the age of 10, with people who understand his background and can help him keep up with all of the things he's learned in his training over the past few years.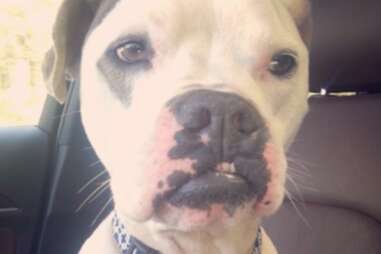 Fig Newton is a sweet, loyal dog who is just a little misunderstood, but with the right family, has the potential to be the best dog anyone has ever had the pleasure of meeting.
If you'd like to foster or adopt Fig Newton, you can contact Fred's Friends for more information.