Woman Gets Creative To Protect Her Dog's Injured Tail
So stylish 😂
Sophie's family adopted her about a year and a half ago, and she's been stuck to them like glue ever since. When she first arrived in her new home, she was terrified of almost everything, but with the help of her family she slowly overcame her fears.
"She is the most loving dog, always wants to be by someone — and don't get too close to her face," Debbie Haase Krueger, Sophie's mom, told The Dodo. "She takes that as permission to lick you endlessly!"
Unfortunately, Sophie's love for her family accidentally put her in harm's way. About a month ago, Sophie was right at her mom's feet as the pair were walking out of a room, and her mom didn't realize her tail was in the way of the door until it was too late. Sophie let out a yelp but then continued on like nothing was wrong, and it took her family a minute to realize her tail was actually injured.
Debbie Haase Krueger
"We rushed her to the vet where she had to stay for the day to have surgery to stitch her tail up," Krueger said. "Even through all of this, she still was her happy-go-lucky self."
The vet bandaged Sophie's tail up and sent her home, but after 10 days or so, her family realized it didn't really seem to be healing and took her back to the vet. After examining her, the vet told Sophie's family they would need to do something nearly impossible in order for her tail to heal.
They needed to keep the very, very happy Sophie from wagging her tail.
"I was like, 'Are you serious?'" Krueger said.
Debbie Haase Krueger
Sophie loves her life so much that a wagging tail is pretty much her default mode. Her family wanted her tail to heal properly, though, and they were determined to do whatever it took to make that happen.
Then the vet suggested they try getting Sophie some pants.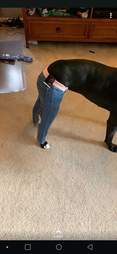 Debbie Haase Krueger
"The vet said to try a pair of my younger son's boxers, but her tail was too long and still wagged so that's when my older daughter and I came up with the leggings," Krueger said. "I sent her to Walmart to find a pair of toddler leggings and she came home with the jeggings!"
Unsure of how Sophie would react, her family carefully put the jeggings on her — and immediately, she refused to move.
Debbie Haase Krueger
"For about 20 minutes she just stood there," Krueger said. "She eventually did walk, but I could tell it was hard for her to move around, so that's when we made them into capris and cut out holes for her knees so they wouldn't restrict her movement."
Debbie Haase Krueger
Sophie has been rocking her stylish pants for about two weeks now, and they seem to be helping her tail heal. Her family is taking her back to the vet soon to get her rechecked, and hopefully find out how much longer she'll need to wear her pants for. In the meantime, she's mostly gotten used to her new look — although her family still catches her trying to take them off from time to time.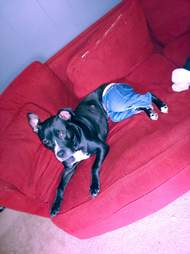 Debbie Haase Krueger
"When we leave the room she will jump off the couch and roll around on the floor to try and get them off," Krueger said. "And then when we come back in the room, she stops, gives us the 'Oops, I'm busted' look and goes back on the couch!"
For the most part, though, Sophie's been incredibly patient throughout the whole ordeal. Even though the look is super cute, her family knows she'll be relieved to take off her pants for good