Corgi Big Brother Won't Let Baby Sisters Out Of His Sight
"He brings them toys and tries to share his treats."
As soon as Thor and his dog brother Sherman realized their mom was pregnant, they refused to leave her side. They've always loved her, of course, but while she was pregnant, their protective instincts were at a whole new level.
"I swear they knew before I did," Tiffany Bowman, Thor and Sherman's mom, told The Dodo. "Thor has always followed me from room to room, but stayed in his own space. While I was pregnant, he had to be touching me."
Thor was especially diligent when it came to watching over his mom, and would even check on her throughout the night — and was right there when she woke up one night and realized something was wrong.
After being diagnosed with preeclampsia, Bowman gave birth to her twin daughters during an emergency C-section. Since the girls had arrived a bit earlier than expected, they spent some time in the NICU before they could come home — but Thor and Sherman seemed to know they were waiting for two very special new people.
"While the babies were in the NICU we brought blankets home so the pups could get used to their smell," Bowman said. "Since the moment we walked in the door, Thor has not left their side."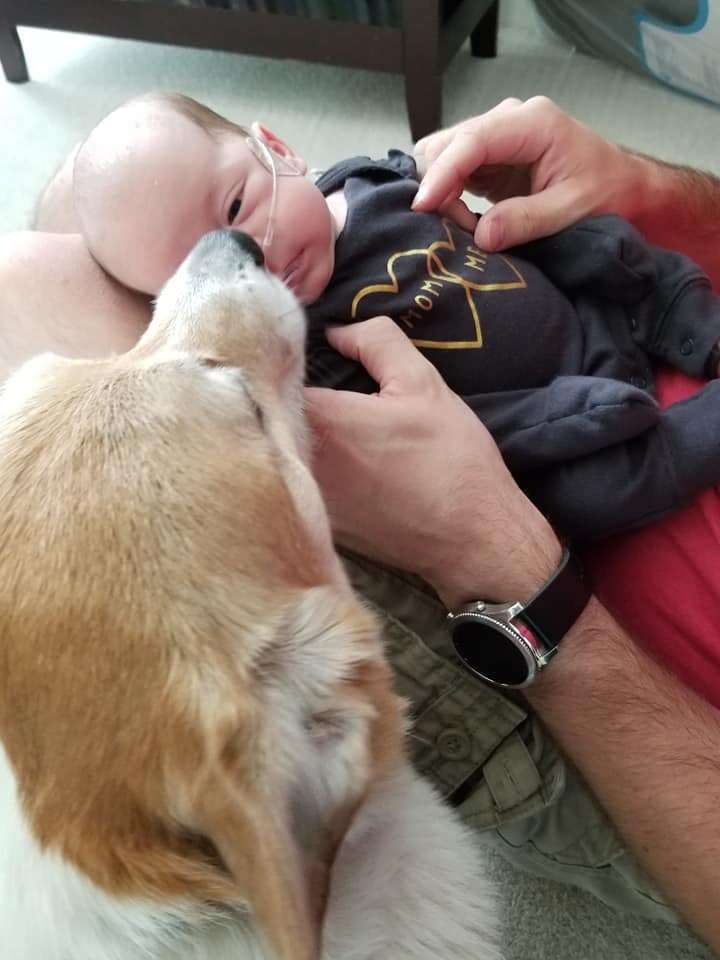 Now the twins are finally home — and Thor absolutely refuses to let them out of his sight. He seems to know that his new baby sisters are fragile and need a little extra care, and he's helping his parents out by watching over them every minute.
"He brings them toys and tries to share his treats," Bowman said.
Even when Thor can't quite see the twins, he's still always there …
… standing guard, making sure everything is OK.
Thor and Sherman have been the best big brothers to their new baby sisters, even before they were born, and their parents know they'll continue to be for years and years to come.
"They love children," Bowman said. "Thor stays true to his instincts and keeps my nephews herded together. I'm sure he will do the same when the girls start to crawl."