When Cathleen the dog's family moved and couldn't keep her, she was sent to a new owner about 20 miles away in Prague, Oklahoma.
But 6-year-old Cathleen had lived with her family since she was a tiny puppy and she missed them a lot — so she decided to take matters into her own hands.
One day last week, she simply walked out of her new yard and hit the road. She was going home.
"Animal control spotted her roaming the neighborhood where she used to live," Marta Mattingly, treasurer of Seminole Humane Society, told The Dodo. "She was obviously looking for her old family … but they just didn't share the same loyalty that she had for them."
No one but Cathleen knows how she made the 20-mile trip safely. She was returned to her new owner — but she was so desperate to find her family that a few days later, she did again.
"When she was brought in the first time, we just brought her back to the home her owners had given her to," Mattingly said. "After a second time, we figured she'd be safer finding a more secure home a bit further away."
Cathleen was given a clean bill of health after a vet exam and was put up for adoption soon after. It wasn't long before she captured the hearts of shelter workers — and the applications started flooding in.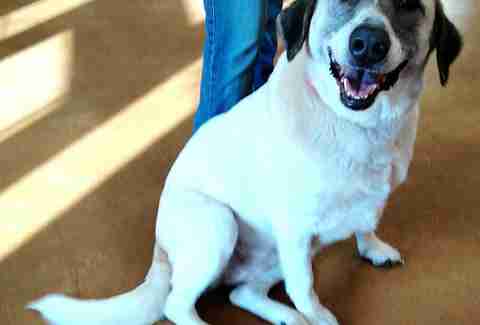 "Our local news station came by and did a piece on her, and we started getting calls from all over the country," Mattingly said. "She's wonderful — very docile, good with other dogs and loves all people. She's a laid-back, really good girl."
While Cathleen was noticeably upset about losing her old owners, she has a new family lined up that will give her all the love she deserves and will be picking her up within the next few days.
At her new home in Texas, Cathleen will have four dog siblings to play with, and also some kids to run around and cuddle with. And, most importantly, she has a secure, fenced-in yard with acres of land to explore.
Mattingly is certain Cathleen will love it there.
"It was really phenomenal how many people were willing to drive hundreds of miles to adopt her," Mattingly said. "We had some wonderful applications from all over, but we only have one Cathleen. And she found the perfect family in the end."