Sweetest Shelter Dog Has Spent 400 Days Waiting For A Home
"He makes us smile every day and it would be our absolute dream for him to have a home for Christmas."
Stanley was found all alone at a playground — skinny, hungry and scared. Soon, he was taken in by the RSPCA. It usually only takes a month or two for the RSPCA to rehome a dog, but for some reason poor Stanley kept getting overlooked. Staffers even transferred him to a different RSPCA shelter to see if he'd have more luck there, but still, no one came for him.
Now, the Shar-Pei mix has been with the RSPCA for over 400 days — and since he's only 2 years old, that means he's been with them for over half his life.
RSPCA
"Normally when people celebrate a milestone it's a happy occasion," Vicky Cooper, a dog handler at the RSPCA who works closely with Stanley, said in a press release. "But for us, this milestone is heartbreaking as it means that another day has passed without poor Stanley finding a new home."
RSPCA
There's absolutely no reason why Stanley should still be waiting for a home, and everyone who knows him is baffled as to why no one seems to want him. He can take a little time to warm up to new people, but once he loves you, he REALLY loves you, and wants nothing more than to cuddle and spend all of his time with you.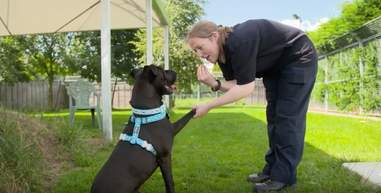 RSPCA
"Stanley just loves to go on nice long walks and spend time having lots of fuss from our volunteers," Cooper said. "Everyone here is completely stumped as to why Stanley is being ignored, because to us he is completely adorable. What's even more upsetting is that he's not had one enquiry since he's been with us."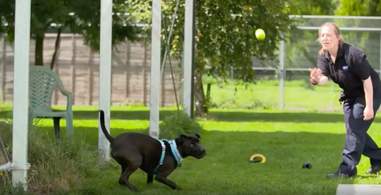 RSPCA
The RSPCA has featured Stanley on its website, its Facebook page, and even a show called Dog Rescuers, and still no one has shown any interest. Shelter life has been very hard on Stanley, as he gets anxious spending time alone in his kennel, and being there for so long has only made it worse. Staffers at the shelter desperately want to find him the right home, and know that if given the chance, he will be the best dog in the world for one very lucky family.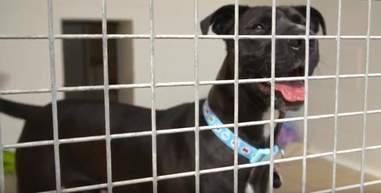 RSPCA
Stanley would do best in a home with no kids and no other pets. He does have some separation anxiety, and will need a little extra training in order to be completely successful in his new home. His ideal home would be somewhere quiet where he has space to run, play and spend as much time with his new humans as possible. All Stanley wants is to love, and now he just needs a family to give all of that love to.
"He honestly is the most wonderful dog and a pleasure to work with. He makes us smile every day and it would be our absolute dream for him to have a home for Christmas," Cooper said.
RSPCA
If you're interested in adopting Stanley, you can
contact the RSPCA
for more information.