Very Good Dog Comes To The Rescue After Owner Locks Herself Outside
"Needless to say, I have the best dog ever."
There are plenty of important physical and emotional benefits that come from having a dog — but pet owner Kaylyn Marie just discovered one unique advantage to sharing a life and home with a lovable pup.
Her dear dog, Sam, was there when she needed him most.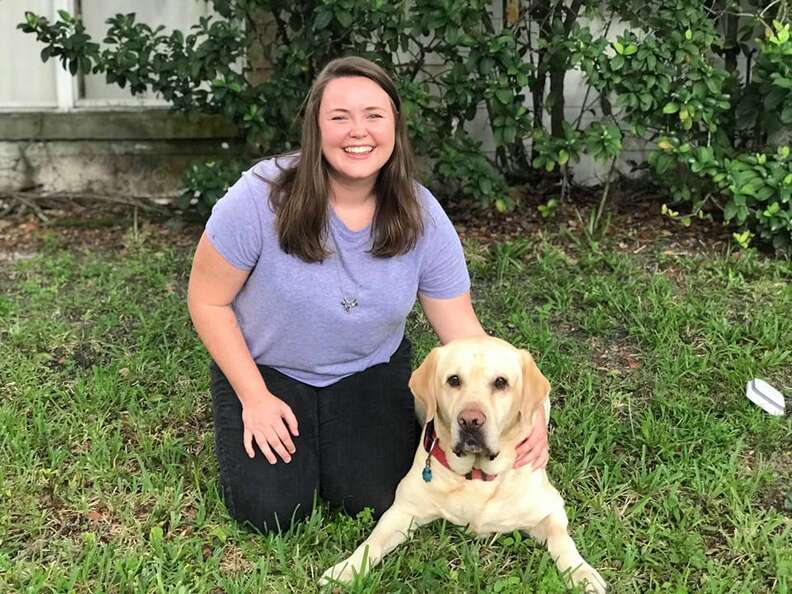 Kaylyn Marie
On Saturday, Marie was taking a dip in her backyard pool when something troubling happened at the sliding glass door leading to her yard: The piece of wood she uses to lock the door while she's not home had somehow fallen into place.
Marie had locked herself out. Fortunately, Sam was still inside — and managed to help her out of the pinch.
"I was able to get him to start pawing at the door," Marie told The Dodo. "I honestly didn't think he'd be able to do it."
But sure enough, Sam came through:
Thanks to the clever dog, Marie was able to get back inside. Sam celebrated the happy outcome right along with her.
"He is very intelligent, I'll tell you that," Marie said. "I wish I knew what was going on inside that head of his, but all I know is that he was REALLY excited to get the door open."
It's fair to say that Sam is a very good boy, deserving of all the treats that Marie gave him as a reward.
Now, there are many more people who've fallen in love with Sam. After Marie posted the video to Facebook, it has since been liked and shared nearly 300,000 times.
"Needless to say," Marie wrote, "I have the best dog ever."