A 5-year-old Chihuahua terrier mix didn't have the best luck during his first couple years of life, but all that changed one day when he met race car driver Collete Davis.
Once facing euthanization at a shelter, the dog, eventually dubbed "Pit Dog Pete," is now traveling the country in style.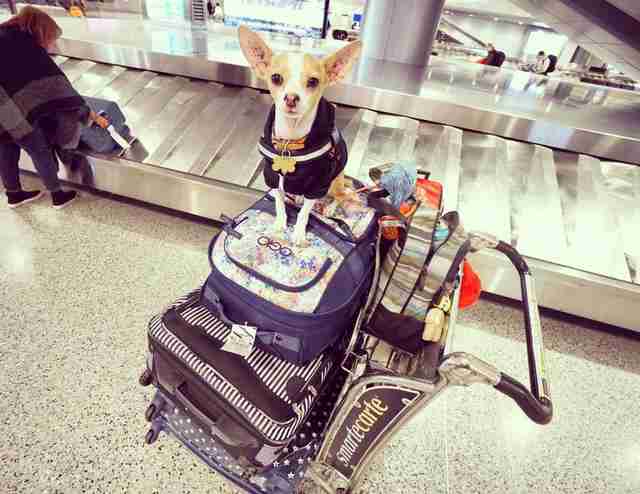 Davis first met Pete at an adoption event at AT&T Park in San Francisco, California, two years ago, when he was under the care of Family Dog Rescue, an organization that rescues dogs from California shelters and the streets of Mexico. The scared dog was in a pen filled with many other pups who were also looking for a home.
"I noticed a terrified and shy little Chi mix being trampled by another dog trying to bite his ear," Davis told The Dodo. "I picked him up, looked him in the eyes, and my heart melted — I knew immediately I was meant to save him."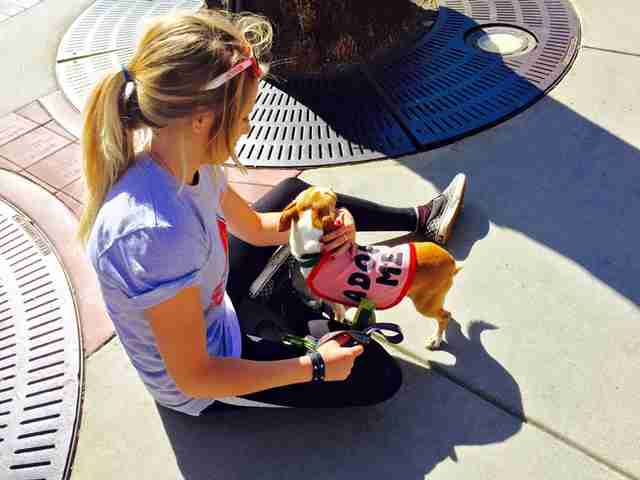 Davis, who has been racing cars since she was 15 years old, travels frequently as a competitor in the Red Bull Global Rallycross. She had to leave on a flight to Florida mere hours after adopting Pete, so Davis "rolled the dice," she said, and took him on the plane with her, not knowing exactly how he would handle traveling.
"He slept like an angel the entire 5-hour flight, and he's been traveling with me ever since," she said. Today, wherever Davis goes, Pete — now a certified therapy dog — is right there with her.
For years, Davis had been searching for just the right companion — and Pete, Davis' first adopted dog as an adult, was perfect for her.
"I had been looking at adopting for a couple of years … probably obsessively searching online for adoptable dogs for over a year," she said. "The timing never seemed to work out, and after all, I was always traveling so I didn't think it would be possible for me to have a dog."
"Then I met Pete and I couldn't have walked away," she said. "Somehow it just worked."
In fact, Pete loves traveling. "He's so great at it," Davis said. "Traveling with Pete brings a whole new element to the experience because he draws so much attention — lots of 'aww's' wherever we go, especially when he's working a bow tie. Pete lets people pet him and take photos with him."
"He was so shy and scared of the world when I first met him," said Davis. "It's been amazing to watch him transform into a loving, confident little dog."
Pete has learned to overcome the fears he experienced early on, likely as a result of his rough start in life. "From what the rescue organization and vets have said, Pete very likely comes from an abusive past and spent a good portion of his life on the streets, where it was more about survival than play," Davis said. "The first time we gave him a toy, he didn't know what to do with it!"
However, Pete now has a girlfriend who has been showing him the ropes. "Rally has been teaching him what toys are, and how to play with them," Davis said.
Davis began fostering Rally after seeing the pup had been in a shelter for a while and her time was running out. "Pete was never really a dog's dog, but that ALL changed when they met," Davis said. "Pete started playing constantly and their bond was immediate, so after a month of fostering and seeing Pete come even more out of his shell with [Rally], we had to make her part of the family."
Pete will now occasionally play with toys, but his favorite activity is sunbathing.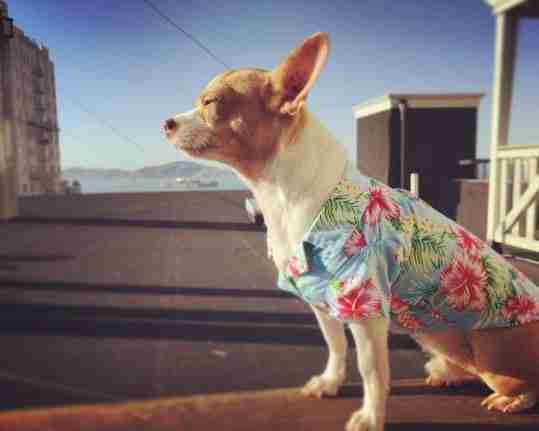 He also loves riding around in backpacks with his head poking out …
And, of course, wrestling with his girlfriend, Rally.
And he still enjoys watching his mom race. Though Pete has been in a few race cars and has his own helmet, he doesn't actually ride with Davis while she competes.
However, if she ever finds a five-point-harness that fits him, Davis said, she would consider trying him out as a copilot. "Knowing Pete, he'd probably be totally unfazed and probably fall asleep sitting upright at 100 mph."