People Spend Hours Trying To Save Dog From The Worst Spot
"I think he knew at that point I was there to help him" 💕🐶
A couple was visiting Paterson Great Falls National Park in New Jersey on Sunday, and admiring the incredible views, when they noticed an animal who appeared to be trapped on a ledge down by the water — and quickly realized it was a dog. Concerned for his safety, the couple contacted the police, who began putting in calls to all the right people to set a rescue plan in motion.
Frannie D'Annunzio
Knowing this rescue would require specialized equipment and skills, the police contacted the Paterson Fire Department for help. Captain Scott Parkin received the call, and was confident that he and his team could handle it — his father, Joseph Parkin Sr., is a retired firefighter who performed a few very similar dog rescues at the Great Falls. Knowing he could follow in his father's footsteps, Parkin requested the rescue be assigned to his unit, Rescue Co. 2.
The police also contacted Paterson Animal Control, which then called Ramapo-Bergen Animal Refuge to see if it could take the dog in once he was rescued. Without knowing what the dog was like or even seeing a picture of him, the rescue agreed, and Frannie D'Annunzio, a staff member at the rescue, immediately rushed to the scene.
Frannie D'Annunzio
With practically the entire town rallied together help the trapped dog, the rescuers quickly began to assess the situation and formulate a plan. They considered launching a boat over to the ledge to retrieve the dog, but heavy rainfall from the day before had made the water too treacherous for that plan — and so the rescuers decided that Parkin would rappel down 75 feet from a bridge above the falls to the ledge below.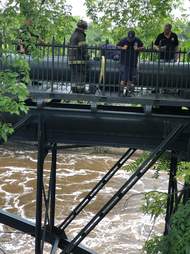 Frannie D'Annunzio
Everyone on the rescue team quickly began gathering the equipment they would need and prepared to execute the rescue. It was a dangerous operation, but they were all determined to rescue the dog, who was still waiting patiently down below.
"Once the system was put into place it was checked several times by myself and multiple members of the company," Parkin told The Dodo. "This was a complex and time-consuming exercise that we only had one chance to get right."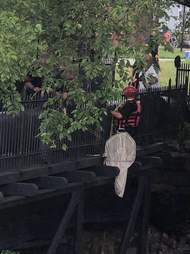 Frannie D'Annunzio
Finally, everyone was ready, Parkin began the long descent down to the ledge and finally came face-to-face with the dog they had all gathered together to save.
"As I approached the rock ledge, I could tell he didn't know what to really make of me," Parkin said. "He made his way to a very narrow part of the ledge that was very slippery from the mist coming off the falls. I disconnected my main line from my harness and approached him very slowly. Between my sudden presence, the thunderous sound of the rushing falls and the area he was trapped in with no way out, I could tell he was very scared. I tried to coax him back with several treats but he wasn't having any of it. He stood his ground."
Frannie D'Annunzio
Once he realized how scared the dog was, Parkin called up to his team to lower down some extra equipment to help him reach the dog. Once it was lowered, Parkin slowly got up from his position on the ledge and began to walk away from the dog — when suddenly, the dog began to follow him.
"When I moved away from him he began to move toward me," Parkin said. "I think he knew at that point I was there to help him so I moved back again and again he came closer. It was at this point I was able to step around him and put myself between him and the water. I reached out nice and easy to pet him and to let him know I wasn't there to hurt him and talked to him for a minute or two."
After that, the dog put his trust in Parkin completely. He did not struggle at all when Parkin placed a net around him, and was completely calm as he and his rescuer began to make the ascent back up to safety.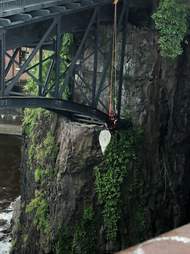 Frannie D'Annunzio
"When he made his ascent back to the catwalk he never moved or struggled," Parkin said. "He settled in for the ride and, once safely on solid ground above the falls, he was amazingly calm and seemed relieved. I believe he knew he was safe."
After two and a half hours, the dog was finally safe, and everyone involved was overjoyed. In honor of everyone who came together to help him, the rescue team decided to name the dog Paterson, and he was transferred into the care of Ramapo-Bergen Animal Refuge.
Frannie D'Annunzio
"I took him straight from the scene of the rescue to our vet, to make sure he hadn't sustained any serious injuries," D'Annunzio told The Dodo. "Miraculously, he was relatively unscathed — just a few bruises, and some minor cuts."
Paterson also had a skin infection and was very underweight, meaning he had either been neglected or had been living on his own for quite some time. He understandably seemed to be in a state of shock after his ordeal, but by the next day he began warming up to his rescuers.
Frannie D'Annunzio
"When I picked him up from the vet, he was a bit shy and nervous at first, but immediately remembered me, and his heroes," D'Annunzio said. "We are already good friends. He follows me everywhere around the shelter."
Frannie D'Annunzio
Paterson was also reunited with Captain Parkin, the man who risked his life to save him. Paterson was so happy to see Parkin again, and the entire Paterson Fire Department was so touched by the dog's story that they made a big decision — they decided to adopt him.
Frannie D'Annunzio
As soon as Paterson finishes his seven-day hold and is neutered, he will be adopted by his new firefighter best friends as their official mascot. Everyone who was involved in the rescue is so excited for Paterson, and couldn't be more thrilled that he's found his perfect forever family.