Dog Trains His Family To Give Him A Hug Goodbye
"He will do anything he can jam himself into the hug" 😂
Learning tricks has always come easily for Max. The 2-year-old cocker spaniel is so good at mastering new commands that he's used his skills to train his parents.
"I really taught him the basic necessities. Everything else he learned himself," Kathryn Toope, Max's mom, told The Dodo. "Max would learn something after you said it once or twice, so he just made his own way."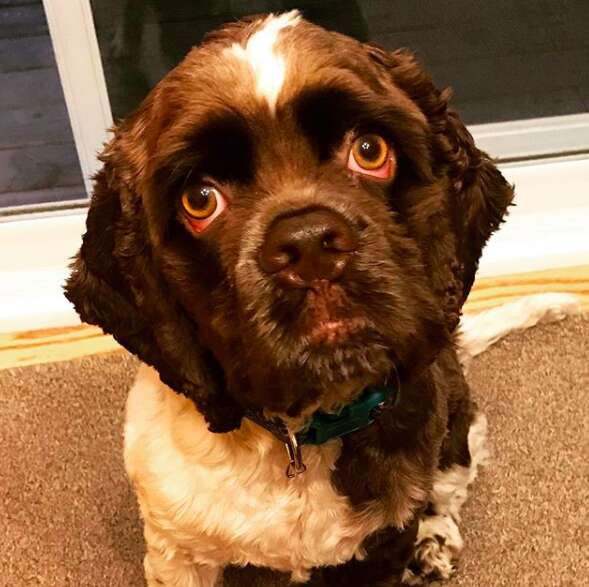 Max rings a bell to let his parents know he wants to go outside and puts his paws on the bed when he wants a boost up. But perhaps the sweetest trick Max has taught his parents is how to hug him before they leave each day.
"I don't quite know when we realized we'd been trained," Toope said. "He's usually there waiting when someone is getting ready to leave and then he just jumps up for his hug."
Max is currently on a three-hug minimum, which can get rather time-consuming if his parents are rushing out the door. But it's not just his family that he expects hugs from — it's anyone who enters the house.

"He does this when people leave the house if they've only been visiting," Toope said. "[Like] the electrician, or the washing machine repairman, or the guy from the water company! Everyone complies."
Max also gives hugs when he's the one leaving, making sure to show love to every person before walking out the door. "When we leave day care, if there are other people there waiting for their dogs, he likes to give each of them a hug before he comes to us," Toope said.
A proper goodbye is only one part of Max's elaborate routine — his greetings are even more fun.
When he sees someone coming home, he waits by the door staring out the window. Then he chooses which shoe to give them as a gift. "When they come in, he dances around their feet and when they have taken their gift from him, they get a welcome home hug," Toope said.
Hugs mean a lot to Max, and he always likes to be included if he sees one going on without him. "He will do anything he can to jam himself into the hug," Toope said. "If he fails at that, he will try to disrupt it."
Luckily for Max, he's almost always invited to join in.