There's no arguing that littering is bad, but for one forgotten dog in Prince George County, Virginia, misplaced trash was the difference between life and death.
"Someone had thrown out a mattress on county property, and the code compliance officer went to see if they could find out who had dumped the trash there," Job Greene, animal services supervisor at Prince George County Animal Shelter, told The Dodo. "She looked at the back of the property, and there was Zeus tied to a tree with a bag of dog food."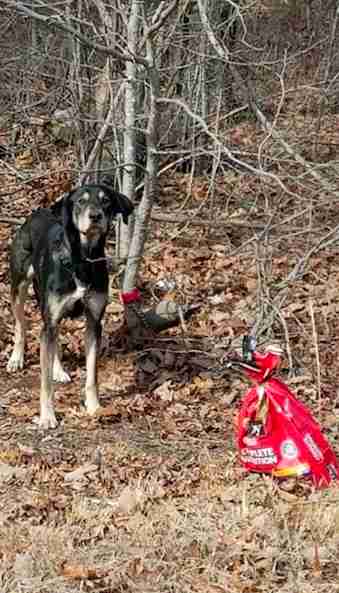 When animal service officers arrived on the scene, they found the husky-black Lab mix tethered to a tree by his short leash, eager and excited to see people again. A note, written on a piece of crumpled white paper, had been tacked to the dog's collar.
"My name is Zeus," the note read. "I am a very good dog. My owner just can't afford me anymore. She tried to find me a home, but nobody would take me."
Though the heartbreaking letter suggested that Zeus had been well-loved in his past life, leaving him all alone on a chilly February day with no real access to food or water could have had disastrous results.
"He's really spunky, really sweet, with good manners," Greene added. Zeus was so eager to love and be loved that the shelter workers knew the right match was out there, somewhere.
So they posted Zeus' story on Facebook.
When Katherine Elliott spotted the post, something clicked. Elliott's dog of 13 years had passed away in August, and though her family had always had pets, this time she wanted fate to intervene when it came to welcoming another animal into her home.
"We figured something would just wander onto our property, much like our cat did a few days after our dog died," Elliott told The Dodo. "We figured we would know when the time was right." When Elliott saw Zeus' gentle brown eyes on her screen, she felt an instant connection and knew there was no time to waste: "I was like, 'I have to go get him.'"
Elliott was afraid it would be too emotional an experience to walk by kennels of dogs in need of homes in the shelter, but she had to find out if Zeus was meant to be. "As soon as I saw him, I could just see that he was so sweet," Elliott said, "and I knew that he'd be the perfect match for our family."
For some dogs, acclimating to new people and new routines can be difficult, but Zeus has wasted no time getting comfortable. "He thinks he's a lapdog, and he definitely has the run of the house," Elliott said. "He has three dog beds and a couple spots on the couch that he has claimed as his own."
Zeus is always ready to play with the cat and the kids, running around the fenced-in backyard whenever he gets a chance. "He's like a big puppy," Elliott noted. "He runs like a horse. He actually gallops."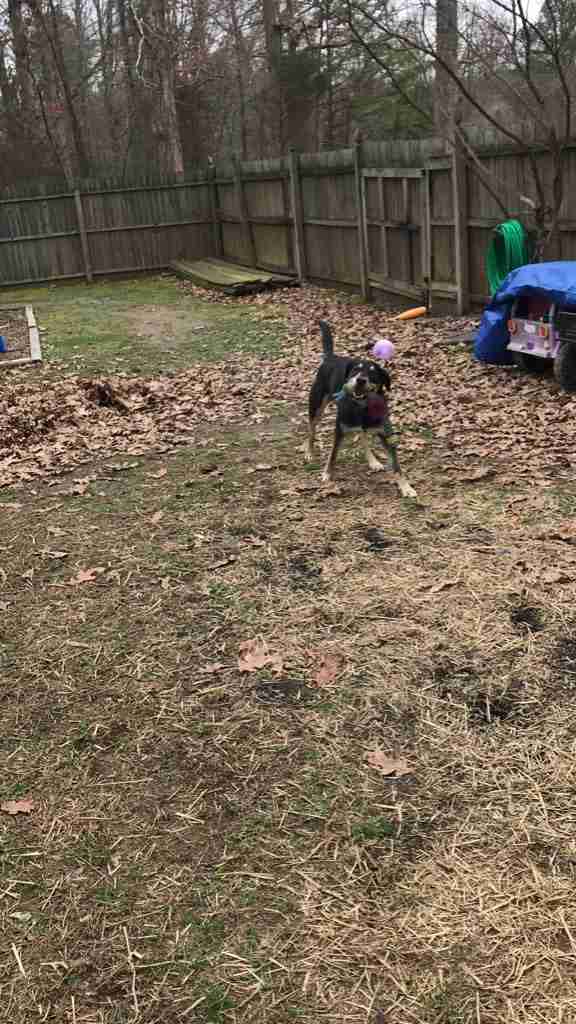 It's clear Zeus is pleased with the arrangement — he even breaks out into a big grin whenever his belly gets rubbed, keeping the Elliott family laughing.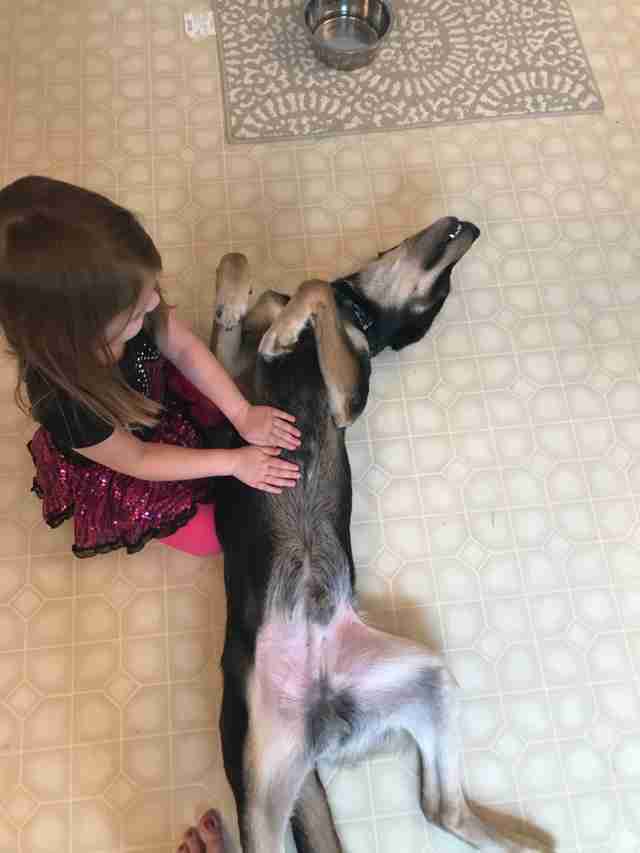 "He's a perfect match for our family," Elliott added. "We all say, 'He's big and goofy, and loves to have fun, just like the rest of us, so he just fits in great.' It was meant to be."