Dog Was Left Tied Up Outside Shelter In 110-Degree Heat
He knew he had to save himself — so he chewed through his leash 💪
On Friday afternoon, temperatures climbed to a scorching 111 degrees as part of a brutal heat wave sweeping Scottsdale, Arizona.
Being outside for more than a few minutes meant risking sunburn, heatstroke or worse. While most were inside enjoying the air-conditioning, one chocolate Lab-retriever mix found himself in the worst spot.
He had been abandoned by an owner who didn't want him anymore — leaving him tied up in front of Desert Tails Shelter, beneath a mesquite tree whose wispy leaves offered little shade.
Faced with few options, the desperate dog chewed himself free of his red rope leash.
Desert Tails Shelter
A customer on her way into the shelter's grooming department spotted the large brown dog huddled in front of a brick wall, and reported the dog to the shelter. Thinking one of the shelter's animals had somehow gotten loose, the groomer ran outside to check — and realized she was just in time.
"When she spotted him, he was standing in the little bit of shade there was to offer from a mesquite tree in front of our block wall," Adama Pfaff, director of Desert Tails Shelter, told The Dodo. "She brought him in immediately and gave him water, which he drank and drank and cooled down."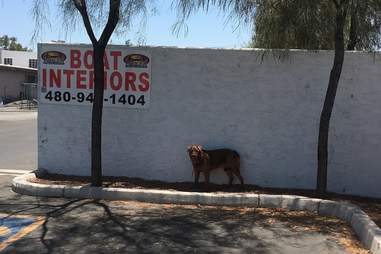 Desert Tails Shelter
"His paws were a little burnt and his nose was a little raw from working his way from the leash," Pfaff said. "Other than that, he was and is in good spirits and seemingly healthy."
Shelter workers scanned for a microchip or some form of identification, but there were no signs of the dog's past life. A junior volunteer named him Chewy, for the resourceful action he took to escape the heat.
Desert Tails Shelter
Once his panting subsided, Chewy quickly charmed everyone at the shelter.
Already house-trained, Chewy was eager to go on walks and explore. "He's very good-natured and mellow, and loves to play at the same time," Pfaff said.
Instead of being put in a kennel, Chewy was placed in the front of the shelter, which is how volunteers discovered the dog's special soft spot for puppies.
Desert Tails Shelter
"He is hanging out in the front half of our shelter where we do grooming and our doggy daycare area is filled with a mom and her puppies," Pfaff explained. "He seems to be very calm and content where he is, watching over the mom and her pups and one other little girl that was surrendered that day."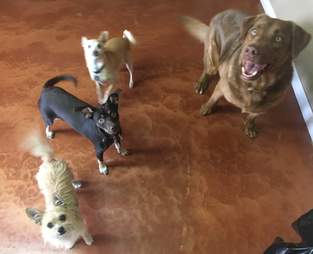 Desert Tails Shelter
Shelter volunteers couldn't figure out why such a sweet-natured, well-behaved dog would be left to die in the blinding, midday heat — especially when there are so many animal rescues in the area. "It's never the right option to ever tie an animal to a tree, especially in these 111-degree conditions," Pfaff said. "If for some reason we weren't able to take in an animal, I will always assist in finding resources that can."
Chewy will be held at the shelter for a week to allow people to come forward and give information on any potential family he might have. After that, Chewy will begin his search for a real forever home, with a family that truly values him.
"Chewy is all-around just a very good guy," Pfaff said. "He would make the best family dog."