Dog Found Tangled Up In His Leash With The Saddest Note
"He has been isolated in my room his whole life" 💔
Staffers at the Villalobos Rescue Center (VRC) were met with a heartbreaking sight when they arrived for work last month. Tied to a fence on the New Orleans-based rescue's property was a young pit bull. The nervous dog cowered in fear as the staffers approached. They could see that his leg had become wrapped up in the leash, which was cutting off circulation to the limb.
However, freeing the dog from his unfortunate predicament proved difficult.
"This dog is tangled and not really letting us approach him," one rescuer says in a video taken at the time. "We have to figure out how we're going to do this without getting hurt."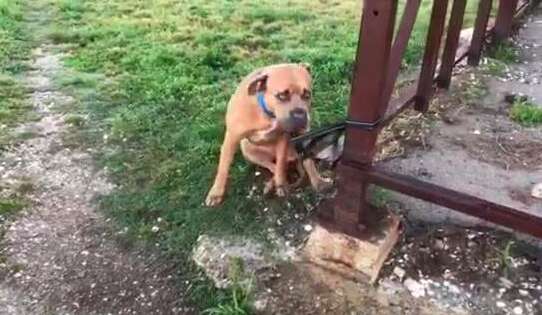 A plastic shopping bag full of the dog's meager possessions lay nearby. When rescuers reached inside the bag, they found a handwritten note which would break their hearts once again:
"Meet Rock," the note reads. "I can't keep him no more due to personal problems with my family. He has been isolated in my room his whole life as my parents didn't want him out of the room and on top of that, the landlord didn't want dogs here. He's 1 year and 4 months and never had human interaction besides my family so please build his human interaction."
"Once you get to know him, he's the sweetest dog you'll know," the note continued. "He is pet-friendly but can be nervous around people. Please take your time with [him] and give him a better home. I will always donate as much as I can for the wishlist … he is up-to-date with his shots."
Already overloaded with unwanted dogs, the rescue's staffers had no idea how they could possibly accommodate one more — especially one with crippling fear and anxiety.
So they posted the video of the dog's rescue on Facebook, hoping beyond hope that some kind individual would be moved to help.
"Honestly, we didn't hold out too much hope for this dog especially now being in a shelter environment," VRC wrote in a Facebook post. "We did not have the means to put this dog anywhere else so that he could decompress and acclimate to the outside world around him. He would not let any of us near him."
By chance, the owner's brother saw the post on social media and rushed over to the rescue center. "He was overwhelmed with grief," VRC wrote. "He had known this 'Rocky' since [he was] a puppy and since he no longer lived with his family, he had assumed all was well with the dog."
Staffers were hesitant to release the troubled pup, but when Rocky saw his brother again everything changed. Within seconds, the dog went from cowering and growling to showering his new dad with kisses and begging for belly rubs.
You can watch their touching reunion here:
Rocky now has a new lease on life, and someone to help him acclimate to the world at his own pace. Far from the confines of a bedroom or a kennel, Rocky can finally experience life as a loving pet.
"You're back home," Rocky's new owner says in the video. "You're home."