Dog Takes Swim During Wedding And Picks The Very Worst Place To Dry Off
"I looked down and saw a tail and legs flying everywhere."
Last weekend, after months of planning to ensure everything was perfect, bride Savannah Bordeau was all set to wed her husband-to-be. Family and friends gathered for the ceremony — and, of course, Bordeau's dog Finn was there to watch, too.
He'd even dressed up for the occasion. But then something else caught his eye.
The venue for Bordeau's wedding just so happened to feature a swimming pool — a refreshing temptation for a water-loving pup like Finn. Apparently, despite the pomp and circumstance of the day, he just couldn't fight it.
As the ceremony began and his mom started to walk down the aisle, the dog got up from his place.
"I saw out of the corner of my eye Finn walk over to the pool," Bordeau told The Dodo. "He just stood there and looked at it for a few seconds until he decided he was going to take the plunge."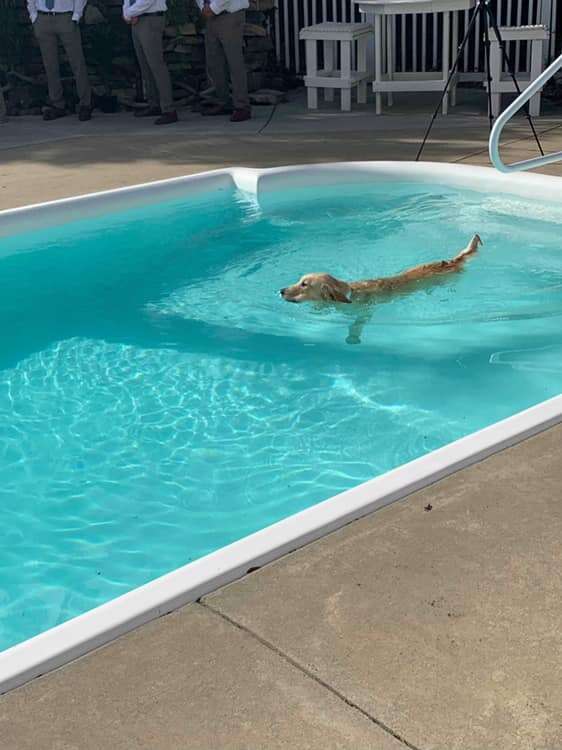 Finn's decision to swim at that untimely moment was just a temporary distraction, eliciting a small chuckle from the crowd. The wedding pressed on as planned.
"Everyone just let him do his thing," Bordeau said.
But soon Finn wouldn't be so easy to overlook.
After a few laps, Finn had had enough. He exited the pool and headed over to rejoin the ceremony in progress.
And that's when things really went awry.
"He decided to get out and shake all over the groomsmen," Bordeau said. "Then he sprinted through a flower bed, and ultimately ended up wrapped in my dress."
Dirty and damp, Finn had done the unthinkable — choosing Bordeau's pristine white gown as the place to dry off.
"It all happened so fast. I didn't know what hit me at first until I looked down and saw a tail and legs flying everywhere," she said. "My sister panicked. I don't think any of our family really processed what was going on until it was too late."
Finn had left his mark — and he seemed pretty proud of himself for it.
None of it had been part of the plan: the happy dog's swim, his soaking of the groomsmen, or his decision to muddy up his mom's dress during the ceremony. But Bordeau and her groom tied the knot anyway, of course.
But Finn's unabashed revelry actually made an already momentous day all the more memorable. With a pup, you never know — and that's what makes it so special.
"I honestly wouldn't change a thing," Bordeau said.