Miracle Dog Found Alive In Oven Of Home Destroyed By Wildfire
"I thanked God for giving him one more chance."
Late last month, a string of devastating wildfires swept across parts of Greece, claiming dozens of lives and reducing large areas to ash and rubble.
But while much has been lost, hope soon emerged for one furry survivor clinging to life in the blackened terrain.
Artemis Kyriakopoulou
The ground was still smoldering in the village of Mati when volunteer animal rescuer Artemis Kyriakopoulou set about searching for any creatures who may have managed to somehow persevere through the blaze.
Upon arriving at the shell of one burnt-out home, Kyriakopoulou noticed an exposed brick oven that had remained intact. She was compelled to have a closer look.
"I didn't hear anything," Kyriakopoulou told The Dodo. "I was so scared to look inside cause I knew I was going to find something in there but I didn't know if it was dead or alive."
That's when she saw a shadowy figure huddled within.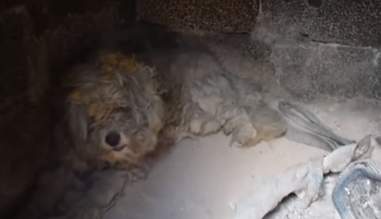 Artemis Kyriakopoulou
Kyriakopoulou had found a dog who had apparently found a place to shield him from the full brunt of the fire.
"His whole body and coat was burned and he was in intense pain," Kyriakopoulou said. "It was really hard seeing him in a situation like this. I started crying just like the other volunteers. Of course, I thanked God for giving him one more chance because he was really lucky I found him. It was by accident actually."
The dog was scared and hesitant, but Kyriakopoulou was able to convince him she was there to help.
Next, the dog, now named Marshmallow, was rushed to a veterinarian for treatment — but Kyriakopoulou had saved him from more than just the aftermath of the fire.
Judging from Marshmallow's overgrown coat, it is believed that he had been living as a stray, unloved and alone. That was about to change.
Artemis Kyriakopoulou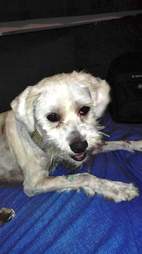 Artemis Kyriakopoulou
"He's living temporarily with a volunteer until we find him a family," Kyriakopoulou said.
"He has significantly recovered but he's still taking the medication, though. He looks really happy."
The pup knows whom to thank for that.
Artemis Kyriakopoulou
While Marshmallow's story has a happy ending, Kyriakopoulou's efforts are far from over; each day, she continues to scour the scorched region in search of others in need of saving — whomever that might be.
"It's not only about dogs. It's about every human being and every animal that is left alive," she said. "In situations like this, it's our duty to help those who need us."