Dog Chases Squirrel Onto Tiny Island — And Immediately Regrets It
"He must have thought that the green slime on top of the water was grass."
A little Pomeranian named Bruce Almighty was out for a walk with his grandpa one day when he saw a squirrel and immediately decided he had to chase it. In his efforts to catch the squirrel, Bruce ended up swimming across a freezing lake to a little island in the middle, but since the water was so cold and the island was so far, after his squirrel-chasing adrenaline wore off, he had absolutely zero desire to swim back again, and suddenly found himself very, very stuck. 
RSPCA
"He saw this squirrel and went to chase it — next thing I know he was on this little island," Glen Wadeson, Bruce's grandpa, said in a press release. "He must have thought that the green slime on top of the water was grass. He wouldn't come back over as he was frightened."
Once he realized there was no chance that Bruce was going to swim back through the freezing water again, Wadeson contacted the RSPCA in hopes that it would be able to help. Animal welfare officer Steve Wickham and animal collection officer Gina Ratcliff arrived at the park, and concluded that the only way to rescue Bruce would be for one of them to wade through the water and over to the island to get him.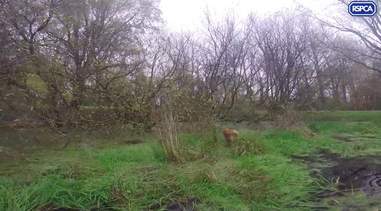 RSPCA
Wickham put on his wet gear and waded over to Bruce, who was barking like crazy and seemed pretty shocked to see that someone had decided to brave the cold water just to help him, since Bruce himself refused to go back in for ANY reason. Wickham gently slipped a leash around Bruce, scooped him up … 
RSPCA
… and began to wade back toward the shore, being careful not to get Bruce too wet again in the process.
RSPCA
"He was very cold and shivering but we wrapped him up in a blanket and he seemed content that his ordeal was over," Wickham said in a press release. "It made us laugh that he was called Bruce Almighty — but of course, he can't walk on water like Jim Carrey's character could!"
RSPCA
Bruce is now home safe and sound with his family and is doing absolutely fine — although, chances are, he won't be chasing squirrels or going swimming again for a long, long time.