Barking Tree Leads Cops To A Little Dog Who's Made A Huge Mistake
Rocco got stuck.
Trees, of course, are supposed to have bark — but not quite like this.
A pair of off-duty troopers from the Kentucky State Police were helping to mow a cemetery lawn on Thursday when they heard what sounded like a dog in distress emanating from a forested area close by, so they decided to investigate. At first, they had trouble locating the source of the noise, and it soon became clear why.
The dog who'd been making all that racket was literally trapped inside the trunk of a tree. His name was Rocco, and his little pup face was all that poked through.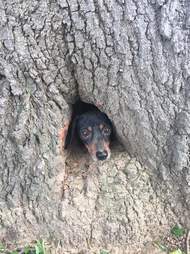 Kentucky State Police
The troopers surmised that the dog had ended up there after crawling through a narrow groundhog hole nearby, which evidently led to a hollow cavity in the tree trunk. And, as a result of that misadventure, Rocco got himself thoroughly stuck.
Amusing as the scene might have been, the troopers didn't hesitate to call for help.
Soon, first responders from the Salem Fire Department were on hand to assist. With no other way to extract Rocco from his wooden confines, they were forced to carefully cut a new opening into the side of the tree.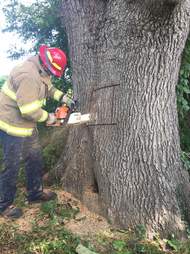 Kentucky State Police
Lucky for Rocco, his rescuers' efforts paid off.
According to police, the tree was successfully stripped of its bark, so to speak, and the little dog who'd provided it was safely reunited with his owner. 
Kentucky State Police
There's no telling if the dog learned his lesson after his lucky break from his big mistake, but those who helped him out say they aren't taking any chances:
"The opening in the tree was made larger, should Rocco or another dog find themselves inside the tree again."