Wandering Dog Learns Lesson After Getting Stuck In The Grossest Place
"What a poopy day. Literally."
Buddy, a 7-year-old coonhound, loves to play escape artist when his parents aren't watching — and his little sister, Gidget, a 2-year-old English mastiff, is all too happy to join in on the fun.
The dogs' parents have come to expect these regular escapades, so when Buddy surreptitiously let himself out of the back door Sunday night — with Gidget in tow — the pups' owner, Mandi Smith, didn't think much of it.
Madi Smith
"Usually they come back, but they didn't come back that night," Smith told The Dodo. "The next morning, we see Buddy, and he's out running amok and he's wet, so we decided to take a trip down to the reservoir … and we called for [Gidget], but we couldn't find her anywhere."
Gidget and Buddy's nighttime romp had, in fact, taken them in the opposite direction of the reservoir: to a local wastewater treatment facility 6 miles from their home in Pueblo West, Colorado, where they got into some serious trouble.
On Monday morning, Tony Campbell, one of the plant workers, was starting his shift when he heard exhausted barks coming from one of the sewage treatment ponds. Those tired yelps belonged to Gidget, who was struggling to keep her head above the muck after being stuck for over an hour.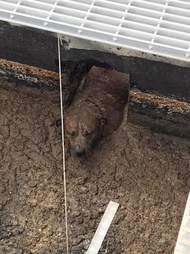 Pueblo West Fire Department
"I'm pretty sure the hound dog decided to jump in and take a swim and Gidget followed suit," Smith said. "She's like an 8-year-old kid, she's got that mentality — happy-go-lucky, 'I'm doing what you're doing,' 'You're jumping, I'm jumping.'"
Campbell spotted a worried Buddy pacing nearby, but when he approached Gidget, the other dog fled. Campbell knew that due to the aeration process, anything that got out into the wastewater pond would sink, so he called the fire department, according to Smith.
Pueblo West Fire Department
"When we got there, we found out she was in an aeration pond of wastewater fluids that runs about 17 feet deep and holds about 1.5 million gallons," Brad Davidson, Pueblo West Fire division chief, told The Dodo. "There was a little walkout area where plant facility staff can go and test the water, and this dog was stranded underneath this concrete wall, kind of perched up on the wall, but stuck."
Extricating the pup would be an unpleasant operation. "My understanding is this pond is either step one or step two of the raw sewage coming in," Davidson said.
Pueblo West Fire Department
After suiting up in protective gear, the fire crew was able to secure a catch pole around Gidget and lower a ladder down for her. "We kind of coached and urged the dog to come over, and she came up the ladder kind of on her own," Davidson said. "We had to help her get within arm's reach, and then the guys grabbed her to get her up out of the wastewater."
The fire crew then rinsed off Gidget with a fire hose while waiting for rescue workers from the Humane Society of the Pikes Peak Region to arrive on the scene. "She was really exhausted — she just wanted to sit down and do nothing, basically," Davidson added. "She stunk pretty bad, poor thing."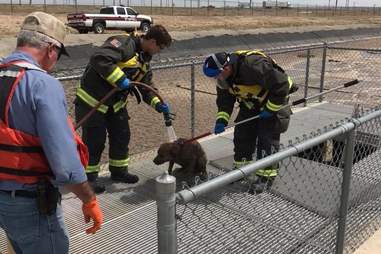 Pueblo West Fire Department
After two decontamination baths and an examination by veterinary staff, Gidget didn't smell much better, but she was beyond happy to see Smith's 16-year-old son, Henry, who came to take her home.
And Henry was delighted to see her, too.
Madi Smith
Safely back with her family, Gidget knows she's one lucky dog. "She's doing absolutely great," Smith said. "She's super ecstatic to be home and constantly whining in glee."
But days later, she can't help but remind her family of where she's been whenever she walks into the room.
"She's still got some odor and I think it's going to be there for a while," Smith said. "She's had numerous baths, but she sat in it for such a duration, that it's going to be few more weeks yet before it goes away." Buddy didn't get off scot-free, either. He, too, has a distinctive odor after his romp in the sewage.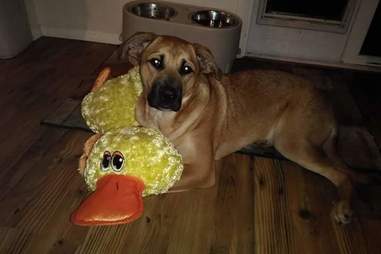 Madi Smith
The story of the two dogs' misadventure has even gone viral, and their owner thinks it's hilarious.
"What a poopy day," Smith added. "Literally."
Hopefully next time Buddy will choose a better-smelling spot for an adventure.