Dog Does Incredible Photobomb On His Parents' Wedding Day
"I was trying to keep my composure a little bit, fighting back a smile."
Ever since Boone was a puppy, he and his dad, Jayce Conway, have done everything together.
"Boone basically goes everywhere that I will go," Conway told The Dodo. "He would wake up with me at 4:30 in the morning, ride with me to work and then he would ride around on my golf cart with me all day while we managed the golf course."
About a year and a half after getting Boone, Conway started dating Angie Blumberg, a girl he knew from his hometown of Freeburg, Illinois. Blumberg and Conway ended up falling in love, although they had to navigate a long-distance relationship for about five years while living in different states. Whenever they did spend time together, Boone was always there, too.
"Seeing Jayce take care of this dog so well was part of what made me fall in love with him," Blumberg told The Dodo. "We've been a little family. He's my bud."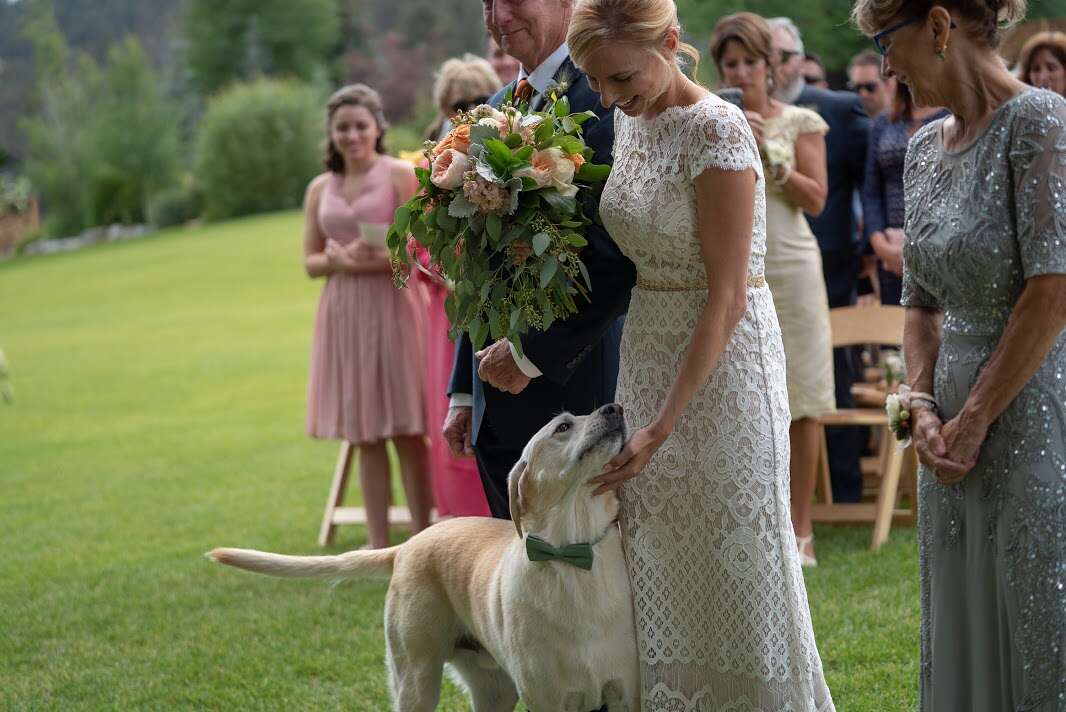 So when Conway and Blumberg were planning their wedding, which took place in Big Sky, Montana, they knew Boone had to be involved. However, Conway knew it probably wasn't a good idea for Boone to be a ring bearer.
"I didn't want to tie any rings on him," Conway said. "He is very well-behaved, but he cannot resist water, and we got married about 7 feet from the river. So I just kind of had a nightmare about him running in the water with rings tied to his wrist or something. So his only role was to stand there next to us, and pose for pictures."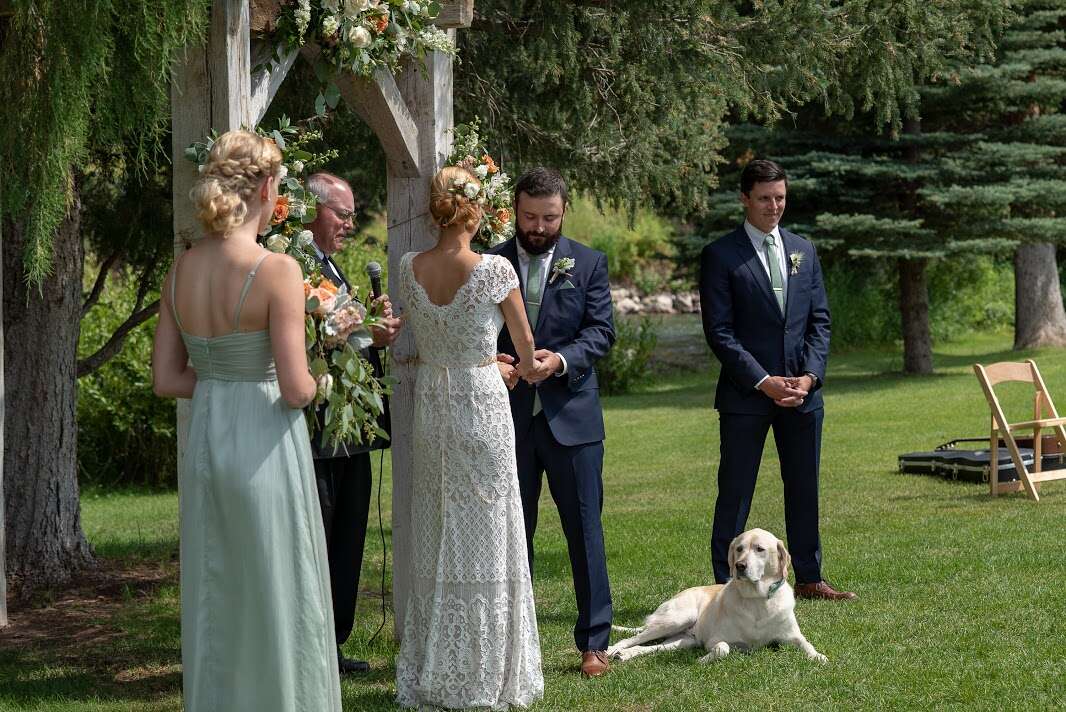 During the ceremony, Boone dutifully lay by Conway's side — but he ended up doing something to steal the show.
"It was during the opening prayer …. Boone was on the side of Jayce during the prayer, and he kind of moved forward and laid in front of us, and then decided to roll around in the grass," Blumberg said.
Everyone laughed at Boone, even the pastor.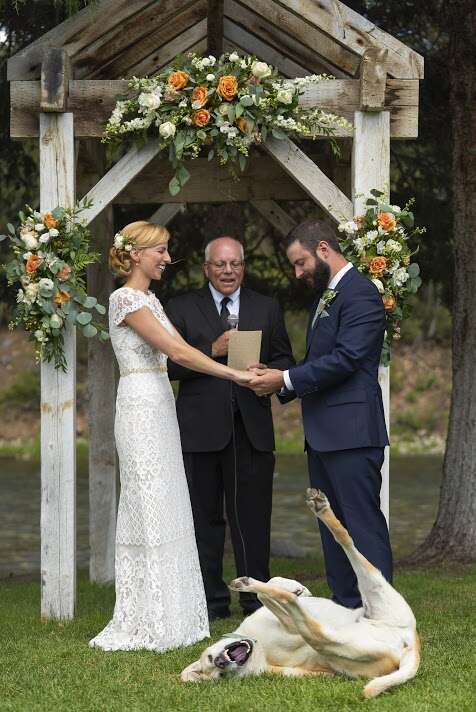 "He was trying to read the prayer while not laughing out loud," Conway said. "I was trying to keep my composure a little bit, fighting back a smile."
Conway suspects that Boone was rolling around was because he'd gotten a bath the night before.
"We bathed him and cleaned him really well the night before, and sometimes dogs just don't like smelling like fragrant soaps, so they try and mask it," Conway said. "He pulled that same move in the rehearsal also, so I guess we kind of knew it was coming."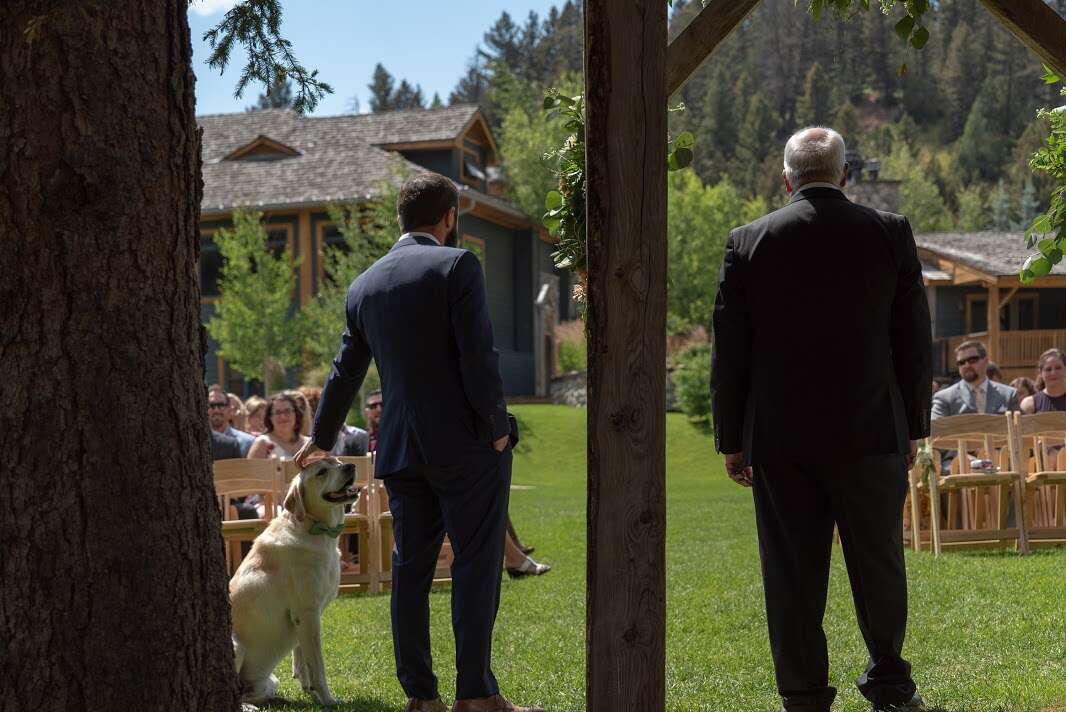 Photographer Chris Davis snapped a photo of Boone rolling around in the grass, which he sent to Conway and Blumberg shortly after the wedding.
"I shared it in a private Facebook group that we had created for the wedding, and then the next day, Angie made it her profile picture," Conway said. "My sister shared it, and then one of her friends [who] worked for KSDK [News] in St. Louis [saw it]."
When KSDK News asked for permission to publish the photo, Conway and Blumberg agreed. Then the newlyweds drove into Zion National Park in Utah.
"We thought it would be a local fluff piece … and then we basically went into no [cell] service," Conway said. "We didn't know what happened … and by the time we were able to get some messages through, it had already been shared like 40,000 times just since St. Louis, and that was in like 12 hours or something crazy. From there, it just took off like wildfire."
Conway and Blumberg are more than a little surprised by the attention their wedding has received, thanks to Boone's antics.
"We intended the entire time to have a very small intimate wedding in the mountains, and now 10 million people have seen pictures of it," Conway said with a laugh.
Now that the wedding is over, Conway, Blumberg and Boone are moving to Alabama — and they can't wait to see what life has in store for the three of them.
"We'll be living in the same state, almost for the first time … and I think we're really going to enjoy taking Boone for walks together," Blumberg said. "I think we're going to do some hiking down there, and do some exploring in a new place."
"I think he's adaptable to any situation, as long as he's there with us," Conway said.
Thinking about adopting your own dog? Then meet Dodo Adoptbot, an interactive guide for new pet parents. Get started on
Facebook Messenger
or text HOME to 38349.